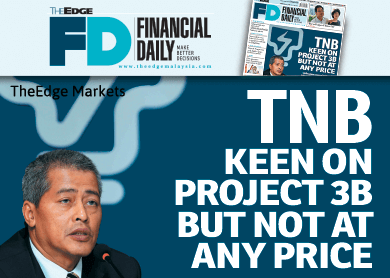 KUALA LUMPUR: No offer has been made by the government to Tenaga Nasional Bhd (TNB)  to take over Project 3B, a 2,000mw coal-fired power plant which 1Malaysia Development Bhd (1MDB) has not been able to commence on time, said TNB president and chief executive Datuk Seri Azman Mohd.
Azman acknowledged that TNB is keen to take over Project 3B amid concerns that any delay in the project would result in a power shortage in the future. However, he stressed that if and when TNB does take over the struggling project, it would not be a bailout since the utility giant would not pay a premium.
"I want to clarify that as of this moment we have not received any offers from the Energy Commission (EC) or the government to take over the project. We are interested no doubt," Azman told The Edge Financial Daily in an interview yesterday.
TNB cannot be forced to take over the project by the government, Azman noted, since the "final decision rests with our (TNB's) board".
"Even if the commercial terms are favourable, the board can still reject the project on other grounds. We have to answer to our shareholders.
"We will not pay a premium for the project. We will just pay them (1MDB) for costs incurred. If anything, we will ask for a discount. They (1MDB) are not in a position to dictate the terms," said Azman, brushing aside the perception that TNB may bail out 1MDB.
"Whatever the decision of the government, it will be subject to commercial considerations and in line with our corporate governance," he said.
Azman pointed out that the EC has several options. "They can award it to another party to do the project. Or they can take it back and do a rebidding. It is up to the government to decide."
Azman is confident of TNB's ability to complete the project within six months of the original commercial operation date (COD), which is crucial for the country's power supply.
"We anticipate a crunch [in power supply] in 2018 due to the delay [in Project 3B]. As an interim measure, the PPA (power purchase agreements) of expiring power plants can be extended. But these are not as efficient as the new plants," he commented when asked about the consequences of the delay in Project 3B.
He opined that planting up another 2,000mw elsewhere would simply take too long. Despite the challenging site that involves over 40ha of land reclamation, it is still the best option to continue with Project 3B, he said.
Project 3B is a 2,000mw coal-fired power plant project that was awarded to 1MDB through a competitive tender early last year, with an estimated value of RM11 billion. It is housed under 1MDB's energy arm Edra Global Energy Bhd, which is currently looking at floating shares on Bursa Malaysia.
The project is adjacent to the existing Jimah Power Station in Jimah, Negeri Sembilan, in which 1MDB holds a 75% stake and TNB owns the remaining 25%.
After several delays and lack of capital to fund the project, 1MDB has decided to remove the project from its upcoming listing of Edra.
Another potential candidate to take over Project 3B is Malakoff Corp Bhd, it has been reported.
For the project to be commercially viable, Azman said there is likely to be a revision in the tariff as well as an extension to the existing COD deadline of November 2018 for Phase 1 of the project and May 2019 for Phase 2. (Each phase involves the commissioning of 1,000mw of capacity.)
Azman also ruled out the possibility of acquiring the remaining 75% stake in Jimah Power Station from 1MDB. "If we take over Project 3B it has to be self-sufficient," he said.
This article first appeared in The Edge Financial Daily, on May 12, 2015.