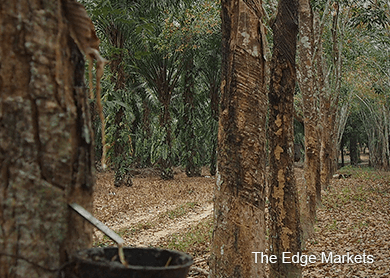 TOKYO (Sept 1): Benchmark Tokyo rubber futures edged lower on Tuesday, after weak factory data in China sent equities down in Tokyo and Shanghai, prompting fresh sells, dealers said.
The Tokyo Commodity Exchange rubber contract for February delivery finished 0.2 yen lower at 174.4 yen ($1.46) per kg, after hitting a high of 176.4 yen earlier.
"Higher overnight oil prices lent support to the market in opening, but gains were capped by a plunge in the Nikkei index and weaker Shanghai stock prices," said Toshitaka Tazawa, an analyst at Fujitomi Co.
Oil prices soared on Monday for a third consecutive day, but fell more than 3% on Tuesday on slowing factory activity in China.
Activity in China's vast manufacturing sector contracted at its fastest pace in three years in August, an official survey showed on Tuesday, reinforcing concerns over the health of the world's second-largest economy despite a flurry of government support measures.
The Nikkei share average closed 3.8% lower at 18,165.69, extending the previous day's losses following weak data from China.
Chinese stocks got September off to a rocky ride on Tuesday, with main indexes tumbling 5% at one point, as weak manufacturing data laid bare the daunting challenge faced by Beijing as it races to revive a stumbling economy.
"Investors are tired of selling, but they can't unwind short positions, due to uncertainty over the Chinese stock market and economy," Tazawa said.
The most-active rubber contract on the Shanghai futures exchange for January delivery fell 65 yuan to finish at 11,450 yuan ($1,799.47) per tonne.
The front-month rubber contract on Singapore's SICOM exchange for October delivery last traded at 124.0 U.S. cents per kg, down 0.8 cent.
($1 = 119.8300 yen)
($1 = 6.3630 Chinese yuan)