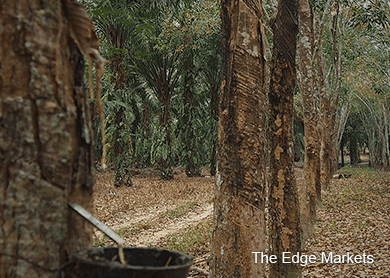 TOKYO (Aug 27): Benchmark Tokyo rubber futures rose for a second day on Thursday, lifted by a softer yen and short-covering as some calm returned to the Chinese stock market after Beijing moved to ease policy this week, dealers said.
The Tokyo Commodity Exchange rubber contract for February delivery finished 1.1 yen, or 0.6% higher at 173.0 yen ($1.44) per kg.
"The yen's drop and a recovery of Chinese equities lent support," a Tokyo-based dealer said.
The yen nursed losses against the dollar as calm returned to currency markets with gains in global stock markets, underpinning risk sentiment and sapping demand for safe haven currencies.
The yen was down 0.3% against the U.S. dollar at 120.24 yen in late Asia trade, and well below a seven-month high of 116.15 yen struck earlier this week.
A weaker yen makes yen-denominated assets more affordable when purchased in other currencies.
China stocks rebounded sharply on Thursday, snapping a savage five-day losing streak, as a rally on Wall Street brought some calm to shaky global markets.
"Still, worries about slowing demand in China and its volatile stock market have not diminished. The rubber prices are expected to stay under presser," the dealer said.
The most-active rubber contract on the Shanghai futures exchange for January delivery rose 85 yuan to finish at 11,440 yuan ($1,786.44) per tonne.
The front-month rubber contract on Singapore's SICOM exchange for September delivery last traded at 129.9 U.S. cents per kg, up 4.3 cent.
($1 = 120.2400 yen)
($1 = 6.4038 Chinese yuan renminbi)