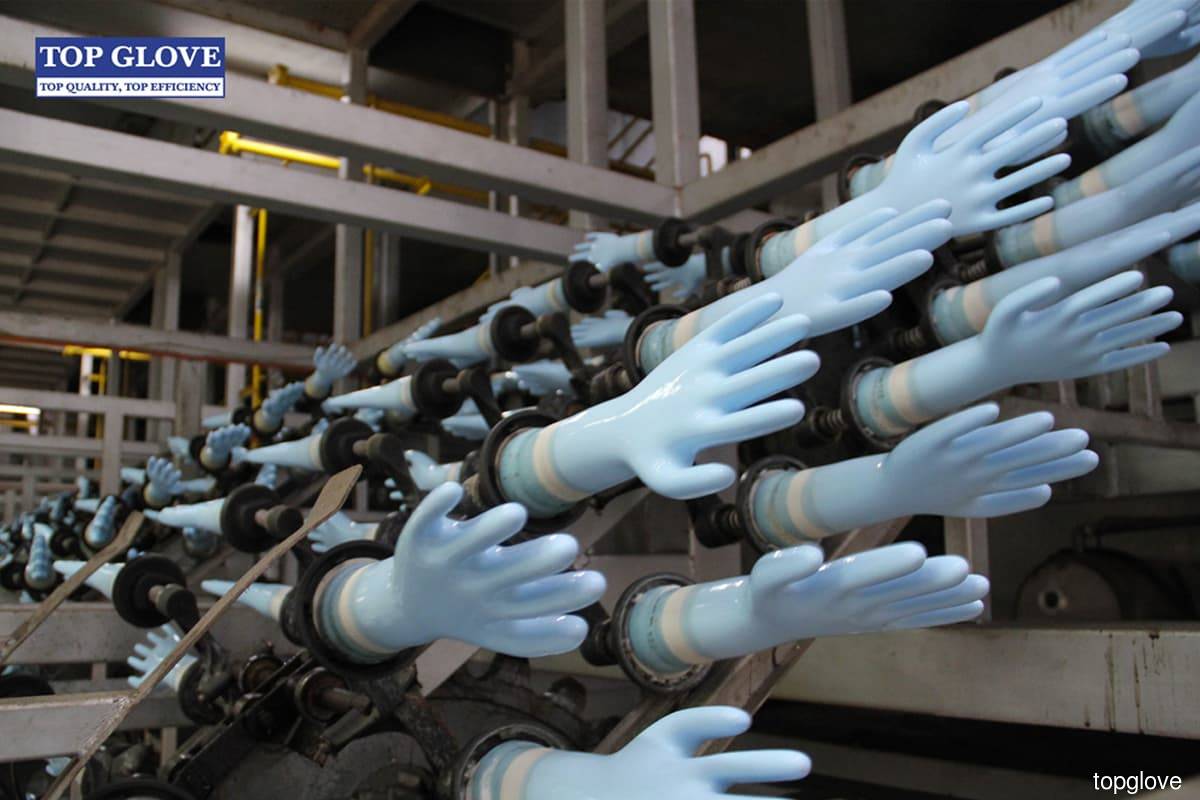 KUALA LUMPUR (Sept 13): Top Glove Corp Bhd's share price fell as much as 17 sen or about 5% on Monday, despite its recent announcement that the import ban on the group's products by the US Customs and Border Protection (CBP) had been lifted.
On market close, the stock pared some losses to settle at RM3.28, still down 15 sen or 4.37% — its lowest level since May last year — although it opened two sen higher at RM3.45. It saw 31.6 million shares done.
Among investment analysts, who track the glove manufacturer, some have reiterated their positive views as the uncertainty over exports to the US looming over Top Glove for a year has been removed now. However, others took the opportunity to slash their target prices (TPs) further to below RM3 in view of the current less favourable operating landscape. 
The import ban lift is welcome news, considering that the US accounts for more than 90% of Top Glove's sales to the North American market, said Kenanga Research. The US market accounts for 18% to 21% of Top Glove's export sales. 
"In our view, the current share price level reflects an overly bearish reaction to an expected decline in average selling prices (ASPs) in the coming quarters ahead," Kenanga wrote in its latest review, while noting that Top Glove has scaled down new capacity expansion by 14%, which it sees as a positive move. 
Kenanga reiterated its "outperform" call on Top Glove. However, it trimmed its target price (TP) to RM5.40 from RM5.60 as it reduced its earnings forecasts amid expectations of a thinner earnings before interest, taxes, depreciation and amortisation (EBITDA) margin and sales volume. 
Kenanga also expects Top Glove to post a record high net profit of RM8.58 billion for the financial year ended Aug 31, 2021 (FY21), RM3.02 billion for FY22 and RM2.23 billion for FY23.
In contrast, KAF Equities Sdn Bhd cut its TP to RM2.34 from RM4.70 despite the good news from the US. 
"Management [of Top Glove] expects it will take a minimum of three months for sales to the US to normalise. Even then, we reckon it may not recover to the level seen previously considering the current market condition," KAF Equities commented. 
It highlighted that various headwinds are blowing hard at Top Glove. One is weak demand for its nitrile gloves, which has resulted in "a worse-than-expected drop in ASPs and lead time". 
"Furthermore, we expect operating leverage to reverse drastically as the raw material price adjustment normally lags the ASP trend. In view of these, we believe that there is more downside to the share price even at the current low valuation," said KAF Equities.
It expects Top Glove to achieve an annual profit of RM7.93 billion for FY21. However, KAF Equities anticipates a sharp contraction in the following two financial years. Its profit forecasts are at RM1.079 billion for FY22 and RM802.7 million for FY23. 
Meanwhile, AmInvestment Bank maintained its "hold" call on Top Glove, but raised its TP slightly to RM3.77 to RM3.66. 
"The news could boost Top Glove's share price as it may potentially improve the ESG (environmental, social and governance) perception of the company," AmInvestment Bank wrote in the latest research note. 
It also upgraded the ESG rating of Top Glove to "three stars" from "two stars". 
Meanwhile, AmInvestment Bank noted that ASPs will continue to decline in the second half of 2021 (2H21) due to higher incoming supply of gloves in the near term. "As a result, the positive impact of the removal of the CBP ban is offset by lower earnings for FY22 and FY23. 
AmInvestment Bank's current earnings estimates for Top Glove are RM8.54 billion for FY21, RM2.80 billion for FY22 and RM1.51 billion for FY23. 
Read also:
Top Glove cleared to resume business with US
The good news that came late for Top Glove