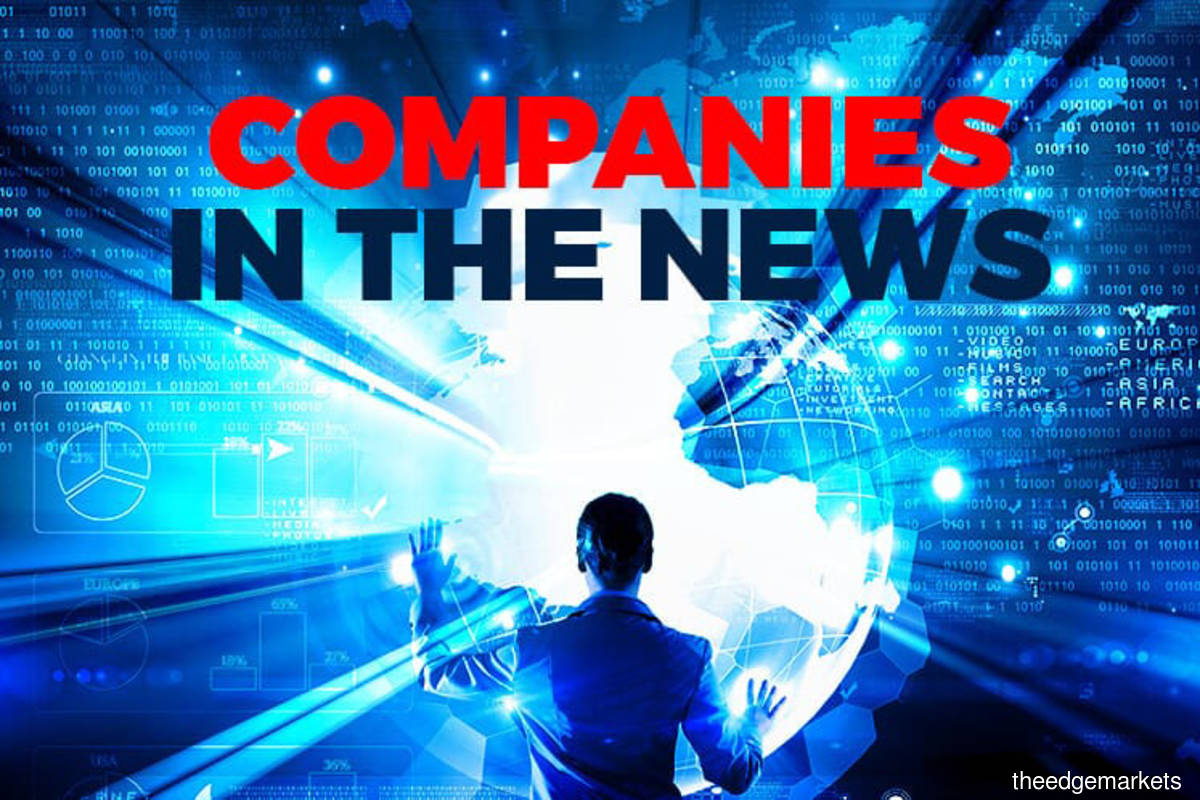 KUALA LUMPUR (Dec 31): Based on corporate announcements and news flow on Friday (Dec 31, 2021), companies in focus next Monday (Jan 3, 2022) may include: Top Glove Corp Bhd, Sarawak Consolidated Industries Bhd (SCIB), MY EG Services Bhd (MYEG), FGV Holdings Bhd, Petronas Dagangan Bhd (PDB), Westports Holdings Bhd, ATA IMS Bhd, Complete Logistic Services Bhd (CLSB), Astino Bhd, Malayan United Industries Bhd (MUI) and SC Estate Builder Bhd (SCBuild). 
Top Glove Corp Bhd aims to cement its position as the world's leading glove manufacturer, as well as aspires to become a Fortune Global 500 company by 2030. The rubber glove maker said it aims to continue expanding its global market share via an incremental increase in its production capacity from 2022 to 2025. Additionally, the group also said it aims to expand upstream as well, as it plans to build an NBR latex processing plant with a 200,000-tonne capacity, which is expected to be completed by the end of 2024.
Sarawak Consolidated Industries Bhd (SCIB) said its external auditor Nexia SSY PLT has expressed a qualified opinion on the group's audited financial statement for the year ended June 30, 2021 (FY21). The qualified opinion was expressed in relation to the settlement agreements signed by the group on Nov 10 with several parties concerning six engineering, procurement, construction and commissioning (EPCC) projects carried out in Qatar and Oman. SCIB also said its annual report for FY21 remains outstanding, as the group needs more time to update the statements in the report. The annual report is now expected to be issued on Jan 31, 2022, said the Sarawak-based civil engineering outfit.  
MY EG Services Bhd (MYEG) has proposed to buy a 10% stake in S5 Holdings Inc, a company that provides integrated security IT solutions to governments, for RM86.5 million. The group is buying the stake from S5's existing shareholder, S7 Holdings Sdn Bhd. MYEG said it intends to leverage the relationship with S5 to achieve greater synergies and mutual benefits and expand the company's footprint in Malaysia, as well as strengthen its position as an e-government services provider. 
FGV Holdings Bhd has announced that it is ending a two-year memorandum of understanding with Johor Port Bhd, which is controlled by Tan Sri Syed Mokhtar Al-Bukhary, for the purpose of exploring holding an equity of up to 25% in Fauji Akbar Portia Marine Terminals Ltd in Pakistan. The plantation group said the MoU, which will expire on Jan 2, 2022, will not be renewed. 
The Employees Provident Fund (EPF) has raised its stake in Petronas Dagangan Bhd (PDB) to 11.379%, after the latter's foreign shareholding fell to a record low of 7.72% as of Nov 30, 2021. According to PDB, the EPF had acquired 85,000 shares, bringing its total shareholding to 113.05 million shares or a 11.379% equity interest in the retail arm of Petronas. However, it did not disclose at what price the shares were transacted.
Westports Holdings Bhd has appointed three new board members effective Jan 1, 2022. They are Datuk Siti Zauyah Md Desa and Ahmad Zubir Zahid as independent non-executive directors, and Diana Tung Wan Lee as a non-independent non-executive director, said the group. 
ATA IMS Bhd, which is embroiled in allegations of forced labour, said Datuk Balachandran Govindasamy has resigned as the group's chief operating officer effective Friday (Dec 31).  He resigned "due to health issue", according to the Johor-based electronic manufacturing services provider.  
The conditional voluntary takeover offer on Complete Logistic Services Bhd (CLSB) made on Dec 7 by its 29.11% major shareholder Datuk Eddie Ong Hoo Meng via his special purpose vehicle Hextar Tech Sdn Bhd (formerly known as Get Asia Group Sdn Bhd), is viewed as fair and reasonable, and shareholders are urged to accept the offer.
Astino Bhd's net profit for the first quarter ended Oct 31, 2021 jumped 53.26% to RM17.58 million, from RM11.47 million in the same quarter last year, on higher profit margin. In contrast, its quarterly revenue fell 14.81% to RM136.47 million from RM160.2 million, due to a decline in production capacity caused by the temporary suspension of manufacturing operations amid the lockdown. On a quarterly basis, the net profit climbed 42.37% from RM12.34 million in the immediate preceding quarter, while revenue grew 54.97% from RM88.06 million. 
Malayan United Industries Bhd (MUI) has said that its British unit is disposing of a land, together with a 111-room hotel in Shirley, West Midlands for £6.5 million (RM36.22 million). The Regency Hotel Hospitality Ltd, its wholly-owned indirect subsidiary, is selling the property to Westbourne Leisure Ltd. MUI said proceeds from the disposal will enable the group to strengthen its cash flow, and will provide additional funds for its capital and operating expenditure, as well as working capital. 
SC Estate Builder Bhd's (SCBuild) shareholders voted out eight directors at the company's AGM, only to have all eight "reappointed" to the board. The eight had offered themselves for re-election but were voted out by a majority of shareholders. Later, two remaining directors who were not up for re-election convened a special meeting of the board to reappoint the eight directors who were voted out. The development comes two days after tycoon Tan Sri Lee Kim Yew accused the company's 10 directors of acting unlawfully in rejecting the nominations of eight other candidates aspiring to be new directors of the company.