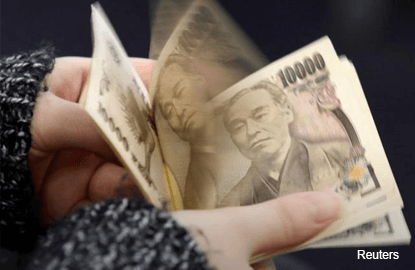 (Jan 16): Donald Trump has repeatedly made waves with emphatic tweets and striking statements, but Japan's former currency chief is more surprised about what the president-elect isn't talking about: the yen.
"What's amazing is that he hasn't said anything about the yen," Tatsuo Yamasaki, a former vice finance minister for international affairs, said in an interview on Thursday. "Last year Yellen was saying that the dollar's effective rate was up 20%, and it was holding back exports, weighing on profits, and holding down inflation."
The yen has weakened about 8% since Trump's win in November and is down about 26% since Prime Minister Shinzo Abe came to power in late December 2012.
Trump has not shied away from bringing up foreign exchange in the past, including promising during the campaign to label China a currency manipulator as soon as he took office. He has also been vocal on trade, vowing to withdraw the US from the Trans-Pacific Partnership negotiations and singling out China, Mexico and Japan at his press conference on Wednesday.
"We have hundreds of billions of dollars of losses on a yearly basis — hundreds of billions with China on trade and trade imbalance, with Japan, with Mexico, with just about everybody. We don't make good deals anymore," Trump said in New York last week.
Although Trump did comment on the yen and manipulation in 2015 during the primary, there has been little on the subject from him since that has been noticed by those in Japanese policy circles, like Yamasaki.
But his administration could provide a boost to the Japanese economy if he follows through with pro-growth measures like infrastructure investment and tax cuts, Yamasaki said. Accounting for Trump's fiscal stimulus, the Organization for Economic Co-operation and Development in November forecast US GDP growth of 2.3% in 2017 and 3% in 2018.
"That's naturally a plus for the global economy," said Yamasaki, who left the finance ministry in 2015 after serving as head of currency policy and is now a senior professor at the International University of Health and Welfare. "If the growth rate goes up, US imports will increase. The entire global economy will expand."
Political risks
The outlook isn't entirely rosy, said Yamasaki, who sees risks stemming from other political developments.
"It's important to pay attention to weaknesses in emerging markets," he said. "There's political instability in ASEAN and other Asian countries like South Korea. There's no need to worry about an Asia-wide crisis, but we have to watch individual countries."
He also highlighted risks to the euro as large European countries like France and Germany undergo elections later this year.
The testimony of incoming Secretary of State Rex Tillerson was a bright spot for Japan. His promise to defend Japan if China attempted to seize disputed islands in the East China Sea eased one of Japan's greatest anxieties, said Yamasaki. "The incoming administration testified quickly on the most important issue for the Japanese government."