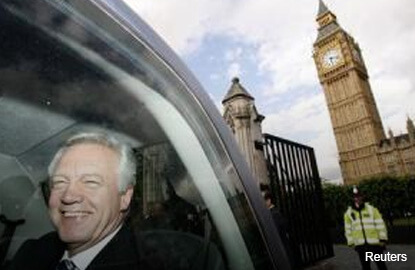 LONDON (March 15): The British government has not carried out an assessment of what effect leaving the European Union without an exit deal would have on the economy, Brexit minister David Davis said on Wednesday.
Prime Minister Theresa May, who is due to begin the formal exit process this month, has repeatedly said she is prepared to walk away from negotiations with the EU without a deal if she is dissatisfied with the exit terms on offer.
Speaking at a parliamentary committee hearing, Davis said the last available analysis on that scenario dated back to the 2016 referendum campaign, before Britons voted to leave the EU.
"It (the government) made an estimate during the ... referendum campaign but I think one of the issues that's arisen is that those forecasts don't appear to have been very robust," said Davis, who became a minister in July after the vote.
Pressed whether any work had been done since then, he said: "If you mean under my time, no."
Davis said the main reason for this was that there were too many variables and uncertainties involved, including in areas such as customs procedures. "Until we have worked out all the mitigation procedures we could not quantify the outcome," he said.
Asked whether leaving the EU without a deal would be a bad outcome for Britain, Davis said he did not think it would be as good as the free trade agreement Britain is seeking with the bloc but he agreed with May it could be better than a bad deal.
"I can't quantify it for you in detail yet. I may well be able to do so in about a year's time. It is certaintly the case that it is not as frightening frankly as some people think but it is not as simple as some people think," he said.
Davis also said he expected legislation giving the prime minister the power to begin the formal exit process would be formally approved by Queen Elizabeth on Thursday.