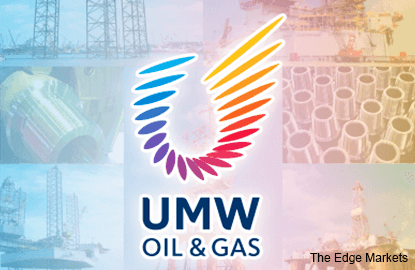 KUALA LUMPUR (Jan 5): Shares in UMW Oil & Gas Corp Bhd (UMW-OG) surged to its three-month high at mid-morning today, after its Naga 7 was awarded an 18-month contract by Petronas Carigali Sdn Bhd. 
At 9.55am, the stock narrowed its gains to trade at 93.5 sen, still up 2.5 sen or 2.75%, after climbing to a high of 94.5 sen shortly after opening bell. 
A total of 1.42 million shares were exchanged between 91 sen and 94.5 sen. The current price values it at RM2.03 billion. 
UMW-OG told stock exchange yesterday that its indirect unit UMW Offshore Drilling Sdn Bhd (UOD) has received a conditional letter of award from Petronas Carigali for the provision of jack-up drilling services, but did not disclose the contract value. 
Today, Hong Leong Investment Bank Research said the contract win was a positive surprise, as it did not expect three rigs (Naga 6, 7 & 8) to be locked in for whole year of 2017. 
The firm raised its call to Hold with revised target price of 91 sen per share. 
"Expected charter rate for Naga 7 in this contract to be circa US$100,000 per day, given it's just two year old, coupled with higher specifications. Profit and loss breakeven of this rig would require at least 70% utilisation rate," said HLIB Research O&G analyst Lim Sin Kiat said in a note today. 
"Post this contract win, UMWOG will have at least three working rigs in the whole year of 2017, with one more (Naga 2) working in second quarter 2017 (2Q17), implying that close to 50% of the total fleet would be working in 2017, higher utilisation than 36% expected utilisation of rig fleet in 2016," he added. 
Having said that, he said UMW-OG's earnings outlook in 2017 remains bleak.
"Prospects of securing new rig contract in 2017, however, has improved due to expected recovery of oil prices in 2017, post Organization of the Petroleum Exporting Countries (OPEC)'s commitment for production cut," Lim noted. 
In the current oversupplied local jack up rig market, he opined charter rates and utilisation rates could remain low at the range of US$70,000 to US$100,000 per day in the near term, until drilling activities pick up more significantly. 
Lim raised the group's financial year 2017 and financial year 2018 earnings forecast to RM191 million loss and RM42 million profit, from RM236 million loss and RM24 million profit respectively, to account for higher overall rig utilisation rate upon better expected demand for rigs.
UMW-OG is 51%-owned by UMW Holdings Bhd. The positive news also drove UMW's share price to rise as much as 17 sen or 3.8% to a high of RM4.62 in early trades. 
At 9.55am, the stock was traded at RM4.60, up 15 sen or 3.37%, making it the third top gainer on the local bourse. 
A total of 202,500 shares were changed hands, giving it a market value of RM5.37 billion.