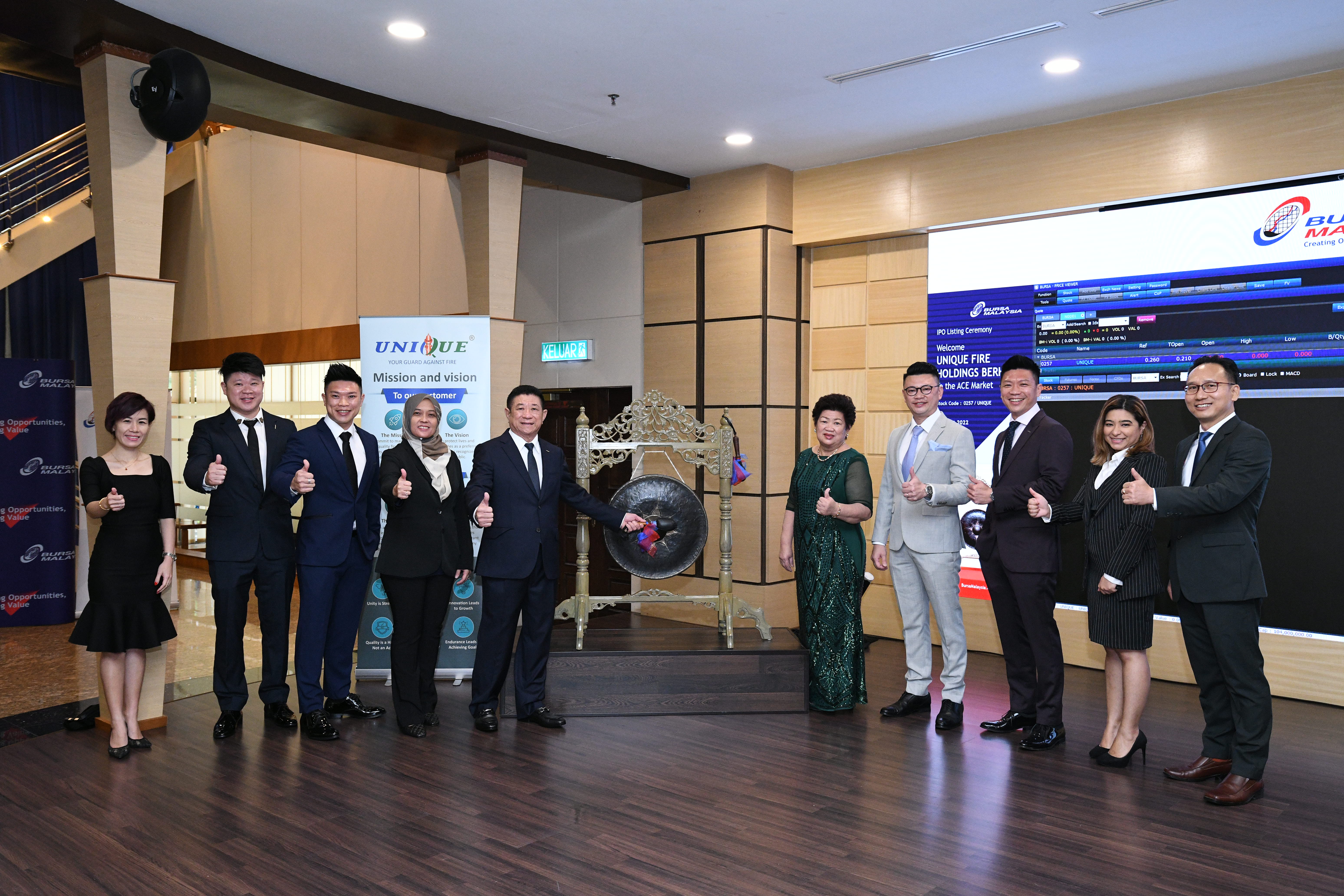 KUALA LUMPUR (Aug 5): Unique Fire Holdings Bhd said there is a pent-up demand for fire protection systems, equipment and accessories, as many construction and development projects have accelerated and are due for delivery after the easing of the Covid-19 pandemic.  
Its executive director Datuk Marcus Liew said Unique Fire is confident of positive growth going into financial year 2023 (FY23), stating its database included being the sole supplier for the Mass Rapid Transit (MRT) Line 1 tunnelling stations as well as for vehicles in the logistics side.
The company is also attempting to get its fire extinguisher products certified by British standards as it plans to export to Hong Kong, the Middle East and other commonwealth countries, Liew said in a press conference after Unique Fire's debut on the ACE Market of Bursa Malaysia on Friday (Aug 5).
Unique Fire's shares opened 19.23% or five sen lower at 21 sen from its initial public offering (IPO) price of 26 sen. At midday break, the shares pared some losses to 23 sen. It has seen about 73.17 million shares exchanged hands.  
Through the IPO, the company expected to raise RM21.78 million from the listing exercise. It earmarked RM6 million of the proceeds for the expansion of its geographical coverage — a new sales office with a warehouse in Penang and Johor respectively — and RM2.5 million for the expansion of its manufacturing facilities.
Another RM5.3 million will be set aside for the expansion of its operational capabilities, RM4.58 million for working capital, while the remaining RM3.4 million will be used to fund listing expenses.
"Currently, we only have one manufacturing line and the capacity is now around 85%. With two new added lines, we believe we can generate an additional 470,000 fire extinguishers per year," Liew said.
He also said Unique Fire is still sourcing a suitable location for its new warehouses. In Johor, the company is leaning towards the heart of the town where there is accessibility and connectivity to the highway. In Penang, the company is considering industrial areas where most of the foreign direct investment is potentially at.
"We believe with our presence in either Penang or Johor, we will be more localised. We understand there are also some small traders in these two respective regions and we hope we will capture the market," he said.
Currently, Unique Fire's principal market (97%) is in Malaysia, where the highest revenue is derived from the Klang Valley followed by Penang.
"Our foreign market is relatively low, around 2% to 3% only. We are planning to push it to 3% to 5% more yearly," Liew said.
According to its fact sheet, the export market that Unique Fire has supplied to included Vietnam, Cambodia and Brunei. Liew said that these markets accept its fire extinguishers that are SIRIM-certified.
"Our trade overseas is collected in US dollars, so it is in our favour at the moment," he added.
Unique Fire posted a net profit of RM1.23 million for its fourth quarter ended March 31, 2022 on the back of RM21.87 million in revenue, according to its bourse filing on Wednesday (Aug 3).
For the full financial year ended March 31, 2022, it recorded a net profit of RM5.64 million and revenue of RM75.74 million.
Liew said that Unique Fire is the third largest company in the Malaysian fire protection industry in terms of revenue.
"Throughout the 25 years that the company has been running, we have merely focused on fire protection equipment without participating in any tenders or servicing and maintenance, so most of our customers have been with us for more than 20 years or some around 10 to 15 years ... this is our main strength," he said.  
In terms of pricing for its products, Liew said there were increments implemented as the price of steel has increased. Steel is the main raw material (30%) used to manufacture fire extingushers.
"Ever since the steel price increase, we have been practising a monthly pricing strategy. So, we will review our price from day to day, and price our products on a monthly basis. But the steel price has become a bit more stable and is also coming down," he said.
Notably, the company has a current ratio of 4.16 times according to its balance sheet as at March 31, 2022, compared to 3.42 times in FY21.
Liew said Unique Fire keeps a high stock level of inventory especially during the pandemic due to the supply chain issue.
"It is also one of our attractions to customers as they treat our warehouse as their store. So they do not need to have a big store or warehouse when it comes to fire protection equipment," he said.