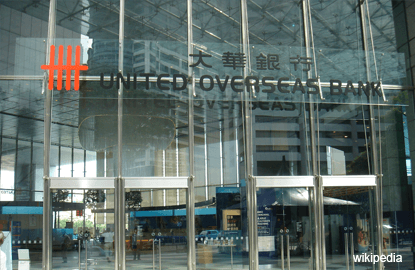 SINGAPORE (Aug 17): United Overseas Bank (UOB) says it is "deepening its commitment to helping startups grow" by training its commercial bankers to provide clients with information on alternative funding channels.
"In the last six months, we have trained more than 100 commercial bankers to identify and to understand the type of financing for which startups can qualify," says Janet Young, UOB's head of group channels and digitalisation in a Wednesday statement.
UOB calls the training a "timely" move as its strategic equity crowdfunding platform, OurCrowd, was recently awarded a full Capital Market Services (CMS) licence from the Monetary Authority of Singapore (MAS) in end-July. The licence allows UOB to market OurCrowd in Singapore.
Earlier this year, the bank invested US$10 million (S$13.9 million as at March 3, 2016) in OurCrowd.
(See UOB invests US$10 million in OurCrowd)
Individuals whose net personal assets exceed S$2 million or whose income in the preceding 12 months is not less than S$300,000, as well as corporations with net assets which exceed S$10 million, are now able to invest in OurCrowd's portfolio companies.
The Israeli equity crowdfunding platform invests its own capital, alongside crowd investors, in selected financial technology (fintech) startups. It also offers investors the same valuation, liquidation reference and protection terms as those under traditional venture capital funds.
"We are proud of the rapid growth of our unique brand of equity crowdfunding and teaming up with UOB to advance the cutting-edge of fintech and the startup ecosystem in the region," says OurCrowd's founder and CEO, Jon Medved.
"As we work together, innovative Asian companies with differentiated and highly scalable technology products and services will be able to get access to another source of funding from a global investor network to jumpstart their international expansion and business development," he shares.
Young adds: "Through our initiatives, we are well-equipped to support the startup ecosystem and help them realise their full potential."
UOB offers a range of support aside from OurCrowd to Asian SMEs and startups, from its accelerator programme The FinLab, to venture debt financing and investment banking.
As at 10:53am, shares of UOB are trading 0.74% higher at S$17.68.