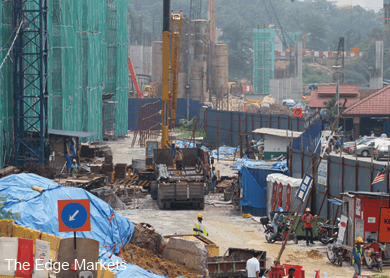 WASHINGTON (Sept 1): US construction spending rose in July to the highest level in just over seven years as private outlays surged, providing another sign of solid economic momentum at the start of the third quarter.
Construction spending increased 0.7% to $1.08 trillion, the highest level since May 2008, the Commerce Department said on Tuesday. June's outlays were revised up to show a 0.7% increase instead of the previously reported 0.1% gain.
Construction spending has increased for eight straight months. Economists polled by Reuters had forecast construction outlays rising 0.6% in July. Construction spending was up 13.7% compared to July of last year.
The report rounded off a month of solid data that suggested the economy had retained much of its strength from the second quarter, when it expanded at a 3.7% annual pace. July data for consumer spending, industrial production, business spending, housing and employment painted a fairly upbeat picture of the economy.
Construction spending in July was buoyed by a 1.3% jump in private construction spending to the highest level since April 2008. Spending on private non-residential construction projects surged 1.5% to the highest level since October 2008.
Massive capital investment cuts in the energy sector in response to the past year's plunge in crude oil prices have undercut spending on non-residential structures. However, nonresidential construction spending excluding the oil and gas sector rose sharply in the second quarter.
Spending on private residential construction increased 1.1% in July to a near 7½-year high, reflecting gains in home building.
Public construction outlays, however, fell 1.0%. Spending on state and local government projects, which is the largest portion of the public sector segment, dropped 1.1%. Federal government outlays rose 0.9%.