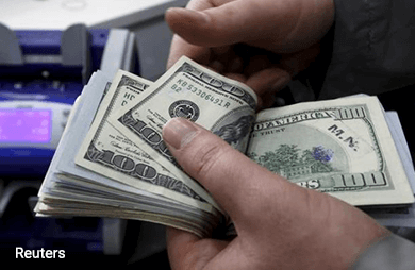 WASHINGTON (March 1): US consumer spending rose less than expected in January as the largest monthly increase in inflation in four years eroded households' purchasing power, pointing to moderate economic growth in the first quarter.
The surge in inflation raises the possibility of an interest rate increase from the Federal Reserve this month. While still below the US central bank's 2% target, inflation is now in the upper end of the range that Fed officials in December felt would be reached this year.
The Commerce Department said on Wednesday that consumer spending, which accounts for more than two-thirds of US economic activity, increased 0.2% after rising 0.5% in December. Economists polled by Reuters had forecast consumer spending gaining 0.3% in January.
Consumer spending is likely to remain supported amid promises by the Trump administration of sweeping tax cuts and increased infrastructure spending.
In a speech to Congress on Tuesday night, President Donald Trump said his economic team was working on a "historic tax reform that will reduce the tax rate on our companies" and promised a "massive" tax relief for the middle class. Trump offered no further details.
Consumer confidence has surged following Trump's election victory, hitting a 15½-year high in February.
In January the personal consumption expenditures (PCE) price index increased 0.4% — the largest gain since February 2013 — after rising 0.2% in December.
In the 12 months through January, the PCE price index jumped 1.9%. That was the biggest year-on-year gain since October 2012 and followed a 1.6% increase in December.
Excluding food and energy, the so-called core PCE price index rose 0.3% in January. That was the biggest increase since January 2012 and followed a 0.1% gain in December.
The core PCE price index increased 1.7% year-on-year after a similar gain in December. The core PCE is the Fed's preferred inflation measure.
Prices for US Treasuries fell, with the yield on the interest-rate sensitive 2-year note rising to its highest level since August 2009. Fed funds futures were pricing in a 65% chance of an interest rate hike at the Fed's March 14-15 policy meeting.
The US central bank has forecast three rate increases this year. The Fed hiked its overnight interest rate last December by 25 basis points to a range of 0.50% to 0.75%.
The dollar rose against a basket of currencies, while US stock index futures pared gains slightly.
REAL SPENDING FALLS
Rising price pressures, however, suggest that consumer spending will probably not provide a big boost to gross domestic product in the first quarter. When adjusted for inflation, consumer spending fell 0.3% in January, the first drop since August and the biggest in three years. Real consumer spending increased 0.3% in December.
Consumer spending increased at a 3.0% annualized rate in the fourth quarter, helping to blunt some of the impact on the economy from a wider trade deficit. The economy grew at a 1.9% rate in the fourth quarter.
Consumer spending in January was held back by a 0.3% drop in purchases of long-lasting manufactured goods such as automobiles. Spending on services was unchanged.
Personal income rose 0.4% in January after gaining 0.3% in December. Wages and salaries rose 0.4%.
Income at the disposal of households after accounting for inflation and taxes, fell 0.2%, the first decline since October 2013. Savings increased to US$795.7 billion in January from US$779.5 billion in December.