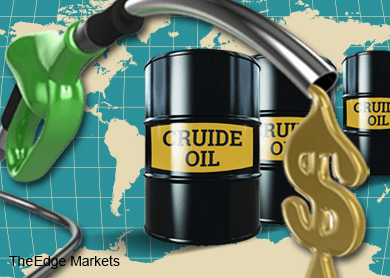 SINGAPORE (Dec 9): U.S. crude futures fell to the lowest in more than five years on Tuesday, extending a 4-percent slide in the previous session on expectations that a deepening oil glut would keep prices under pressure next year.
FUNDAMENTALS
* U.S. crude for January delivery dropped as low as $62.25 a barrel, before trading at $62.88 by 0017 GMT, down 15 cents. The session low was its weakest since June 2009, and followed a 4.2-percent fall on Monday.
* Brent crude also slumped more than 4 percent in the previous session, touching a low of $65.93 a barrel, a level last seen in October 2009, before settling at $66.19.
* Oil prices are likely to remain around $65 a barrel for the next six to seven months until the global economy recovers or OPEC changes its production policy, the head of Kuwait's state oil company said.
* Brent has fallen 43 percent since June with losses deepening in late November after the Organization of the Petroleum Exporting Countries decided not to cut its output target of 30 million barrels per day.
* Adding pressure to prices, oil production from the United States' biggest shale plays - the Bakken, Eagle Ford and Permian Basin - will keep expanding at the same breakneck pace into early next year, the U.S. Energy Information Administration said.
* Iraq has cut the official selling price (OSP) to Asia and the United States in January for its main crude oil export grade, Basrah light, but raised the OSP slightly to Europe.
* The move follows a sharp reduction to Saudi Arabia's crude oil OSPs to Asia and the United States last week, in what many analysts and traders have said suggests countries are competing to hold on to market share in an oversupplied market.
* Lower commodity prices will spur the global economy and China remains a boon for raw materials despite the country's recent weak data, Swiss trading house Trafigura's founder Claude Dauphin said.