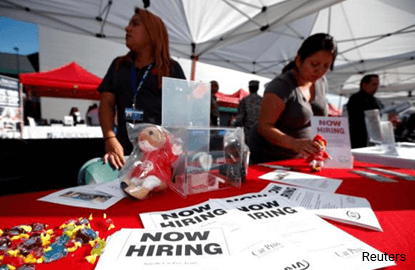 WASHINGTON (Jan 19): US homebuilding rebounded more than expected in December as a strengthening economy boosts demand for rental housing.
Other data on Thursday showed the number of Americans filing for unemployment benefits unexpectedly falling last week to a near 43-year low, pointing to a further tightening in the labor market that should underpin economic growth this year.
Housing starts jumped 11.3% to a seasonally adjusted annual rate of 1.23 million units last month, the Commerce Department said. Economists polled by Reuters had forecast housing starts increasing to a 1.20 million-unit rate in December.
Groundbreaking on new housing projects increased 4.9% to 1.17 million in 2016. The housing market remains on solid ground even as mortgage rates have jumped above 4%. The tightening labor market is driving demand for multi-family housing, which has pushed up rents.
In a separate report, the Labor Department said initial claims for state unemployment benefits fell 15,000 to a seasonally adjusted 234,000 for the week ended Jan 14. That was just shy of the 233,000 level touched in mid-November, which was the lowest since November 1973.
It was the 98th straight week that claims remained below 300,000, a threshold associated with a healthy labor market. That is the longest stretch since 1970, when the labor market was much smaller.
The four-week moving average of claims, considered a better measure of labor market trends as it irons out week-to-week volatility, fell 10,250 to 246,750 last week, the lowest level since November 1973. The labor market is considered to be at or near full employment, with the unemployment rate near a nine-year low of 4.7%.
US financial markets moved slightly on the data.
Home building is expected to make a modest contribution to economic growth in the fourth quarter after being a drag on gross domestic product in the prior two periods.
A survey on Wednesday showed homebuilders' confidence easing slightly in January, but remaining not far from levels last seen in July 2005. Construction remains constrained by shortages of lots and labor. Builders are hoping that the incoming Trump administration will streamline and reform regulations.
Republican Donald Trump, who will be sworn in as president on Friday, has pledged to reduce regulations, among other policy initiatives.
Last month, single-family home building, which accounts for the largest share of the residential housing market, fell 4.0% to a 795,000-unit pace. Starts for the volatile multi-family homes segment soared 57.3% to a 431,000-unit pace.
Permits for future home construction slipped 0.2% to a 1.21 million-rate last month as approvals for the multi-family segment fell 9.0%. However, permits for single-family homes construction rose 4.7%.