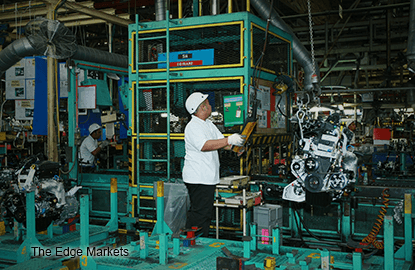 WASHINGTON (Jan 18): US industrial production rebounded in December due to the biggest jump in utilities since 1989 as temperatures cooled across the country.
The Federal Reserve said on Wednesday industrial output rose 0.8% last month after a downwardly revised 0.7% decline in November.
Economists polled by Reuters had forecast industrial production rising 0.6%. The US central bank's measure of the industrial sector comprises manufacturing, mining, and electric and gas utilities.
Overall industrial production, however, fell at an annual rate of 0.6% in the fourth quarter.
The bulk of December's increase was due to the 6.6% rise in the utilities index, which had been hampered the previous month by unseasonably warm weather.
Manufacturing output edged up 0.2% and mining production was unchanged.
Overall manufacturing output rose at an annual rate of 0.7% in the fourth quarter while the index for mining surged 11.9% in the quarter.
With overall output increasing in December, the percentage of industrial capacity in use rose 0.6 percentage point in December to 75.5%, from a slightly downwardly revised 74.9% in November.
Fed officials look to capacity use as a signal for how much further the economy can accelerate before sparking higher inflation.