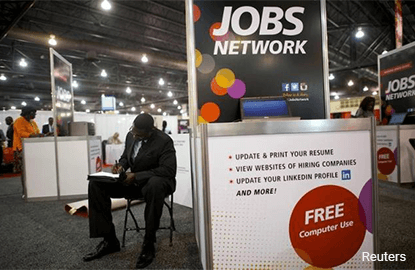 WASHINGTON (Feb 2): The number of Americans filing for unemployment benefits fell more than expected last week, pointing to tightening labour market conditions that should support the economy this year.
While other data on Thursday showed a 37% jump in layoffs in January, the job cuts were mostly related to department store closures as retailers try to adjust to consumers' preferences for online shopping.
Initial claims for state unemployment benefits fell 14,000 to a seasonally adjusted 246,000 for the week ended Jan 28, the Labor Department said. Claims have now been below 300,000, a threshold associated with a healthy labour market, for 100 straight weeks. That is the longest stretch since 1970, when the labour market was much smaller.
"The readings continue to point to a job market, where employers are confident of continued gains and content to maintain or expand their workforce," said Jim Baird, chief investment officer at Plante Moran Financial Advisors in Kalamazoo, Michigan.
The labor market is at or close to full employment, and the Federal Reserve said on Wednesday it expected labor market conditions would strengthen "somewhat further." A tight labour market is expected to boost wage growth and support the economy through strong consumer spending and a continued housing market recovery.
The Fed, which has forecast three interest rate increases this year, kept its benchmark overnight lending rate unchanged in a range of 0.50% to 0.75% at the end of its latest two-day policy meeting on Wednesday. The U.S. central bank increased borrowing costs in December.
Economists polled by Reuters had forecast first-time applications for jobless benefits falling to 250,000 in the latest week. The four-week moving average of claims, considered a better measure of labour market trends as it irons out week-to-week volatility, rose 2,250 to 248,000 last week.
U.S. stock index futures trimmed losses after the data. Prices for U.S. Treasuries were higher, while the dollar was weaker against a basket of currencies.
Stronger payrolls expected
Last week's claims data have no bearing on January's employment report, which is due to be released on Friday, as they fall outside the survey period.
According to a Reuters survey of economists, nonfarm payrolls probably increased by 175,000 jobs last month, picking up from the 156,000 jobs added in December. The unemployment rate is expected to be unchanged at 4.7% in January, near a nine-year low.
There is, however, a possibility that employment gains could beat expectations, after reports on Wednesday showed jumps in private sector hiring and manufacturing jobs in January. But retail payrolls could disappoint in January.
In a separate report on Thursday, global outplacement consultancy Challenger, Gray & Christmas said U.S. employers announced 45,934 job cuts in January, a 37% jump from December and the highest number since April 2016.
Retailers announced 22,491 layoffs, accounting for 49% of all job cuts recorded last month. Department store giant Macy's, which is closing 68 stores, announced 10,000 job cuts. Department stores have faced stiff competition from online rivals including Amazon.com.
In another report, the Labour Department said worker productivity rose at a 1.3% annual rate in the fourth quarter, slowing from the prior period's brisk 3.5% pace of increase. Productivity rose 0.2% in 2016, the smallest gain since 2011, after increasing 0.9% in 2015.
Weak productivity has boosted employment growth as companies hire more workers to maintain output, which could help explain the divergence between payroll gains and economic growth. The economy grew 1.6% in 2016, while job growth averaged 180,000 per month.
Productivity has increased at an annual rate of less than 1.0% in each of the last six years. Productivity growth averaged 1.1% from 2007 to 2016, well below the long-term rate of 2.1% from 1947 to 2016.
In the fourth quarter, output per worker increased at a 2.2% rate. Unit labor costs, the price of labour per single unit of output, increased at a 1.7% pace. They rose at a 0.2% rate in the prior period.
Unit labor costs rose 2.6% in 2016, after increasing 2.0% in 2015. Hourly compensation per hour rose at a 3.0% rate in the fourth quarter. While that was slower than the third quarter's 3.7% rate of increase, it continued to suggest that wage growth is picking up.
Hourly compensation rose 2.8% in 2016, after advancing 2.9% in 2015.