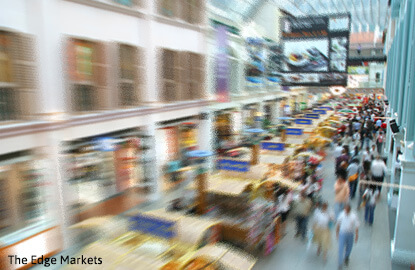 WASHINGTON (Feb 15): U.S. retail sales rose more than expected in January as households bought electronics and a range of other goods, pointing to sustained domestic demand that should bolster economic growth in the first quarter.
The economy's improving prospects were also underscored by other data on Wednesday showing consumer prices last month, recording their biggest increase in nearly four years. The upbeat reports came a day after Federal Reserve Chair Janet Yellen appeared to put an interest rate hike next month on the table.
"The U.S. economy has quite a bit of momentum as the year began," said Jennifer Lee, a senior economist at BMO Capital Markets in Toronto. "This morning's reports add a little more impetus for the Fed to move this quarter. Still not our call but it is becoming very interesting."
The Commerce Department said retail sales increased 0.4% last month. December's retail sales were revised up to show a 1.0% rise instead of the previously reported 0.6% advance.
Last month's fairly solid sales came despite motor vehicle purchases posting their biggest drop in 10 months. Compared to January last year retail sales were up 5.6%.
Excluding automobiles, gasoline, building materials and food services, retail sales increased 0.4%, after a similar gain in December. These so-called core retail sales correspond most closely with the consumer spending component of gross domestic product.
Economists had forecast retail sales ticking up 0.1% and core sales gaining 0.3% last month.
The dollar rose to a one-month high versus a basket of currencies on the data, while prices for U.S. government bonds fell. U.S. stock index futures slipped.
January's fairly strong retail sales supported views that economic growth will accelerate in the first quarter. The economy grew at a 1.9% annualized rate in the fourth quarter. The Atlanta Fed is currently forecasting the economy growing at a 2.7% annualized rate in this quarter.
In a separate report, the Labor Department said its Consumer Price Index jumped 0.6% last month, the largest increase since February 2013, after gaining 0.3% in December. The surge in the CPI reflected increases in gasoline, apparel and motor vehicle prices among others.
In the 12 months through January, the CPI increased 2.5%, the biggest year-on-year gain since March 2012. The CPI rose 2.1% in the year to December. Inflation is trending higher as prices for energy goods and other commodities rebound as global demand picks up.
Inflation climbing
The so-called core CPI, which strips out food and energy costs, rose 0.3% last month, after increasing 0.2% in December. That lifted the year-on-year core CPI increase to 2.% in January, from December's 2.2% increase.
The Fed has a 2% inflation target and tracks an inflation measure which is currently at 1.7%. Strengthening domestic demand together with firming inflation and a tightening labor market could allow the Fed to raise interest rates at least twice this year.
Yellen told lawmakers on Tuesday that "waiting too long to remove accommodation would be unwise." The U.S. central bank has forecast three rate increases this year. The Fed hiked its overnight interest rate last December by 25 basis points to a range of 0.50% to 0.75%.
Retail sales last month were buoyed by a 1.6% jump in sales at electronics and appliances stores. That was the biggest rise since June 2015 and followed a 1.1% drop in December. Receipts at building material stores increased 0.3%.
Sales at clothing stores jumped 1.0%, the largest rise in nearly a year. Department store sales climbed 1.2%, the biggest increase since December 2015.
Department store sales have been undercut by online retailers, led by Amazon.com. That has led to some retailers, including Macy's, Sears and Abercrombie & Fitch announcing shop closures.
Sales at online retailers were unchanged last month, after soaring 1.9% in December. Receipts at restaurants and bars rose 1.4%, while sales at sporting goods and hobby stores shot up 1.8%.
Receipts at auto dealerships, however, fell 1.4% after vaulting 3.2% in December. Last month's drop was the biggest since March 2016. Motor vehicle prices shot up 0.9%, the largest rise since November 2009.