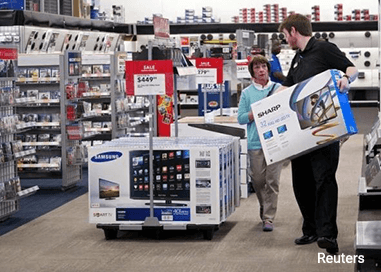 WASHINGTON (March 15): US retail sales recorded their smallest increase in six months in February as households cut back on motor vehicle purchases and discretionary spending, the latest indication that the economy lost further momentum in the first quarter.
Other data on Wednesday showed a steady increase in inflation, with the consumer price index posting its biggest year-on-year increase in nearly five years in February. Firming inflation could allow the Federal Reserve to raise interest rates on Wednesday despite signs of slowing domestic demand.
"Nothing here to suggest the Fed shouldn't raise interest rates at the policy meeting that concludes later today," said Paul Ashworth, chief US economist at Capital Economics in Toronto.
The Commerce Department said retail sales edged up 0.1% last month, the weakest reading since August. But January's retail sales were revised up to show a 0.6% rise instead of the previously reported 0.4% advance.
Sales were likely held back by delays in issuing tax refunds this year as part of efforts by the government to combat fraud. Compared to February last year retail sales were up 5.7%.
Excluding automobiles, gasoline, building materials and food services, retail sales rose 0.1% after an upwardly revised 0.8% jump in January. These so-called core retail sales, which correspond most closely with the consumer spending component of gross domestic product, were previously reported to have increased 0.4% in January.
"The later-than-usual processing of income tax refunds may have hampered consumer spending. However, the IRS has now caught up to last year's pace, and so spending could get a bump up in March," said Gus Faucher, deputy chief economist at PNC Financial in Pittsburgh.
In a separate report, the Labor Department said its Consumer Price Index ticked up 0.1% last month as a drop in gasoline prices offset increases in the cost of food and rental accommodation. That was the weakest reading in the CPI since July and followed a 0.6% jump in January.
In the 12 months through February, the CPI accelerated 2.7%, the biggest year-on-year gain since March 2012. The CPI rose 2.5% in the year to January. Inflation is firming in part as the 2015 drop, which was driven by lower oil prices, fades from the calculation.
The so-called core CPI, which strips out food and energy costs, increased 0.2% last month as new motor vehicle prices fell and apparel prices moderated after spiking in January. The core CPI increased 0.3% in January.
In the 12 months through February, the core CPI increased 2.2% after advancing 2.3% in January. It was the 15th straight month the year-on-year core CPI remained in the 2.1% to 2.3% range.
The Fed has a 2% inflation target and tracks an inflation measure which is currently at 1.7%.
SLOWING GROWTH
The US central bank is expected to raise its overnight benchmark interest rate by 25 basis points to a range of 0.75% to 1.00% on Wednesday. It increased borrowing costs last December and has forecast three rate hikes in 2017.
US financial markets were little moved by the data as traders awaited the outcome of the Fed's meeting. The Fed will announce its decision on interest rates at 2pm (1800 GMT)
"Should inflation continue to firm and consumer spending remain solid, we expect the Fed will hike again in June, and at least three times this year," said Michael Hanson, chief economist at TD Securities in New York.
February's retail sales added to January's weak reports on trade, construction and business spending that have pointed to sluggish economic growth in the first quarter.
The Atlanta Fed is forecasting GDP rising at a 1.2% annualized rate in the first quarter. With the labor market near full employment, slowing growth probably understates the health of the economy. In addition, GDP growth tends to be weaker in the first quarter because of calculation issues that the government has acknowledged and is working to resolve.
Tightening labor market conditions, which are steadily lifting wages, continue to underpin consumer spending.
In February, motor vehicle sales fell 0.2% after declining 1.3% the prior month. Receipts at service stations slipped 0.6%, reflecting lower gasoline prices.
Sales at electronics and appliances recorded their biggest decline since December 2011. Sales at clothing stores were the weakest in nearly a year. Retailers including J.C. Penney Co Inc, Abercrombie & Fitch and Macy's Inc are scaling back on brick-and-mortar operations amid increased competition from online retailers, led by Amazon.com.
Sales at online retailers jumped 1.2% last month. Receipts at building material stores increased 1.8%. Americans also cut back on spending at restaurants and bars, and spent less on hobbies and sporting goods.