This article first appeared in The Edge Malaysia Weekly, on September 30, 2019 - October 06, 2019.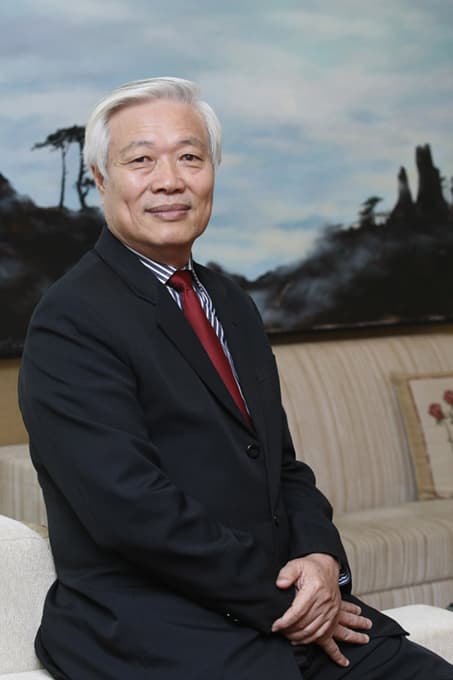 We have to work harder to deliver and create more value for our stakeholders, especially for our country at this difficult time. — Chia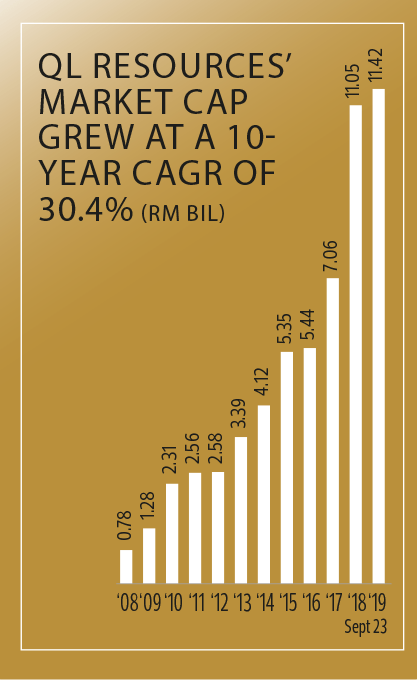 He sold seashells, not by the seashore, but in powdered form, to feed mills. That was the beginning of the rags-to-riches tale of Dr Chia Song Kun and his extended family. The catch the family reels in today would be very different if Song Kun had, like his brothers, dropped out of school at 11 to become fishermen. The headmaster of his school convinced his brothers to support him in his quest for an education, which led to Song Kun graduating from Universiti Malaya and becoming a maths lecturer at Institut Teknologi Mara in Shah Alam. There, in the course of researching the nutritional value of rubber seeds at a nearby miller for a paper, Song Kun learnt that seashells could be a source of calcium in animal feed.
Shells were plentiful in his hometown, the swampy backwater coastal village of Sungai Burong in Selangor. The shells could be collected using his brother Song Kang's fishing boat, thought Song Kun. He was determined to lift his family out of poverty.
While the concept was simple, getting the seashells to the mill required so much sweat and tears that he and his brothers almost gave up. That was some 40 years ago. The beach was inaccessible by road and without capital to build infrastructure, their methods were primitive. It was more than two years before their first breakthrough came: a Singapore dealer supplying to poultry farms liked and wanted over 80% of what they had to sell. The proceeds were used to build a coconut trunk road leading to the beach, finally allowing carts to be sent in to pick up the shells.
From there, Song Kun and his family accumulated capital and overcame many hurdles and challenges. The local feedstuff trader has become a multinational agro-food corporation. QL is among Asia's largest egg producers and surimi manufacturers and is building a presence in the sustainable palm oil sector with activities including milling, plantations and biomass clean energy. Its fishmeal, surimi and frozen food exports reach Japan, South Korea, Singapore, Pakistan, Bangladesh, Spain, Portugal and North America, among others. In November 2016, QL opened its first franchised FamilyMart Convenience Stores, through which it is selling its own eggs and surimi-based food products.
In Malaysia, QL trades over one million tonnes of animal feed raw materials annually — a long way from carting shells from the seashore.
"I believe if you work hard, work smart, use technology wisely, open up markets and create and advantage for yourself, you can compete. Innovation is important to us. We have used many innovative ideas along the way," Song Kun said in a 2017 book commemorating QL Resources' first 30 years.
Just as it takes darkness for stars to shine and stress for diamonds to form, the lack of capital meant there was a need for ingenuity and teamwork, which set the foundations for QL. Adding to that is the strong family support and having the right values, which is reflected in the group's initials. QL is an abbreviation of the Mandarin words quán lì (??), which means "everybody benefits".
QL Resources Bhd made its debut on the Second Board of the Kuala Lumpur Stock Exchange at the turn of the millennium, over two decades after that first seashell-harvesting venture in 1977. It only took two years to graduate to the Main Board. Someone who bought 1,000 QL shares at the IPO price of RM2.50 in 2000 would have seen his purchase grow to nearly 50,000 shares worth nearly RM250,000 as at Sept 23, 2019, according to Bloomberg data. The gains reflect the 30% compound average growth rate per year that QL's market capitalisation has seen in the past decade.
"I believe, with this award, we have to work harder to deliver and create more value for our stakeholders, especially for our country at this difficult time. We have to pay more tax, and create more employment," Song Kun told The Edge after being named this year's The Edge Billion Ringgit Club Value Creator: Outstanding CEO of Malaysia.
To manage family feuds and ensure that QL survives generation after generation, Song Kun convinced the family members to set up a family business trust, which may well be the reason why he has not been on Forbes Malaysia's 50 Richest list since 2016 despite QL's current market value of over RM11 billion, which is double the RM5.4 billion seen as at end-2015. Its market cap was only RM2.5 billion when it was named Company of the Year in 2011. Its market value was only RM138.4 million as at end-2000.
"No matter what we achieve, we will strive to remain humble and down-to-earth, remembering where we came from and our struggle to get here. But in terms of achievement, we know that the sky is the limit. So, we keep our feet on the ground and keep reaching for the stars," Song Kun says in the book.
Wise words that could well inspire many more successes.