This article first appeared in The Edge Financial Daily, on November 29, 2018.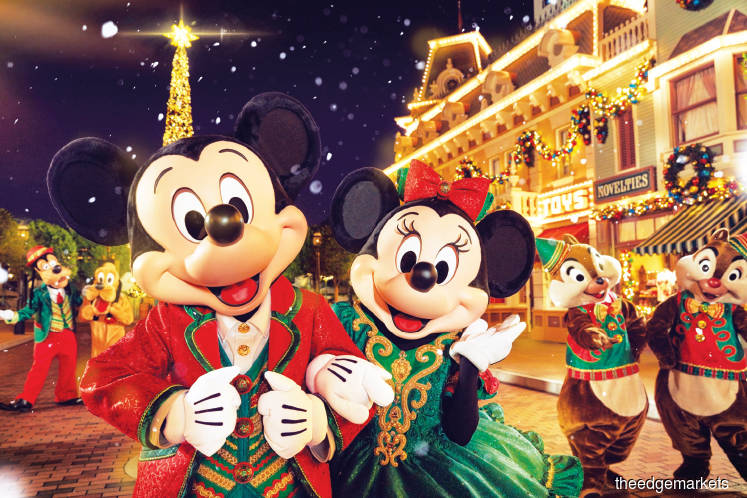 Mickey Mouse and Minnie Mouse at Hong Kong Disneyland.
Santa Goofy, Hong Kong Disneyland.
Ngong Ping VR360.
Shopping at Ngong Ping Village.
Crystal Cabin Cable Car.
The world's largest kaleidoscope, Harbour City.
As 2018 comes to an end, there is just enough time to squeeze in a trip perfectly designed for building memories with loved ones by enjoying the experiences Hong Kong has to offer. During the Christmas season, Hong Kong provides visitors with a variety of activities to partake in from unleashing your inner-child at Hong Kong Disneyland to admiring the city skyline at sky100 Observation deck.
Christmas Wonderland at Hong Kong Disney Land
Celebrate Christmas with Mickey and his Friends at Disneyland this year. Not only is there an abundance of Christmas decorations to view, there is also a large variety of shows and activities for all ages to enjoy. An enchanting wonderland with rumours of snow is just what you need to ignite the magic spark inside of you to kindle the spirit of Christmas. First and foremost, you will be invited to the Christmas Time Ball, a yuletide musical extravaganza where you can sing along to classic Christmas tunes with a live quartet of singers. On top of that, there will be a Fantasy Gardens Wintertime Market where you can eat and shop as holidays kiosks will be stocked with tempting Christmas treats and festive holiday gifts. Not to mention this is the perfect spot to take a memorable photograph with your loved ones with the giant Christmas ornaments, twinkly lights and sprinkles of snow. The icing on the cake of this experience would most definitely be Santa Goofy who will be greeting guests at The Annex. He will be sitting on his Christmas throne, ready to hand out collectable postcards which you can mail to friends back home.
Ngong Ping's latest attraction — VR 360
Ngong Ping 360 is eager to welcome guests to VR360 which was recently launched this July. Guests will be able to immerse themselves in an interactive experience at VR360 which includes activities such as Time Shuttle, where users will be virtually transported to the Nam Sham Estate to experience the daily lives of Hong Kong people, High Altitude Ropeway Walk, where guests play cable engineers to solve tasks while enjoying the unique scenery and attractions of Lantau Island, among others. Furthermore, there will be a Snow Village with a picturesque location that allows visitors to experience White Christmas memories whether it be making snow angels or skating in an outdoor ice-skating rink. Lastly, guests can experience breathtaking views first-hand with a trip up to Ngong Ping in a Crystal Cabin Cable Car. The spectacle oversees Lantau Island, providing a beautiful view of the Big Buddha as well as the surrounding landscape.
sky100 Observation Deck
A visit to this observation deck is a must for travellers to witness Light Up the Sky. View Hong Kong's spectacular Christmas lights with a 360-degree view of the skyline and Victoria Harbour from 393m above sea level. There will be a new night show in December with lighting and visual effects used to portray the unique vibes. Upon arriving at the 100th floor, visitors will be embraced by a romantic atmosphere where you can surprise a loved one by putting up custom messages as a part of the light animations.
Shopping at Sino Mall and Harbour City
These two prime locations for a city that is synonymous with shopping are overflowing with vibrant festivities. This festive season, Sino Mall will be lit with Christmas lights designed by Australian artist, Drew Straker. These lights will take after his neon sign-like graffiti art which will also be showcased around China Hong Kong City. Tourists will also get to enjoy shopping at the gorgeous picture-perfect location — the world's largest kaleidoscope, Harbour City. Tickets can be redeemed by donating to The Hong Kong Blood Cancer Foundation.