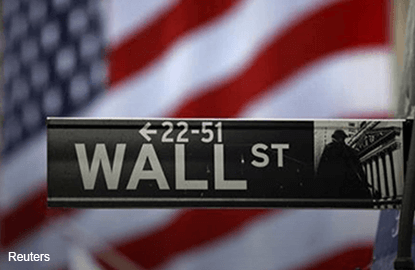 NEW YORK/BENGALURU (Nov 3): U.S. stocks added to their recent run with gains across all sectors on Monday, led by increases in the beaten-down energy group and the acquisition-driven healthcare industry.
The gains on the first trading day of the month followed the best monthly performance of the major indexes in four years in October. The Nasdaq 100 on Monday closed at its highest level in more than 15 years.
Data on Monday showed U.S. manufacturing activity in October sank to a 2-1/2-year low, but a rise in new orders offered encouragement. Elsewhere, factory activity in Germany beat economists' estimates, and manufacturing in Central and Eastern Europe kept up a robust pace in October.
"The fact that we have got sturdy numbers from outside the U.S. accompanied by a relatively decent ... (U.S. manufacturing) report, I think that cocktail was supportive of risk assets getting a boost," said Mark Luschini, chief investment strategist at Janney Montgomery Scott in Philadelphia.
The Dow Jones industrial average rose 165.22 points, or 0.94 percent, to 17,828.76, the S&P 500 gained 24.69 points, or 1.19 percent, to 2,104.05 and the Nasdaq Composite added 73.40 points, or 1.45 percent, to 5,127.15.
The S&P, which is up nearly 13 percent since hitting its lowest level for the year in August, broke through the 2,100 barrier, bringing it nearer to its all-time closing high of 2,130.82 in May.
"The upward trend that was put in place last week has continued to gain steam," said Michael James, managing director of equity trading at Wedbush Securities in Los Angeles. "I don't necessarily think there's a specific catalyst for it today. Risk appetite has clearly increased."
As the U.S. earnings seasons winds down, investors are looking to economic data, including this Friday's employment report, for clues as to whether the Federal Reserve will raise interest rates when it meets in December.
The S&P energy index rose 2.4 percent. Oil majors Exxon and Chevron were two of the three biggest drivers of positive performance for the Dow after both companies posted better-than-expected results on Friday. Chevron gained 4.5 percent to $94.96 and Exxon finished up 3.1 percent at $85.28.
The S&P healthcare index increased 2 percent. Pfizer rose 3.7 percent, and AbbVie jumped 6.4 percent, providing the biggest boost to the sector.
Dyax soared 28.4 percent to $35.35 after British drugmaker Shire said it would buy the company for about $5.9 billion. The Nasdaq biotechnology index closed up 3.8 percent.
U.S.-listed shares of Valeant rose 7.1 percent at $100.47 after short-seller Citron Research said it would not be releasing new allegations against the Canadian drugmaker.
The S&P financial sector gained 1.6 percent, led by increases from the big banks. Visa fell 3 percent to $75.22 after offering to buy its former subsidiary Visa Europe Ltd for as much as $23.3 billion. The stock was the biggest drag on the Dow and the S&P 500.
Hewlett-Packard started trading after its split. HP Inc jumped 13 percent to $13.83, while Hewlett Packard Enterprise slipped 1.6 percent to $14.49.
Advancing issues outnumbered declining ones on the NYSE by 2,525 to 569, for a 4.44-to-1 ratio on the upside; on the Nasdaq, 2,217 issues rose and 628 fell for a 3.53-to-1 ratio favoring advancers.
The S&P 500 posted 25 new 52-week highs and four new lows; the Nasdaq recorded 76 new highs and 44 new lows.