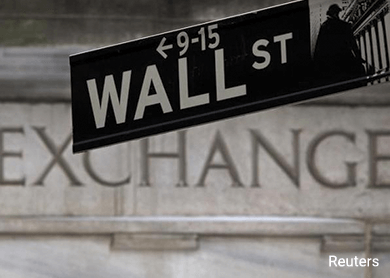 (Aug 27): U.S. stocks were poised to open higher on Thursday, a day after posting their biggest one-day gain in four years, as data showed the U.S. economy grew faster in the second quarter than initially thought.
Annual U.S. gross domestic product growth was revised up to 3.7% from the 2.3% rate reported last month.
Other data showed jobless claims fell more than expected last week, pointing to a steadily firming labor market.
"Despite the good GDP numbers that we saw today, September largely seems off the table because of the turmoil that we've seen in the past week," said Scott Brown, chief economist at Raymond James in St. Petersburg, Florida.
However, he said recent data "certainly points to a possibility of a rate hike this year."
The market surged on Wednesday after New York Fed President William Dudley said the case for a September rate hike seemed "less compelling" than before.
The Fed, which meets on Sept 16-17, has said it will raise rates only when it sees a sustained recovery in the economy.
Kansas City Federal Reserve President Esther George told CNBC on Thursday that while market volatility complicates the rate hike picture, the economy is strong enough to withstand a rate increase and that the normalization process should begin.
Investors will be keeping a sharp eye on an annual conference starting on Thursday of some of the world's top central bankers in Jackson Hole, Wyoming for further clues on the timing of a U.S. interest rate hike.
The market also got a rare dose of good news from China, where stocks snapped a brutal five-day losing streak.
S&P 500 e-minis were up 18.5 points or 0.95%, with 376,102 contracts traded at 8:35 a.m. ET (1235 GMT).
Nasdaq 100 e-minis were up 46.25 points or 1.1%, on volume of 56,483 contracts.
Dow e-minis were up 166 points or 1.02%, with 41,962 contracts changing hands.
Oil prices jumped more than 4% after the rally in stocks and an unexpected fall in U.S. crude inventories.
Shares in Apple, which helped lead the market higher on Wednesday, were up 1.8% at $111.64 in premarket trading.
Tiffany was down 4.8% at $81 and was set to open at a near two-year low after the luxury jeweler forecast a surprise decline in full-year profit.
St Jude Medical rose as much as 15% after the Financial Times reported that Abbott Laboratories was preparing a $25 billion bid for the company.
But the stock pared much of those gains after an Abbott spokesman told Reuters it was not pursuing an offer. St Jude was up 4.6% at $72.51 about 30 minutes before the start of trading.
Tesla was up 3% at $231.70, after its Model S P85D received the highest possible score in test by influential magazine Consumer Reports.