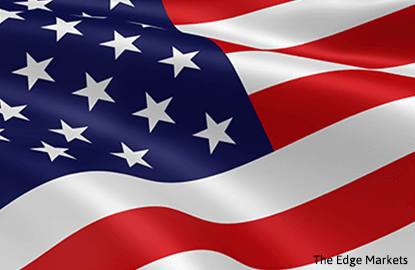 WASHINGTON (Jan 27): U.S. economic growth likely slowed in the fourth quarter as a plunge in shipments of soybeans weighed on exports, but a healthy increase in consumer spending and rising business investment should underscore the economy's underlying momentum.
Gross domestic product probably increased at a 2.2% annual rate after accelerating at a 3.5% pace in the third quarter, according to a Reuters survey of economists. The government will publish its first estimate of fourth-quarter GDP on Friday at 8:30 a.m. (1330 GMT).
"Trade was a big boost to growth in the third quarter, that's going to reverse," said Gus Faucher, a senior economist at PNC Financial Services Group in Pittsburgh. "Consumer spending, business investment and housing will add to growth, so we will still see a solid improvement in the fourth quarter."
But fourth-quarter GDP data could surprise on the upside, after data on Thursday showed a drop in the goods trade deficit in December and a jump in wholesale inventories. The Atlanta Federal Reserve is forecasting the economy growing at a 2.9% rate in the fourth quarter.
Economists estimate trade could have subtracted as much as 1.5 percentage points from GDP growth in last quarter, reversing the 0.85 percentage point contribution in the third quarter. Most of the drag is expected to come from soybean exports, which fired up GDP growth in the third quarter, after a poor soy harvest in Argentina and Brazil.
With a labour market that is at or near full employment starting to lift wages and supporting consumer spending, the outlook for the economy is bright. Growth this year could also get a boost from President Donald Trump's pledge to increase infrastructure spending, cut taxes and reduce regulations.
Although Trump has offered little detail on his economic policy, his promises have been embraced by consumers, businesses and investors. Consumer and business confidence have soared, while the U.S. stock market has rallied to record highs.
Great uncertainty
"There is still great uncertainty over the details, particularly in regards to trade policies. That being said, risks to the U.S. growth outlook are likely to the upside," said Sam Bullard, a senior economist at Wells Fargo Securities in the Charlotte, North Carolina.
A strong economy would also mean further interest rate increases from the Federal Reserve. The U.S. central bank has forecast three rate hikes this year. It raised its benchmark overnight interest rate in December by 25 basis points to a range of 0.50% to 0.75%.
Consumer spending, which accounts for more than two-thirds of U.S. economic activity, is expected to have increased at a rate of at least 2.7% in the fourth quarter. It rose at a 3.0% pace in the third quarter.
Business investment likely shifted into higher gear, with spending on equipment expected to have rebounded after four straight quarters of declines. The anticipated gain in business investment is likely to be driven by rises in gas and oil well drilling, in tandem with the recovery in crude oil prices.
Energy services firm Baker Hughes said last Friday that U.S. energy companies added 29 oil rigs in the week to Jan 20, bringing the total count to 551 — the most since November 2015.
"We could see the first signs of an investment comeback in the oil and gas sector. That should continue to support growth the in the early months of 2017," said Thomas Costerg, a senior U.S. economist at Standard Chartered Bank in New York.
The gains in both consumer and business spending are expected to have resulted in a measure of private domestic demand rising at a brisk 3.0%, accelerating from the 2.4% pace notched in the third quarter.
Inventory investment likely contributed to growth for a second straight quarter. JPMorgan is forecasting inventories adding six-tenths of a percentage point to GDP growth, up from the 0.5 percentage point contribution in the third quarter.
Investment in home building probably rebounded after two straight quarters of decline, making a modest contribution to growth. While government spending is expected to have picked up, economists said a downward surprise could not be ruled out.
"Since 1992, there appears to be bias for it to be weak during presidential election years," said Ryan Sweet, senior economist at Moody's Analytics in Westchester, Pennsylvania.