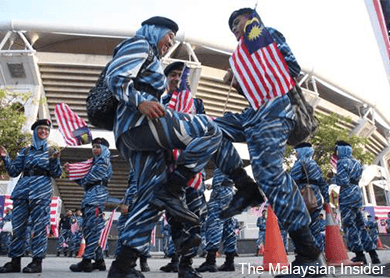 KUALA LUMPUR (Jan 21): Putrajaya's decision to defer the National Service Training Programme (PLKN) for a year as part of its measures to cut federal spending has left parents questioning whether the programme should be cancelled for good.
Mak Chee Kin, who chairs the Malacca Action Group for Parents in Education, or Magpie, said that for years, the government had defended the need for such a programme to foster integration.
Yet, when faced with financial difficulty, the programme was the first to be put on hold.
"If the government is very sure the programme is good and promotes integration, they should stick to it, no matter what the country goes through," said Mak.
"If they now think it's a waste of money, then we shouldn't have done it in the first place."
Mak said he personally supported the programme, as he had heard glowing testimonies from participants who said they learned many lessons not taught in schools.
"For the sake of the nation's betterment, they should have looked at other things to cut down.
"Their decision today contradicts a lot of what they said all this time, that NS is really important for the nation."
PLKN is held three times a year for Form Five leavers, with some 74,000 to 80,000 of them placed in camps around the country to undergo physical training and programmes aimed at fostering national unity.
Parent Action Group for Education (PAGE) chairperson, Datin Noor Azimah said now that the government had taken the first step of freezing it, the entire programme's relevance should be reviewed.
"There was always a lot of criticism for the programme. But they have been consistently reviewing and updating it. So if they review and find it is better to cancel it, then why not? I don't think it is a great loss.
"The reason for PLKN was to integrate the trainees, but I think it's a bit too late to do that at 18. They should be learning to integrate while they are young," she told The Malaysian Insider.
Azimah said she agreed with Putrajaya's decision to defer the PLKN for a year, as she did not see how it could benefit the nation.
Association of Parents and Individuals Towards Revising the Education System (Aspires) founder Shamsuddin Hamid said that if PLKN was to continue, it should be more transparent.
"One worry is that it is some form of indoctrination. At least make it transparent. Let people know what the contents of the training are, what the trainers are teaching.
"The youth should be inculcated with positive values throughout the programme. But if they are just force-fed the values, it is worthless," he said.
Putrajaya yesterday announced it would defer the programme this year as part of its measures in weathering the plunging crude oil prices.
Prime Minister Datuk Seri Najib Razak said postponing PLKN would save the government RM400 million.
Following this, Youth and Sports Minister Khairy Jamaluddin said the move would give his ministry and the defence ministry a chance to conduct a review of the programme to improve it.
While many have praised the PLKN for giving school-leavers new experiences and training, its implementation, purpose and quality of some trainers have drawn criticism.
Since its inception in 2004, several cases have been reported at PLKN camps that have included brawls, deaths and rape.
Among the latest cases were a trainee, who claimed she had been molested by a male trainee at the NS camp in Chukai, Kemaman, Terengganu and a teenager who was beaten up by fellow trainees at NS camp Marang, Terengganu in 2013.
In December last year, a former NS trainer was reportedly detained for his involvement with militant activities.
NS Training Department director-general, Datuk Mohamed Asri Yusof yesterday said the programme would usually recruit between 74,000 and 80,000 trainees for the three sessions carried out each year.
Asri said the deferment would allow the department to carry out workshops and improve the quality of the programme.