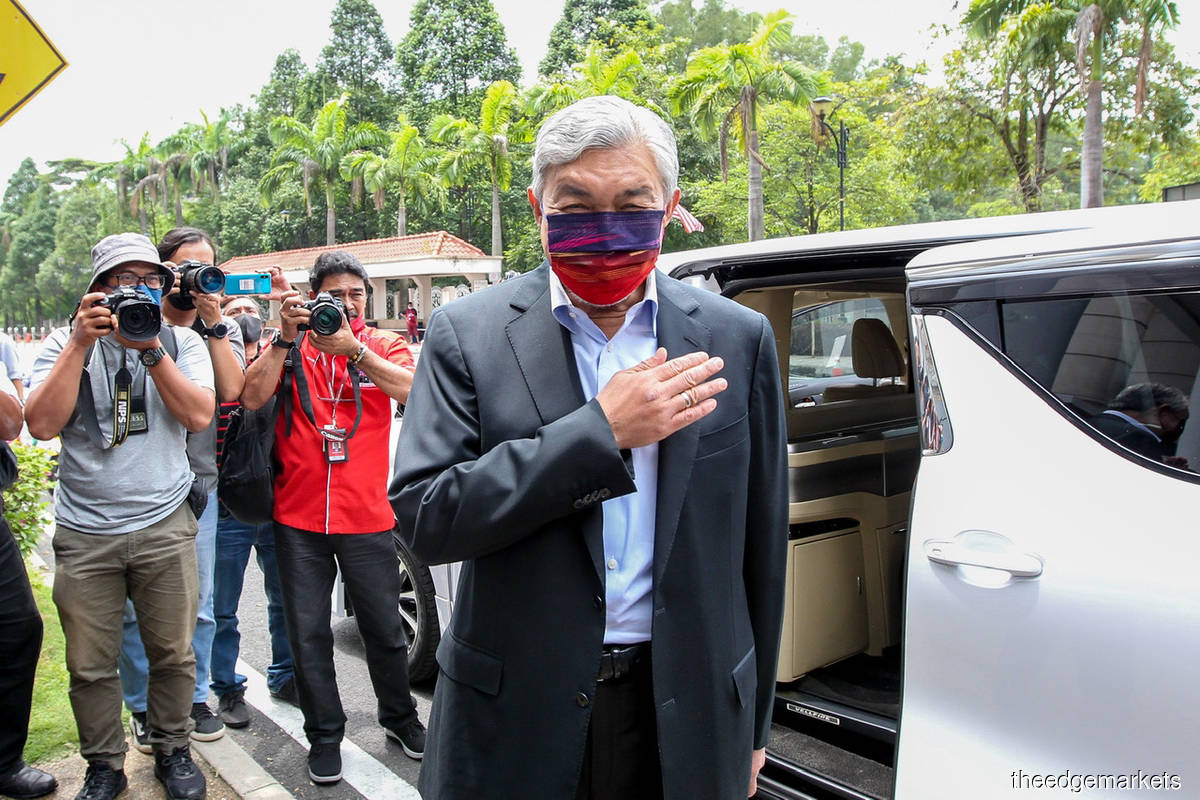 KUALA LUMPUR (Sept 14): High Court Judge Datuk Collin Lawrence Sequerah, who presided over Datuk Seri Dr Ahmad Zahid Hamidi's trial today, queried the defence team why the purported donation in millions of ringgit from Yayasan Al-Bukhari to Yayasan Akalbudi was not made via cheques, but in cash.
The question was posed to Ahmad Zahid's lead counsel Hisyam Teh Poh Teik when he was arguing why the 27th money-laundering charge against the accused must fall.
Judge Sequerah: All this cash meant to be a donation from Yayasan Al-Bukhari to Yayasan Akalbudi? Wouldn't it be easier to write a cheque. Why brought a bagful of cash?
Hisyam: That's our complaint, My Lord. The prosecution did not investigate it. The answer can only come from Yayasan Al-Bukhari.
"We asked the investigating officer, but the investigating officer never investigated. Because there was no investigation, we cannot say the cash was proceeds from an unlawful activity, unless and until they investigate, and unless and until they call a witness from Yayasan Al-Bukhari before My Lord and give evidence.
"No investigation, whatsoever. Because there was no investigation, [we] cannot say these were illegal proceeds, so the charge falls. To conclude, we challenge and invite the prosecution to show us evidence that Yayasan Al-Bukhari never donated," he added.
On July 27 last year, a witness, Omar Ali Abdullah, testified that the money changer who allegedly laundered money on behalf of Ahmad Zahid told the court that the former deputy prime minister asked him to help deposit welfare donations into the accounts of charity body Yayasan Akalbudi.
The 81st prosecution witness said several men from Yayasan Al-Bukhari would contact and then meet him at various locations.
He said that when he received the first call from someone he did not know and asked him to meet on the ground floor of the Fahrenheit plaza here, the man passed him a luggage bag filled with cash.
Ahmad Zahid, 68, is facing 47 charges — 12 of criminal breach of trust (CBT), eight of corruption and 27 of money laundering — involving tens of millions of ringgit belonging to Yayasan Akalbudi.
As for the 26th money laundering charge, Ahmad Zahid is accused of having committed the offence by allegedly being engaged directly in a transaction involving proceeds from a lawful activity by giving instructions for the purchase of two property lots using a RM5.9 million cheque issued by law firm Messrs Lewis & Co.
The defence will continue its submissions tomorrow.
Read also:
Ahmad Zahid did not benefit from RM250,000 loan taken up by his brother, court told