This article first appeared in The Edge Malaysia Weekly, on December 13, 2021 - December 19, 2021.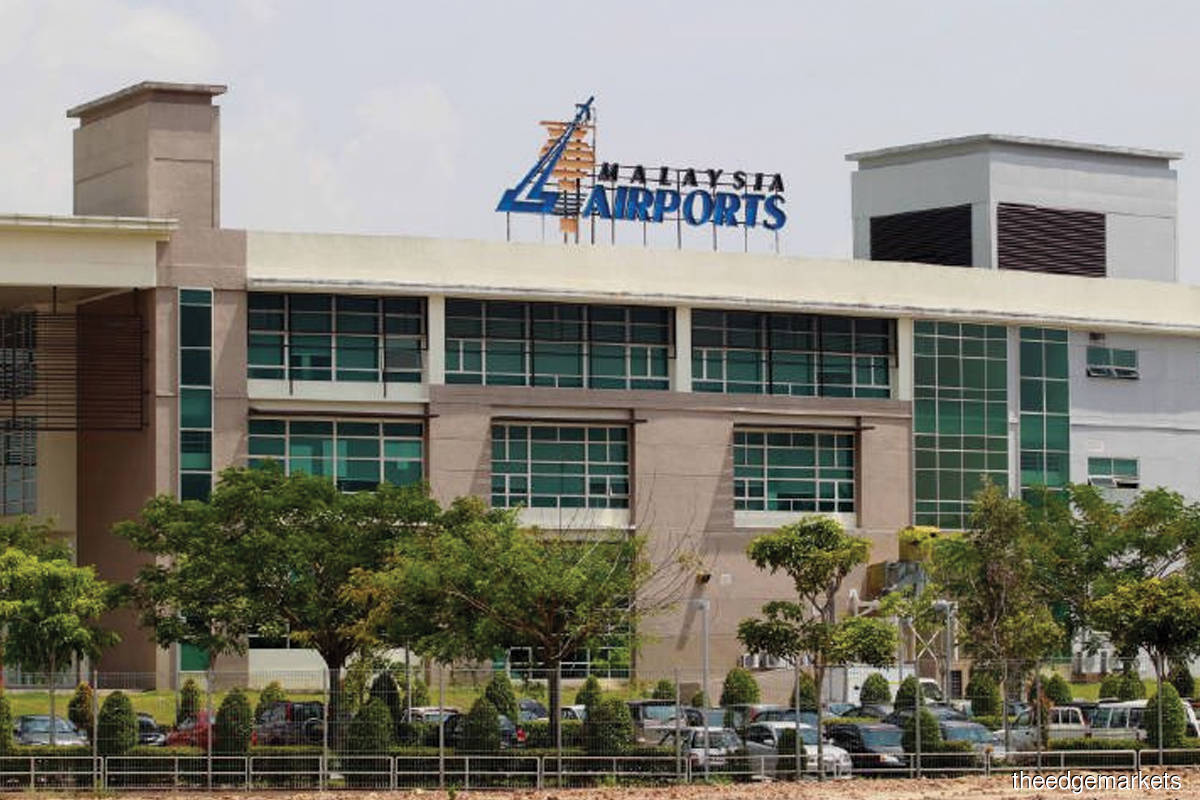 GIVEN the tough two years that have hit the air travel industry, some aviation experts believe the worst is over, but the differentiation for airport operators such as Malaysia Airports Holdings Bhd (MAHB) lies in how well it manages and prepares itself for the coming recovery.
"When the first cases of Covid-19 were reported in end-2019, our view was that things would contract quickly and sharply and that it would take time to recover. It has been nearly two years since China shut its international borders. We estimated at the time that it would take at least 2½ years before air travel started to recover," Khair Mirza, associate director at Canadian transport infrastructure consultancy Modalis Infrastructure Partners Inc, tells The Edge.
While he says it is too early to predict the impact of the new virus variant Omicron, the outlook for air travel is that it has reached the bottom and demand should continue to pick up. "Passenger traffic at airports like Istanbul Sabiha Gokcen International Airport (ISG), which is run by MAHB, is back up at 70% to 75% of 2019 numbers while Kuala Lumpur International Airport is at 10% to 15%."
In addition, the prognosis looks positive for the air travel industry going into 2022, as "airlines that were willing and able have undergone — or are in the process of — the restructuring of their businesses, which is likely to put them in good stead for the future", he notes.
"It should be all right even if it takes another couple of years to recover to pre-Covid-19 levels. What's important is how MAHB manages the recovery. That's what makes a difference (compared with other airport operators)."
Without disclosing the names of the airports, Khair says airport engagements and projects have picked up in the Asian region since last year.
"Some airports have been spending more time and resources such as training new employees, preparing themselves for the recovery.
"This is an opportunity for MAHB to relook at how to increase its domestic revenue source such as its cargo and related businesses," he says.
Travel stocks have been the worst performers since the Covid-19 shock sell-off in March 2020. MAHB's stock price plummeted to a five-year low of RM4.31 on April 3, 2020. Subsequently, its shares recovered 62% to hit a high of RM6.97 on Oct 4. The stock has since lost steam on worries about the impact of Omicron, however, to close at RM5.77 last Thursday, giving the company a market capitalisation of RM9.57 billion.
In comparison, regional listed peers such as Airports of Thailand pcl and Sydney Airport Holdings Pty Ltd have seen their share prices recover by 24% and 66% respectively from their troughs on April 3, 2020.
Bloomberg data shows that, of 20 analysts covering MAHB, 11 have "buy" ratings, six have a "hold", and three have a "sell". The median target price is RM6.71.
In a Nov 30 note, KAF Equities analyst Thomas Soon says MAHB management remains hopeful of a gradual recovery in travel, as it believes vaccinations continue to be the way out of the pandemic, with more Vaccinated Travel Lanes (VTLs), similar to the one with Singapore currently, to be rolled out.
However, he sees the emergence of Omicron threatening to derail hopes of a reopening of international borders sooner rather than later. He is retaining a "sell" call on MAHB, with an unchanged target price of RM5.
CGS-CIMB Research aviation analyst Raymond Yap says the outlook continues to improve in the fourth quarter of 2021 (4Q2021), pointing to passenger traffic of 1.3 million in Malaysia in October, higher than the one million recorded for the whole of 3Q2021, as domestic air travel restarted on Oct 11 and Malaysians are allowed to travel abroad.
"Thailand opened its borders to quarantine-free inbound travel by Malaysians from Nov 1 and Singapore established a VTL with Kuala Lumpur from Nov 29. Malaysia is working to implement something similar with Indonesia's Jakarta and Bali in early 2022, while Vietnam may reopen its borders to Malaysians, also early next year. Talks have commenced with Australia and the UK for travel arrangements.
"The key downside risk is if the Omicron variant turns out to be more virulent and dangerous than expected, which may lead to international borders slamming shut again," he writes in a report on Nov 30. 
Still, following the recent Omicron-related sell-off, Yap says MAHB's share price is now close to its lows in July and August, when Malaysia's new Covid-19 cases scaled to their peak and when movement restrictions were at their most severe.
"This may be an opportunity to accumulate, and a potential rerating catalyst is if Omicron turns out to be less deadly than feared," he says, upgrading his call to an "add" from a "hold", with a target price of RM7.45.
MAHB's net loss for the cumulative nine months ended Sept 30, 3021 (9MFY2021) widened by 46% year on year to RM629.71 million, from RM431.17 million, owing to wider losses in its Malaysia operations, where it manages 39 airports. Revenue fell 30% y-o-y to RM1.12 billion, from RM1.6 billion, in that period.
In 9MFY2021, passenger traffic in Malaysia contracted 83% y-o-y to four million passengers, while Turkey was up 42.6 % y-o-y to 17.9 million.
In a Nov 30 report, Kenanga Research senior analyst Raymond Choo Ping Khoon says the availability and application of vaccines have renewed optimism for air travel to return to normal sooner than expected, and he expects air travel to improve at a gradual pace starting from year end.
He has upgraded his call on MAHB from "market perform" to "outperform", with a target price of RM7.
Turkey's ISG a bright spot in MAHB gloom
On a quarter-on-quarter basis, MAHB managed to narrow its net loss to RM182.32 million in 3QFY2021 from RM226.09 million, owing to narrower losses at its Turkey unit and cushioned by the recognition of deferred tax assets.
Revenue for 3QFY2021 rose 43% q-o-q, owing to higher passenger volumes for its Turkey operations, following the relaxation of border and intercity travel in the country. Passenger traffic for its Turkey operations rose 85% q-o-q to 8.9 million passengers in 3QFY2021, from 4.8 million.
Domestic passenger traffic at ISG stood at 80% to 85% of 2019 numbers year to date, while international passenger traffic was at 55% to 60%, said Nazli Aziz, MAHB executive director of ISG and SGC Istanbul Sabiha.
"We are one of the fastest-recovering airports in Europe, thanks to the Turkish government in pushing for tourism and keeping their borders open. And because of the current low Turkish lira, it helps encourage people to travel to the country. We get many Russians coming to Turkey for their holidays. Currently, we have 53 airlines flying out of ISG," he said at a virtual press briefing last month. The lira has lost more than 40% of its value against the US dollar since the start of the year, and was hovering at 13.62 last Wednesday.
Nazli noted that MAHB's network of airports handled a record passenger movement of 140.6 million in 2019, with ISG accounting for 25% of the total.
"ISG was profitable in 2019 at company level but not at group level because of an amortisation charge. We expect that once passenger traffic rebounds to pre-crisis 2019 levels, ISG will return to profitability. [In the meantime,] we are taking the necessary measures to reduce cost and increase our non-aeronautical revenue," he added.
On plans to reduce its 100% ownership in ISG, Nazli said: "At the moment, we are concentrating more on recovery."
Kenanga Research's Choo says ISG is expected to continue to benefit from less rigorous travelling restrictions and that the robust domestic market will continue to experience traffic recovery.
Robust cost control to serve it well
According to CGS-CIMB Research's Yap, MAHB's robust cost control will serve it very well in the coming recovery.
KAF's Soon pointed out that the airport operator's cash and money market investments remained strong at RM1.5 billion as at end-September 2021, with RM8.1 billion in undrawn lines.
"The cash burn rate is now at RM90 million a month versus more than RM100 million previously," he said.
For Yap, potential rerating catalysts for MAHB include a faster-than-expected recovery in international passenger traffic next year, following a possible containment of the global Covid-19 pandemic once a significant number of countries achieve high vaccination rates.
Analysts are also expecting the yet-to-be-signed operating agreement (OA) to be an impetus as a re-rating catalyst for MAHB. Yap says the government may agree to improved terms for the revision to the current OA, including the possibility of lower user fees, which are a cost item for MAHB.
The finalisation of MAHB's new OA, initially targeted to be signed by end-2020, has been pushed back further as the Malaysian Aviation Commission is currently reviewing proposed changes to the group's tariff structure. The exercise is expected to be concluded in mid-2022.
Still, most analysts are expecting the effects of the pandemic to continue to weigh on MAHB before its performance rebounds in FY2023.
Yap says the group faces downside risks from the potential reinstatement of travel lockdowns domestically, regionally and internationally, if the Omicron variant turns out to be highly transmissible and more dangerous to public health than expected.
"Other downside risks include non-payment of amounts owed by airlines to MAHB, such as landing and parking fees, as well as the passenger service charges collected by the airlines in advance, and non-payment of amounts owed by retail tenants as a result of the financial stresses caused by the Covid-19 outbreak.
"Also, there is the risk of semi-permanent cuts in airlines' capacity and networks even when domestic and international travel resumes in the future, as the airlines' balance sheets have been badly damaged by the pandemic."
Meanwhile, MAHB is still awaiting the government's nod for its RM1.3 billion plan to redevelop Sultan Abdul Aziz Shah Airport in Subang, Selangor.
A source familiar with the matter points out that the airport operator is likely to work with construction and property firm WCT Holdings Bhd, which had submitted a proposal in March to redevelop the airport area. On Nov 16, Transport Minister Datuk Seri Dr Wee Ka Siong was quoted as saying that MAHB was free to form joint ventures with private entities to carry out airport expansion projects.
MAHB's largest shareholders are Khazanah Nasional Bhd, with a 33.2% stake; the Employees Provident Fund Board, with 15.4%; and Kumpulan Wang Persaraan (Diperbadankan), with 5.5%.