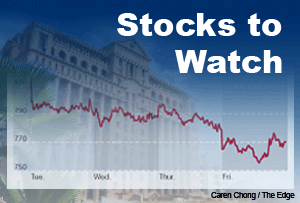 KUALA LUMPUR (Oct 20): Based on corporate announcements and news flow today, stocks that may garner interest tomorrow (Oct 21) could include Yinson Holdings Bhd, Malaysia Airport Holdings Bhd (MAHB), DKLS Industries Bhd, High-5 Conglomerate Bhd and WCT Holdings Bhd.
 
Yinson Holdings Bhd's wholly-owned indirect subsidiary, Adoon Pte Ltd, has obtained a one-year extension contract for the charter of its floating production, storage and offloading (FPSO) vessel, FPSO Knock Adoon, by Addax Petroleum Development (Nigeria) Ltd.
 
In a filing with Bursa Malaysia, Yinson said the contract extension is worth US$39 million (RM127.49 million). The original contract for the FPSO was awarded on Oct 17, 2006, for period of eight years with an extension option of up to another eight years.
 
Yinson closed 9 sen higher at RM2.65 today, bringing its market capitalisation to RM2.74 billion.
 
Malaysia Airports Holdings Bhd (MAHB) plans to acquire the remaining 40% stake in Istanbul's second-biggest airport, Istanbul Sabiha Gokcen Airport, to gain full control, according to a report by Bloomberg quoting a person familiar with the matter.
 
MAHB, which currently owns 60% of the Istanbul airport, plans to exercise its pre-emptive right to buy the remainder of the stake from Turkish builder Limak Holding AS.
 
In response to this, MAHB's general manager of corporate communications Nik Anis Nik Zakaria said the board is considering all options and will decide on the matter by the end of the month.
 
Shares of MAHB closed 1 sen higher at RM6.70, with a market capitalisation of RM9.23 billion.
 
DKLS Industries Bhd's 51%-owned subsidiary, DKLS Energy Sdn Bhd (DESB), has signed a memorandum of understanding (MOU) with Sichuan Nengtou Electric Power Development Co Ltd to dispose its entire equity interest in Yong Yu Hydro Electric Development Company Co Ltd.
 
In a filing with the exchange, DKLS said that DESB currently holds a 30% stake in Yong Yu. The carrying value of DKLS Group's interest in Yong Yu is amounted to RM55.79 million.
 
DKLS said the share transfer price for the disposal shall be based on Yong Yu's seven power stations, at an indicative price of RMB1.601 billion (RM859.73 million), subject to a valuation by a valuer.
 
This could mean that DESB's 30% stake in Yong Yu is worth RM257.9 million.
 
"If the proposed disposal materialises, it is expected to give rise to significant gain on disposal for DESB and the group," said DKLS.
 
DKLS closed 17 sen higher at RM1.76, bringing its market capitalisation to RM163.15 million.
 
High-5 Conglomerate Bhd, formerly known as Silver Bird Group Bhd, will be de-listed from Bursa Malaysia on Oct 24, 2014(Friday).
 
In a filing to the exchange today, the bread-maker said Bursa Malaysia has decided to dismiss the company's appeal against the rejection of its proposed regularisation plan in early August.
 
High-5 has still not been able to mend its financials, with over RM37.23 million loss over the nine-month period ended July 31, 2014, as compared to RM38.5 million in the previous corresponding period.
 
WCT Holdings Bhd is buying four pieces of vacant freehold land measuring a total of 220.74 acres in Bandar Serendah, Selangor for a total purchase consideration of RM115.4 million, at approximately RM12 per square feet.
 
The firm plans to undertake a mix-commercial development project on the said land.
 
In a statement to Bursa Malaysia, WCT said its indirect wholly-owned subsidiary Jubilant Courtyard Sdn Bhd today entered into a conditional sale and purchase agreement (SPA) with Matad Sdn Bhd to purchase the said land.
 
Shares of WCT was closed 1 sen higher at RM2.09, with a market capitalisation of RM2.28 billion.