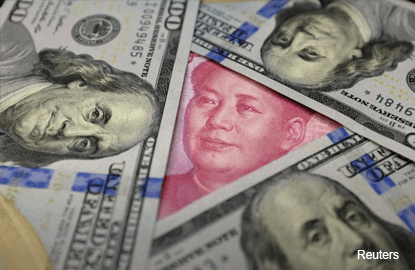 (Jan 16): Pressure on China's yuan to depreciate will persist as the economy slows, according to the currency's top forecaster.
The yuan will fall to 7.26 per dollar by the end of September, according to Allan von Mehren, a strategist at Danske Bank A/S, the yuan's most accurate forecaster as ranked by Bloomberg. That implies a 5% drop from current levels, and is more pessimistic than the median estimate of 7.15 in a separate survey.
"I am more bearish on the economy to slow down than the market, and I think the currency is in a structural downward trend because of the structural headwinds," Mehren said in an interview. "Fundamental pressures on the yuan are very much still in place."
China's currency has turned more volatile this year as the People's Bank of China sought to curb capital outflows and overnight costs to hold yuan in Hong Kong surged, sending the offshore exchange rate to a record weekly advance. Data last week showed the nation's exports tumbled 6.1% in December, showing the weakening yuan is doing little to lift shipments.
The offshore yuan rate is being used as a weapon by the PBOC to send warnings to speculators, because it doesn't hurt the Chinese economy as most funding is taking place onshore, Mehren said.
The city's overnight deposit rate touched a record earlier this month, while the spread between the offshore and onshore exchange rates reached the widest since 2010. The mainland-traded yuan fell 6.5% in 2016 to trade an 8½ year low against the dollar. The currency rose 0.1% to 6.8934 at 9.56am in Shanghai.
"They can deal with high offshore rates for some time," Mehren said, adding that a one-time devaluation is unlikely to happen. "The offshore rate as a weapon has proven quite effective."