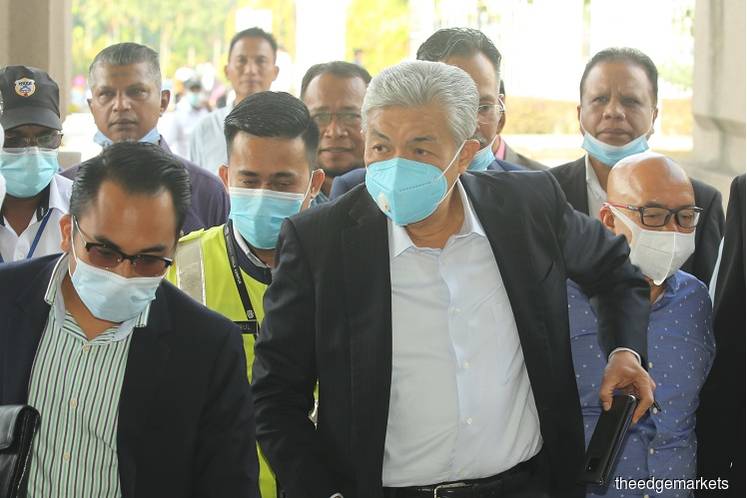 "I did not issue any receipt as there was no contract signed denoting the work. The business was done based on trust." — witness Marzuki Che Omar
KUALA LUMPUR (June 18): A contractor testifying in the Datuk Seri Ahmad Zahid Hamidi graft trial told the High Court here that the former deputy prime minister paid more than RM1.424 million in cash for the renovations done on one of the bungalows at Country Heights purchased by Yayasan Al-Falah in early 2017.
Yayasan Al-Falah is a foundation run by Ahmad Zahid's siblings in honour of their parents, and is chaired by Datuk Seri Mohamad Nasaee Ahmad Tarmizi, who is his younger brother.
Marzuki Che Omar — who is the 70th prosecution witness in Ahmad Zahid's criminal breach of trust (CBT), corruption and money laundering trial — said he has a construction firm with his partner called Tekad Nusantara Sdn Bhd.
The 56-year-old said in September 2018, his company performed renovations on the property.
"I met Ahmad Zahid through a friend by the name of Haji Saad [and we went] to look at the bungalow. While visiting the bungalow site, Ahmad Zahid asked me to prepare a quotation for the renovations [to be] done as he wants to transform the bungalow into a residence for Yayasan Al-Falah to cater for old folks to learn about Islam.
"After several days, I was invited by Ahmad Zahid to meet him at the Surau An Nur in Country Heights and brought with me the quotation for RM1.342 million where the work would be completed within three months. Prior to that, I had done work on the surau's tower," he said in reply to questions from deputy public prosecutor Ahmad Shazalee Abdul Khairi.
Marzuki said his company was given RM50,000 as advance payment on Sept 28, 2018.
"The renovation work was completed by March 30, 2019 and the final cost was RM1,424,643.40 as there were extra works done. I received the payment from Ahmad Zahid sometime after the Subuh (morning prayer) or Zuhur (afternoon prayer) where the money was given in cash.
"I did not issue any receipt as there was no contract signed denoting the work. The business was done based on trust," he said, adding that he did not ask the politician about the source of the money as Ahmad Zahid had personally delivered the cash to him.
Ahmad Zahid, 67, claimed trial for 47 charges — 12 for CBT, eight for corruption and 27 money laundering — involving Yayasan Akalbudi, a charitable foundation he set up.
The amount that he is charged for CBT is RM31.06 million, graft of RM21.25 million and money-laundering of RM72 million.
It was earlier reported that Tan Sri Lee Kim Tiong @ Lee Kim Yew testified on Tuesday that Yayasan Al-Falah bought the two bungalows for RM5.9 million.
Yesterday, lawyer Faisalluddin Mohamat Yusuff told the court that Ahmad Zahid was the one who paid for the purchase of the two bungalows, despite the fact that Yayasan Al-Falah is managed by Nasaee.
Money-changer asked witness to turn RM100,000 cash into two bankers' cheques
Meanwhile, 30-year-old Mohamed Husein Mohammad Annifah, who works with Omar Ali Abdullah at Marhaba Enterprise Sdn Bhd, a money-changing company, told the court that he was asked by Omar to take RM100,000 cash and convert it into two bankers' cheques on June 7, 2016.
The witness said he went to Hong Leong Bank, Jalan Embi and filled in the necessary forms and wrote the name Lewis & Co as the recipients.
"I gave the RM100,000 plus RM11.96 to the bank as charges and in return they gave me two bankers' cheques of RM50,000 each. I gave the two cheques to Omar Ali," he said.
The hearing will continue before Justice Collin Lawrence Sequerah on July 3 and 14.
Read also:
Lee Kim Yew says foundation controlled by Zahid's brother bought two bungalows
Foundation's purchase of two bungalows paid for by Zahid - lawyer