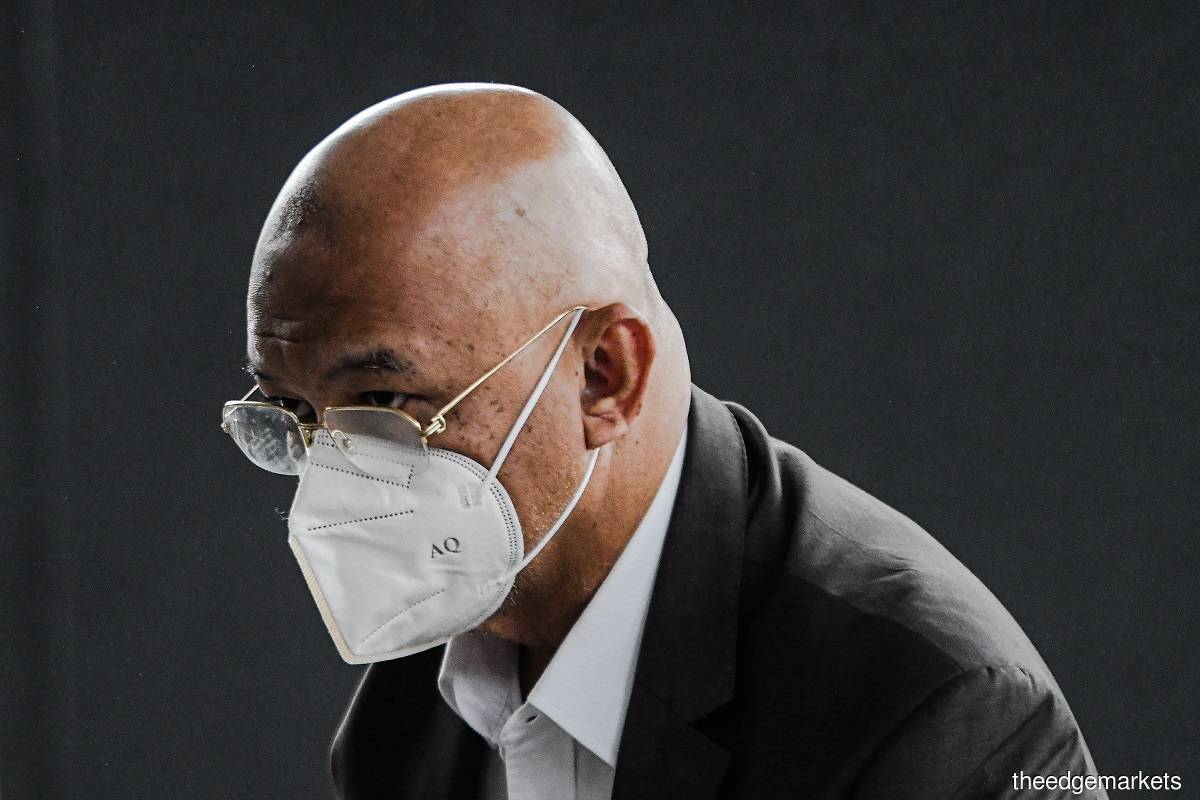 KUALA LUMPUR (Aug 5): Consortium Zenith Construction Sdn Bhd senior director Datuk Zarul Ahmad Mohd Zulkifli conceded on Friday (Aug 5) at the Kuala Lumpur Sessions Court that he would go as far as bribing the prime minister to protect former Penang Chief Minister Lim Guan Eng.
Zarul, the 23rd prosecution witness in Lim's graft trial linked to the RM6.3 billion Penang Undersea Tunnel project, testified that he paid businessman Gnanaraja Gnanasundram RM19 million in 2017 in a bid to close a Malaysian Anti-Corruption Commission (MACC) investigation into Lim.
When cross-examined by Lim's lead defence counsel Gobind Singh Deo, Zarul said that he paid Gnanaraja RM19 million as Gnanaraja purportedly had close ties with former premier Datuk Seri Najib Razak.
Zarul claimed that he believed Gnanaraja via Najib would get the Barisan Nasional government to close the MACC graft probe into Lim.
Gobind: So you paid them (Gnanaraja), to close a graft probe, correct?
Zarul: Yes.
Gobind: You are a person who is prepared to pay money to close probe of graft?
Zarul: The probe was against Lim Guan Eng. Definitely, I would do everything in my power to try to stop this.
Subsequently, Gobind pointed out to Zarul that his testimony does not make sense and questioned the logic of paying off the alleged enemy in the name of protecting Lim.
In response, Zarul said it makes sense to him due to his desperation to protect Lim.
Gobind: That is absolute rubbish Datuk [Zarul]… It is impossible to believe that you paid Najib money to protect Lim Guan Eng?
Zarul: Impossible? I paid [Gnanaraja] because I thought the money would go to Najib.
Gobind: I put it to you that the evidence doesn't make sense. If you wanted to protect someone you wouldn't approach his arch-rival... the same people who were attacking your project in Penang.
Zarul: It makes sense to me, and I was desperate to make sure that they would not do anything to [Lim].
Gobind: You would pay Najib to protect Lim Guan Eng?
Zarul: Yes.
Gobind: So you were prepared to even bribe the prime minister?
Zarul: To protect Lim Guan Eng, yes.
In 2019, Gnanaraja was charged for allegedly having cheated Zarul into believing that Gnanaraja was able to settle a MACC investigation into the undersea tunnel project.
Meanwhile, Lim is accused of using his position as Penang Chief Minister to solicit a 10% cut of the project's profit from Zarul, in return for securing the project for Zarul's company. The Bagan Member of Parliament is accused of accepting RM3.3 million in kickback from Zarul. Zarul also previously testified that Gnanaraja was involved in delivering the kickback to Lim.
Additionally, the DAP chairman faces two counts of dishonest misappropriation of property for releasing two plots of state-owned land to Ewein Zenith Sdn Bhd and Zenith Urban Development Sdn Bhd — two companies linked to the same undersea tunnel project.
'Why should I bite the hand that feeds me?'
Referring to the press statements Zarul issued to the media in 2018 after his MACC remand, Gobind reminded Zarul that Zarul testified on Thursday (Aug 4) to lying to the press in order to protect Lim, and asked whether Zarul is prepared to lie to protect.
However, Zarul replied that while his 2018 statements did contain lies, there were some parts that had truths in them.
In addition, Zarul alleged that he was instructed by Lim to make the statements and did so knowing they were lies because of goodwill shown by the former Penang Chief Minister.
Gobind: Are you now saying that your evidence in court yesterday was not true?
Zarul: You have to look at it in the whole context.
Gobind: Well, what is the whole context?
Zarul: The whole context is that I was asked [by Lim] to do it.
Gobind: You were asked to do what, sir?
Zarul: I was asked to make the press statements and of course [I would do it as] I was obligated by Lim Guan Eng for giving me this project. Why should I bite the hand that feeds me?
Gobind: So in order to not bite the hand that feeds you, you lied?
Zarul: I was instructed to do so.
Notably, during Zarul's examination-in-chief conducted by Deputy Public Prosecutor Wan Shaharuddin Wan Ladin on July 28, Zarul claimed that Lim had instructed him to give the aforementioned statements to the press.
The trial is scheduled to resume before Sessions Court Judge Azura Alwi on Aug 8.