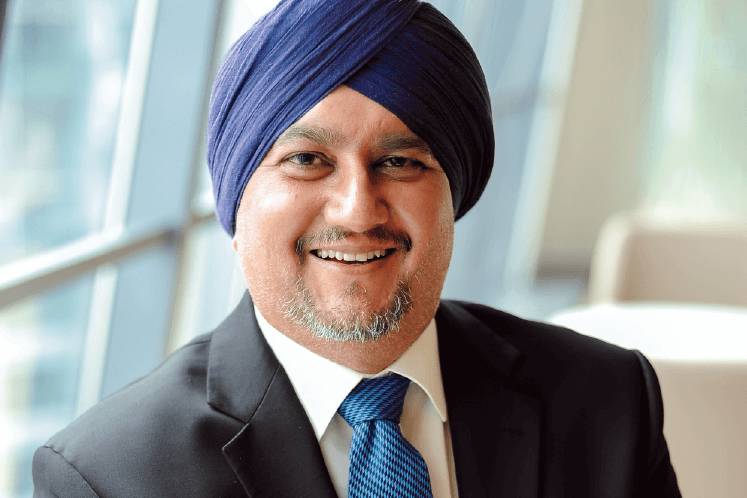 Stay connected and ahead of the competition with Celcom Enterprise Business and Solutions
Celcom is committed to delivering an awesome consumer experience and higher consumer value proposition through custom connectivity solutions, innovative products and services in the digital space.
Recognising that connectivity as well as active consumer engagement and retention are the key to the sustainability and success of a company, Celcom continuously improves its service offerings for businesses, providing them with an added advantage so that they can remain at the forefront of today's highly competitive telecommunications landscape.
With Celcom's enhanced services and solutions, businesses both big and small are guaranteed an edge over their competitors. To improve the operational efficiency of businesses,
Celcom has developed cost-effective mobile solutions and plans, namely Business and First Business, as well as cutting-edge Business Solutions.
Surinderdeep Singh, Celcom's Head of Enterprise Business and Solutions says,"Celcom's Enterprise Solutions have been designed to contribute as technological resources, ensuring that businesses are empowered, and that their digital marketing efforts are engaging.
"Celcom provides a myriad of complex telecommunications solutions for our partners and clients. We believe the growth and progress of any business is dependent on the sustainability of its engagement, apart from the services and solutions offered. In light of that and embracing the evolving technologies, we place great emphasis on digitising our services and products; consistently innovating with the latest technology to help businesses expand and succeed," he said.
He added that continuous innovation and transformation are vital while constant value creation and higher engagement at a lower cost, faster speed and improved quality were all key to business longevity.
Understanding the critical needs of consumers, Celcom Business now offers innovative products that centre on mobility solutions, data connectivity and unified communications, as well as provides cloud services to its clientele who are constantly adapting to the ever-changing technology.
MOBILITY
CELCOM BUSINESS
Taking into consideration all types of business needs, Celcom is offering customisable mobile plans for three diverse categories — S, M and L. These plans cover calls, SMS and Internet. Each plan also provides the business personnel of an organisation with an added benefit — to share the control of data, options for package upgrades and allocation of data usage.
CELCOM FIRST BUSINESS
Catering to those with hectic corporate schedules, Celcom FIRST Business provides more data and minutes for calls, emails and video downloads. Whether it is about making that crucial international or local call, engaging in networking sessions or managing the office remotely,
Celcom FIRST Business is the best fit.
DATA CONNECTIVITY
The Celcom Business Solutions package aims to increase businesses' operational efficiency as it streamlines business communications. It offers a variety of unique services, all provided by Malaysia's best quality network.
MACHINE-TO-MACHINE (M2M)
M2M is a wireless system that connects millions of devices to a single network, enabling two-way communication. Using a
Celcom SIM card, one can activate data plans, connect to all network-ready devices and share reliable real-time data — all over a secure private network. Its applications cover a broad spectrum of industries and services, ranging from Fleet Monitoring via the Fleet Tracker and security and surveillance implementations to EFTPOS machines and ATMs.
Celcom's M2M Connected Services incorporate a wide use of applications within telematics and vehicle management, home appliances control as well as e-Health services and appliances. M2M can be managed remotely, so one can access and extend the reach to gather information and resources, anytime, anywhere.
CORPORATE ACCESS
To accommodate one's office and data centres with full functionality, no downtime and disruption, Corporate Access delivers end-to-end, seamless connectivity. It connects through hybrid solutions such as microwave, fibre or fixed wireless access networks for enterprises, all via the Celcom 4G LTE network. With this, business owners can access their offices remotely through a fast and dedicated connection. In addition, multiple user access and disaster recovery services are included.
UNIFIED COMMUNICATION
To achieve business efficiency and ensure quicker communication, Celcom's Unified Communication offers the freedom to talk freely and inexpensively, ensuring that one's communication is constantly integrated for a prosperous business.
VIRTUEXT
For those intending to work using virtual offices, look no further. One can set up a virtual office and stay connected at all times with the wireless telephony solutions offered by VirtuExt. Enabled on a user-friendly interface, VirtuExt integrates land and smartphone lines, facilitating seamless access and connecting calls at the lowest rates.
FIXED WIRELESS DESKTOP PHONES
A Fixed Wireless Desktop Phone provides the convenience of calling and sending text messages from one's desktop. Ideal for offices with no fixed lines, the service also affords maximum savings with lower call rates and no deposit or access fees required.
OFFICE CALLSAVER
Every time a call is made from an office fixed line, Office CallSaver re-routes it through the Celcom GSM network and helps the company optimise cost savings for calls to mobile or outstation numbers.
BUSINESS APPLICATIONS
With the agile advancements in mobile management solutions, Celcom also offers applications. These simplify business processes, and can be used from desktops, laptops and mobile phones.
OMNI COMMUNICATION
With Celcom's latest integrated mobile messaging platform, one can choose to automate, manage and send vital information across channels from a single web portal — anytime, anywhere. Omni Communication supports a wide range of messaging such as
Over-the-Top (OTT) channels, email, push notifications via mobile applications and voice. The OTT channels include FB Messenger, Viber, Line and Telegram, and will soon include WeChat and WhatsApp. The system also comes with built-in analytics to ensure greater effectiveness in all of one's future communications.
CLOUD PAYROLL
With the rapid advancements in technology, payroll management has changed significantly over the past few years. Thanks to innovations in cloud computing, mobile devices, software and applications, payroll has been modernised and integrated with other HR and business functions.
ENTERPRISE BULK MESSAGING
Business users can also send SMS to target recipients as a communication tool. Our easy-to-use application allows for one-way or two-way communication. This broadcast platform is intended for larger-scale business communications, providing one with the freedom to choose from systems that work best for one's business.
MOBILE DEVICE MANAGEMENT
This software secures, monitors, manages and supports all mobile devices connected to one's business, including mobile phones, laptops and tablets. It applies to both company-owned and employee-owned devices and provides over-the-air distribution of application, data and configuration settings across all areas of one's business.
BIZ WEB BUILDER
Easy to use, this is the perfect hosting solution for SoHos and SMEs to create and enhance their corporate websites and brand identity.
For the perfect solutions for your business needs, please call 019-601 1111 (for non-Celcom customers) and 019-601 1881 (for Celcom customers) or visit celcom.com.my/cs/solutions