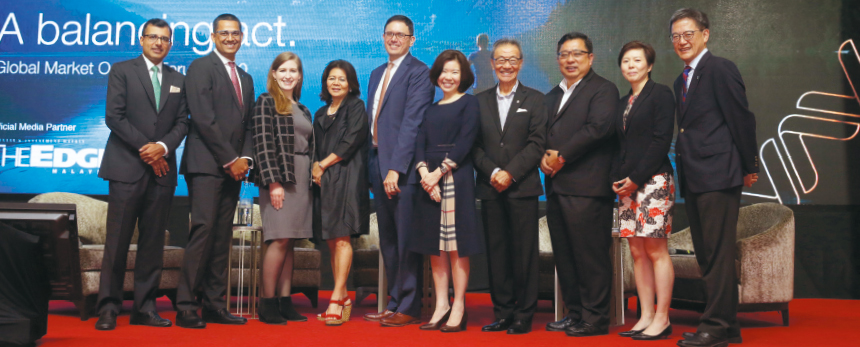 From left: Standard Chartered Singapore head of fixed income, commodities and currencies Manpreet Gill, Standard Chartered Malaysia managing director and head of wealth Sammeer Sharma, JP Morgan Asset Management global market strategist Hannah Anderson, Standard Chartered Malaysia independent non-executive chairman Datuk Yvonne Chia, AllianceBernstein Hong Kong senior investment strategist and head of Asia business development (equities) David Wong, Standard Chartered Malaysia country head of retail banking Lai Pei-Si, Impetus Alliance Advisors CEO and managing director Datuk Seri Michael Yam, Affin Hwang Asset Management Bhd managing director Teng Chee Wai, Allianz Global Investors Hong Kong senior product specialist Karen Chen and Bukit Kiara Properties Sdn Bhd managing director Datuk N K Tong
Despite trade tensions and geopolitical turmoil continuing to be major headwinds, there are still investment opportunities out there, say speakers at the Standard Chartered Global Market Outlook Forum 2020
This year started with a measure of optimism as market mavens anticipate slow and steady growth, low inflation and accommodative policies. Despite the fact that trade tensions and geopolitical turmoil continue to be major headwinds, speakers at the Standard Chartered Global Market Outlook Forum 2020 pointed out there were still investment opportunities in asset classes such as equities, fixed income and currencies.
"Broadly our in-house experts favour equities, led by those in the US and Europe, as they are likely to outperform bonds due to stabilising growth and supportive policies," said Sammeer Sharma, managing director and head of wealth at Standard Chartered Malaysia, in his opening remarks at the bank's annual forum — themed "A Balancing Act" — on Jan 11.
Catalysed by some progress in the contentious US-China trade discussions and the dovish US Federal Reserve's position on interest rates, most of the major stock market assets posted strong returns.
"We think there will likely be a growth rebound, rather than a downturn, which I think puts a bit of flow back into our returns. On the other side, though, we think valuations of equities could impose a bit of a gap, which is why we think it may prevent a repeat of some of the spectacular returns we saw in 2019," says Manpreet Gill, head of fixed income, commodities and currencies at Standard Chartered Singapore.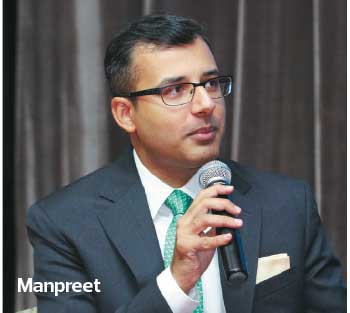 "For those who remember, 2018 was a tough year. But 2019 was actually quite good. If you had invested on Jan 1, 2019 and did not look at your investments until Dec 31, as long as you stayed invested, you could have bought pretty much anything and it would have gone up," he added.
Manpreet said key monetary policies were instrumental to the performance of stock markets last year and that he expected these policies to continue being a supporting factor. "It [monetary policy] was a big support, particularly during the 4Q2019 rally. But we think policymakers still remain very much in the growth mood."
Apart from accommodative fiscal policies, certain governments in Europe may increase their spending to stimulate economic growth, he said. The eurozone is one of Standard Chartered's preferred regions as the European Central Bank is pushing governments to spend more.
While the low interest rates in the region have dampened certain sectors, if governments spent more, it would help boost the financial sector, said Manpreet.
Geopolitical risks are on the rise and will play a major role in the years to come, he added. Gold was one of the asset classes that performed well last year as investors flocked to the precious metal following the tensions between the US and Iran.
"We saw an episode of this a couple of weeks ago and how it could create volatility. Fortunately, it was a short-lived event. You could have blinked and missed it. But we think this could be a recurring theme," Manpreet told the 400-strong crowd.
"Volatility will continue. But how will you react when you see that it impacts your portfolio? That is an important question to ask yourself."
He said the current backdrop is positive for equity markets as policymakers are supportive and global growth is holding up well. "More liquidity, which means more money, is clearly a very good environment for equity markets.
"If equities do well in most regions, equity markets in Asia should also do well. China will be particularly interesting to watch, but we think we will get the biggest source of outperformance in Europe and the US."
While equities are poised to outperform bonds, the latter may still end up doing fairly well, he added. "There are some pretty attractive yields across some parts of the bond market but clearly, it is a little lower than from the starting point a year ago."
Manpreet said StanChart's analysts believe that the US dollar will weaken and when that happens, emerging market equities, bonds and currencies will be propped up. Gold is a "great counterbalance" in a diversified investment portfolio, but it is not something investors should automatically dive into. "Gold is one of those asset classes that will be helpful in [hedging] your other investments," he added.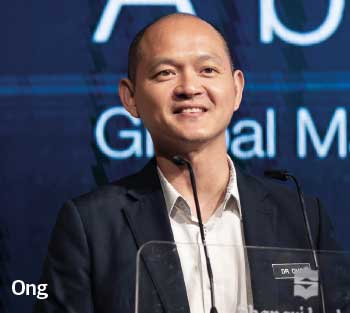 On the Malaysian perspective, Deputy International Trade and Industry Minister Dr Ong Kian Ming said the government is working with relevant stakeholders to invigorate the domestic market by providing RM1 billion in customised incentives to draw foreign direct investment.
The RM1 billion — announced in Budget 2020 to attract investment from Fortune 500 companies and global unicorns in high technology, manufacturing, creative and new economic sectors — increases Malaysia's competitive edge in the light of the ongoing US-China trade war.
"We have a target of wooing 50 companies in the next five years and this will draw about RM250 billion in foreign direct investment. We want that to support the local small and medium enterprises and fortify the local ecosystem. We expect this to create at least 150,000 jobs in the next five years," Ong said in his keynote speech.
The Edge is the media partner of the Standard Chartered Global Market Outlook Forum 2020.
---
Click here to find out more insights from the speakers.