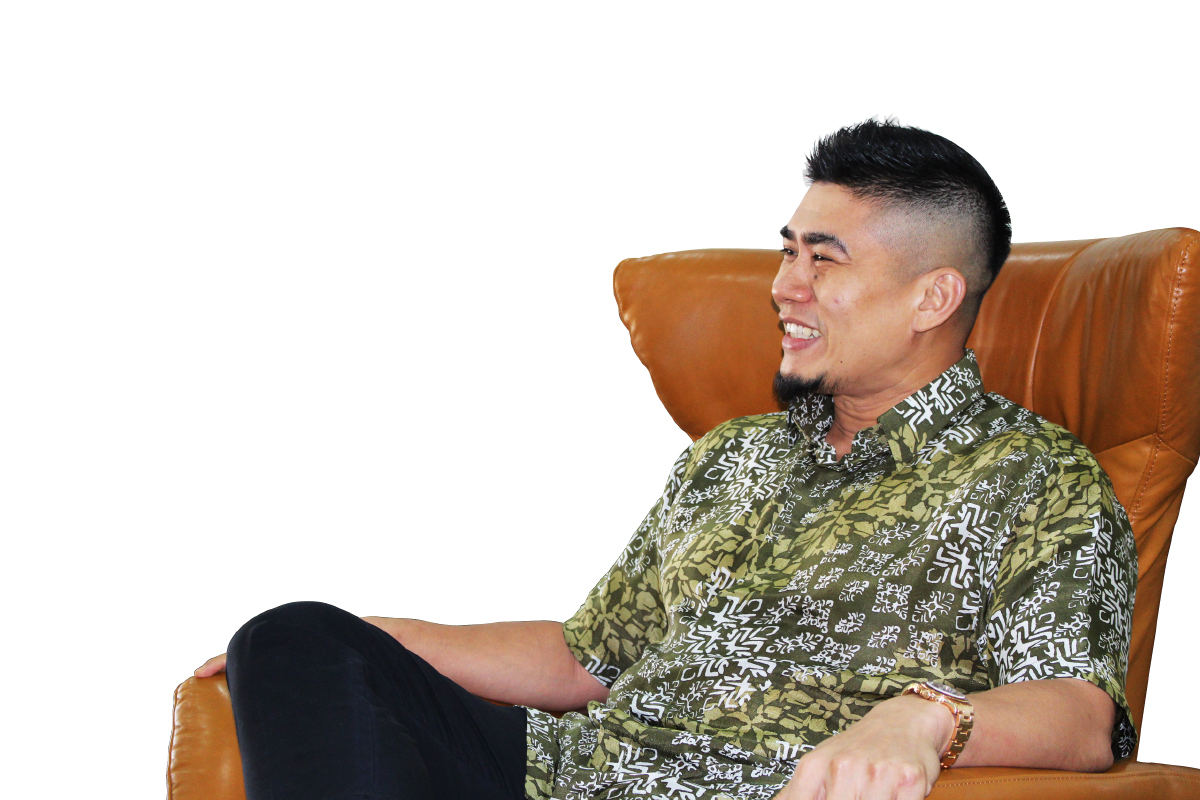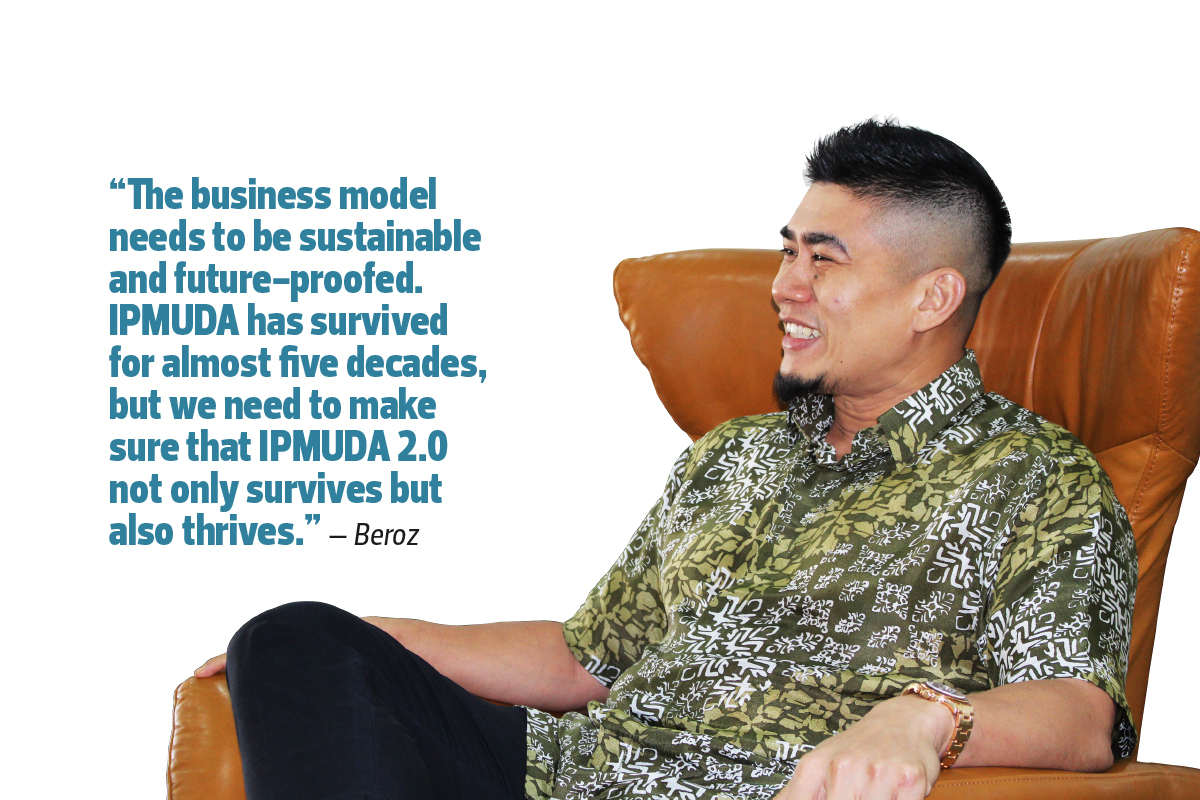 From being a premier supplier of customised building materials, IPMUDA Bhd has made a paradigm shift into becoming a high-performing organisation, involved in key growth sectors, namely renewable energy, healthcare and trading — in line with its renewed brand promise "For a Sustainable Future".
IPMUDA has made game-changing moves and expanded into diversified sectors within one financial year, post structural and ownership changes, after a series of direct and indirect share disposals by the previous substantial shareholder. This was subsequently followed by a complete change in leadership at the board and management levels. Leveraging the new vision brought by the new leadership, this shift is a pivotal change for "IPMUDA 2.0", which will turn 46 this year.
IPMUDA's executive chairman, Beroz Nikmal Mirdin, says: "We are fortunate to have the right combination of skill sets providing a positive impact and responsible value creation for our stakeholders — taking a holistic approach in building resilience. IPMUDA 2.0 focuses on acting responsibly in the areas of risk management, governance and compliance, social performance, and sustainability. This will be the beginning of the group's organic growth."
Recently, the company announced that it had an agreement to effectively acquire Telekosang Hydro One Sdn Bhd and Telekosang Hydro Two Sdn Bhd (collectively, "Telekosang"), together with the Telekosang Hydro One ASEAN Green Junior Sukuk (Telekosang Sukuk), which collectively have an enterprise value of RM653 million.
Telekosang is currently developing a 40MW small hydropower plant project in Sungai Telekosang, Kemabong, Tenom, Sabah, which would be the largest of its kind in Malaysia, and expected to commercially operate at the end of 2021 with a power purchase agreement of 21 years.
The Telekosang Sukuk of RM470 million in nominal value is the world's first greenfield mini-hydro green Sustainable Responsible Investment (SRI) Sukuk.
Apart from that, IPMUDA also signed an agreement to acquire Jentayu Solar Sdn Bhd (Jentayu Solar), which has an enterprise value of RM47 million. Jentayu Solar owns and operates a 5.99MW solar power plant, which is strategically located in a high solar irradiance area in Pokok Sena, Kedah. With a concession period of 21 years, beginning October 2019, the plant generates an annual average energy yield of 12.7GWh. Jentayu Solar is the first project under the Large-Scale Solar Scheme (LSS2) to have been successfully commissioned.
With the acquisition of these two plants, the wheels have been set in motion for IPMUDA's diversification.
As for its diversification into healthcare, IPMUDA also signed an agreement to acquire a 30-bedded private hospital specialising in paediatrics and obstetrics and gynaecology known as Ohana Specialist Hospital located in Seri Rampai, Kuala Lumpur, with an enterprise value of RM18 million.
"The expansion into healthcare is in line with our vision of creating a sustainable future — for the group and for the communities at large. We are focused on providing private healthcare services that are accessible and affordable, particularly for the underserved middle income segment," says Beroz.
The group had recently also announced the sale of its 5.13-acre property in Section 13, Petaling Jaya, for a total consideration of RM82 million, signifying a gain of approximately RM65.2 million, based on the carrying book value of the land. As a result, there will be an increase in the group's net tangible assets per share from RM0.49 to RM1.14 based on the June 30, 2020, audited accounts. The proceeds are to be used for, among others, working capital, repayment of bank borrowings and expansion of the group's new business ventures.
This move further highlights their commitment to boost their two new growth ventures.
The driving force behind the change
Firmly in the driving seat is seasoned renewable energy player Beroz, who took over as executive chairman on June 18, 2020, his first leadership role at a public-listed company.
Beroz draws heavily on his experience, having worn several hats in the power and energy industry. Only in his early 40s, he began his career in the industry in the US, where he spent almost a decade with PJM Interconnection, the world's largest regional transmission organisation (RTO) that coordinates the movement of wholesale electricity within its system. He returned to Malaysia and joined Tenaga Nasional Bhd prior to a stint at Khazanah Nasional Bhd and a secondment to MyPower Corp, set up under the Ministry of Energy, Green Technology and Water, to design and drive implementation of the industry's reform programme.
"As the Electricity industry in the US is deregulated, I was in an opportune position to use my experience and contribute back to Malaysia, where the industry was still in its ideation stage of reform. I was able to be a part of the team and participated in activities in shaping new policies within the Malaysia Electricity Supply Industry," says Beroz.
He went on to set up Perak Hydro Renewable Energy Corporation Sdn Bhd and Telekosang Hydro Sdn Bhd.
As a Sabahan, Beroz aspires to see the success of the industry. Rich in environmental resources, Sabah is primed to be a hub for clean energy. More importantly, the electricity needs of the state will determine its economic growth trajectory.
He says: "I have first-hand experience with intermittent electricity supply in Sabah. The state has vast potential for economic growth but it is important that we provide the necessary infrastructure to speed this up. Sustainable development is key for both economic and social growth for the state, which is rich in natural resources."
Instilling a new corporate culture
The structural changes were spearheaded and made possible by the new line-up of the board and management, comprising industry and governance experts. Ninety per cent of the leadership is new, a strong indication that the group is resetting — as evidenced by its new business segments, which mark a significant move away from the previous substantial shareholders' complementary businesses and match the new leadership's vision, mandate, and expertise.
Having been in the game for almost five decades, IPMUDA has also made a conscious decision to improve its culture and promote diversity, particularly in terms of age.
"The current leadership composition will be able to provide investor confidence because, individually, they have a track record in specific areas such as governance and financial management, while, collectively, they will be able to provide stewardship towards institutionalising the group. The new team possesses between them decades of relevant experience and is now supported by a team of successors. Over 50% of the staff strength is from the Gen Y group and we are investing in upskilling and retraining our employees, preparing them for the growth journey.
"The pandemic has forced organisations to look into resilience and preparedness. As IPMUDA 2.0 returns to full speed, particularly for a post-pandemic new norm, we aim to inculcate a strong culture of agility and a sense of purpose for our employees. It is not just about a sense of belonging in the company, where you feel a part of the team, but it is also about believing in a shared purpose — providing meaning to what our employees do daily," adds Beroz.
Upon the group's recent improved financial performance, it now foresees a positive outlook, charting its growth journey.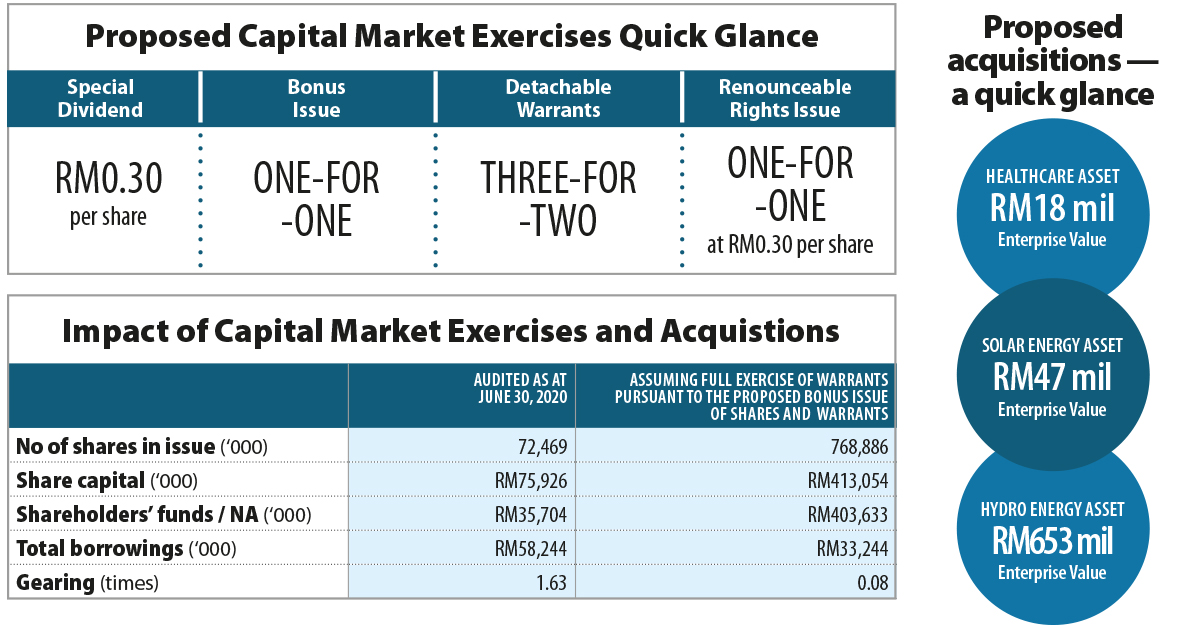 IPMUDA on the edge of change
Following a year of reinventing itself by venturing into new growth ventures and adding new faces at the helm, IPMUDA Bhd aims to turn the business around. Incorporated in 1975 as IPMUDA Trading Sdn Bhd, the group was listed on Bursa Malaysia's Main board in 1993.
Amid the Covid-19 outbreak, the group announced the move to venture into renewable energy and healthcare businesses in November last year to diversify itself from its trading segment — which had been incurring losses and accounted for 99.4% of its revenue in the financial year ended June 30, 2020 (FY2020).
"We have made a conscious decision to move away from the property development sector as well as rationalised our exposure to the construction sector, as a more focused approach would be beneficial overall," it explains.
In addition to mitigating the risk of overdependence on trading business, the group believes the diversification would make a positive contribution to its future profitability and enhance its financial position, in view of the long-term prospects of the renewable energy and healthcare businesses, which in turn would improve its shareholders' returns.
It also expects these new businesses to remain resilient regardless of the economic conditions and be able to withstand headwinds and cyclical challenges. Both businesses would also add stability to its revenue stream, as the revenue source of new businesses are partly recurring in nature. Moving forward, IPMUDA aspires to become a notable regional player in both sectors.
IPMUDA's executive chairman, Beroz Nikmal Mirdin, says: "The business model needs to be sustainable and future-proofed. IPMUDA has survived for almost five decades, but we need to make sure that IPMUDA 2.0 not only survives but also thrives.
"This will involve a wider integrated stakeholder capitalism both internally and externally, where the company's purpose must go beyond maximising profits and operational efficiency. It is about giving value in the form of meaning — to the business, society and to the nation. To do this, the group needs to be agile and continuously assess its organisational immune system. This is even more so in the post-pandemic new norm."
While competition from existing big players is heightened, IPMUDA is confident about its execution plans — driven mainly by the experienced leadership at the helm that brings fresh zeal towards sustainability and growth.
"Above all, we want our developments to benefit the communities. We take on our role as renewable energy and healthcare players with full cognisance of our obligations — either through sustainability practices, job creation or social performance initiatives. As we gear up to activate our new assets, we will also make strides to involve and uplift the communities," it says.
Clean energy generation
With the purchase of two power plants in Sabah and Kedah, the company has begun its journey to becoming a clean energy solutions provider, integrated with state-of-the-art and efficient technology.
"IPMUDA will continue its expansion into the renewable energy sector by exploring the development of greenfield and brownfield projects, which include projects involving other sustainable energy sources such as small hydro, solar, biomass, biogas and geothermal," says IPMUDA executive chairman Beroz Nikmal Mirdin.
Beroz, in commenting on the quality of the hydro asset in Sabah, says: "This acquisition is expected to bring approximately RM65 million in annual revenue for the group, based on a fixed tariff of 24 sen per kWh and a declared annual availability of 245,280MWh. The plant will be powered by electromechanical equipment sourced from Austria-based Global Hydro, and comes with minimum performance guarantees.
He adds that the solar plant is already performing at 101.5% in its first full year of operations, with a corresponding net revenue collection of RM4.96 million.
Affordable healthcarefor all
IPMUDA aspires to make private healthcare affordable for all, thus improving the quality of lives and building a robust community.
Taking into consideration changing demographics and increasing healthcare needs, the company aims to create a supportive ecosystem for the local healthcare sector. It aims to expand the business segment into age care and wellness facilities, among others.
"We are cognisant of the presence of established players in the private healthcare segment. So, in being tactical, we focused our strategy by tapping into specialised boutique private healthcare facilities that would be able to provide healthier earnings for the group," says Beroz.
IPMUDA says the sector provides for resiliency and the niche healthcare segment can provide healthy margins. In acknowledging the conglomerate factor, the group has put in place specific plans to provide long-term investor returns and views the new segments as being within the same "sustainable community development" space.
With this, Beroz says, the rationale behind acquiring the assets from the renewable energy and healthcare fields, respectively, would allow IPMUDA to gain immediate access to these sectors, rather than taking on risk and building new power plants and healthcare facilities from the ground up.
Providing investor confidence
Ipmuda says the execution of the transformation plans was done with an indomitable spirit, having completely reset the organisation into IPMUDA 2.0 within one financial year, as the new faces at the helm are familiar with the diversified portfolio. It also expects this diversified portfolio to bolster the group's financial footing, providing long-term income and cash flow visibility.
It notes that all these efforts are reflected in the group's improved quarterly performance, and eventual return to the black after five years of consecutive losses.
The diversification into renewable energy and healthcare has pushed share prices to all-time highs. Following dives as low as 17.5 sen on May 28, 2020, IPMUDA's shares have been on uptrend to reach its all-time high of RM2.20 on June 21, 2021.
Following which, longstanding investors, aligned to the building materials business model, have taken the opportunity to profit from their investment. As the group solidifies its footing in the new business segments, it intends to actively engage current investors and attract new investors. Its share price closed unchanged at RM1.19 on July 26, for a market capitalisation of RM120.7 million.
To further renew investors' confidence, IPMUDA has announced a special dividend of 30 sen per share and a one-for-one bonus issue to reward its shareholders, together with three-for-two detachable warrants. In addition, IPMUDA has announced the proposal for a renounceable rights issue on the basis of one rights share for every existing IPMUDA share, at an issue price of 30 sen per rights share, raising proceeds of about RM30.4 million for the group.
The group explains that the rights issue allows for investors to increase participation in the future direction and renewed mandate while the bonus issue rewards longstanding investors.
The group is currently exploring a capital recycling exercise as part of its financing strategy, where stakes in projects can be pared down to recoup capital and thereafter reinvested into other projects. The group will unveil a clear dividend policy, further assuring its investors of its commitment towards providing value.
"We are steadfast in institutionalising changes through a robust restructuring of the group that will further propel IPMUDA in terms of investor returns, and we will be providing a transparent dividend policy in the near term. As we are a public-listed company, we understand that a sound dividend policy is key for us to attract and retain support from the equity market. With more predictable cash flows, we will be able to construct a reliable dividend policy that would be amiable to our shareholders at large. This move will be made possible from both the new business segments, considering its resilience against headwinds," says Beroz.
Moving forward, the group is heavily invested in market research and is actively exploring greenfield and brownfield growth areas covering ready-now assets and the development of new assets. Through its latest asset injection, the group will be the nation's pioneer for the cascading run-of-river methodology for mini-hydro plants.
Further, the group intends to look into catalytic areas such as energy storage battery technology and production of green hydrogen via renewable energy that will further expand its green economy footprint.
Overall, in acknowledging the increasing domestic market saturation, it is steadfast in its vision to be a regional player and is currently engaging potential partners, particularly in the Asean region for potential expansion.
While unable to comment in detail on the expansion plans because of disclosure rules, IPMUDA reiterates its commitment towards transforming the group and looks forward to unveiling its expansion plans further.
"We are in serious conversations with multiple parties in regards to our expansion plans and IPMUDA is on the cusp of change. We will provide further updates on how we are expanding and readjusting our trajectory into these diversified segments — targeting a cumulative of 300MW to 500MW of energy generation in the near future," Beroz says.