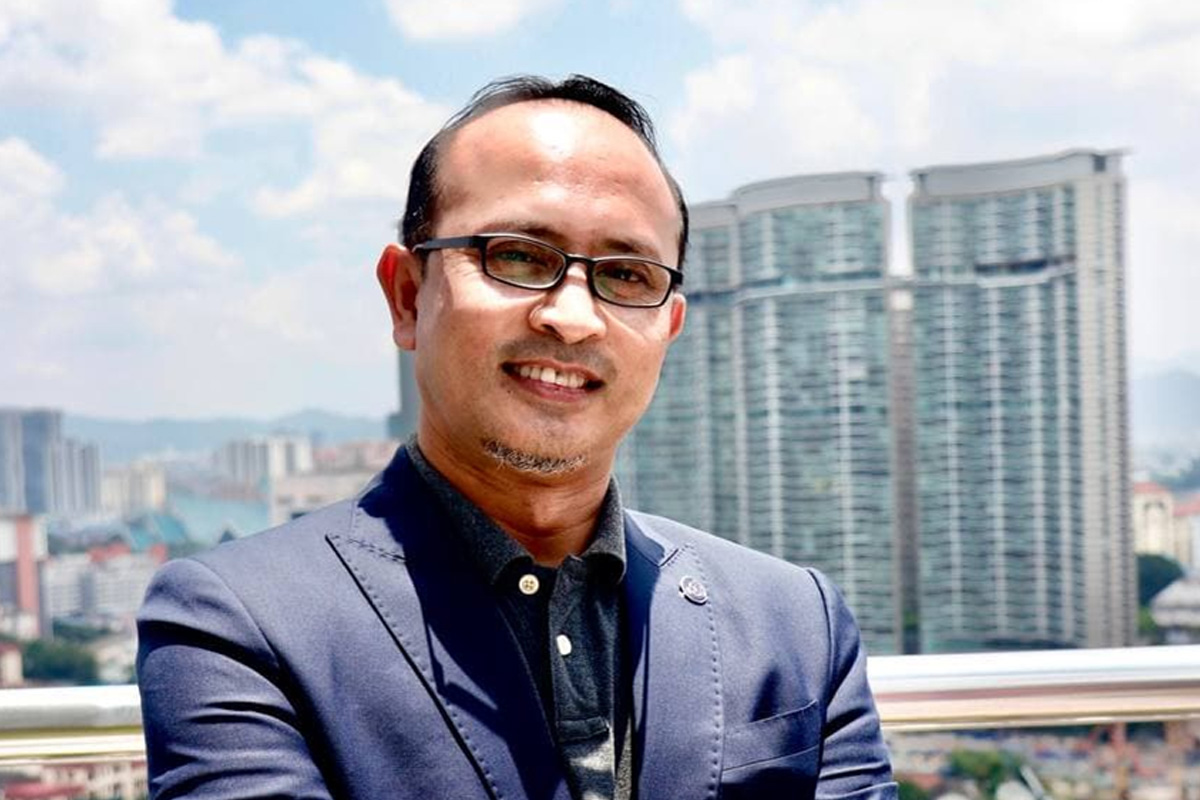 With the high cost of living and many people losing their jobs due to the Covid-19 pandemic, the community needs to have more savings through better financial management.
"If we plan our spending, we can avoid overspending, uncontrolled debt, bankruptcy and dependence on others," says National Higher Education Fund Corporation (PTPTN) CEO Ahmad Dasuki Abdul Majid.
"Also, it is important to build up savings for emergencies as we do not know what will happen in the future. The Covid-19 pandemic has taught us a lot about financial management for the future to survive such critical times."
PTPTN unveiled its Strategic Plan 2021-2025 at the end of July, setting out five focus areas to guide the fulfilment of its mission and vision as an organisation that can strategically manage funds or loans based on excellent governance and integrity.
The main thrust of the strategic plan is to make the National Education Savings Scheme (SSPN) the premier education savings product in Malaysia.
"At PTPTN, we try our best to promote the savings programme by providing various benefits. We hope that parents will be able to save for their children's future education, so that when their children graduate from university, they will not be burdened with loans.
"Instead of taking out a loan, when the children want to go to university, they will have some level of savings to fund their studies," says Ahmad Dasuki.
"Moreover, it is good to inculcate a savings attitude in children from young. This will become a habit for them until adulthood," he adds.
Upgraded benefits for Simpan SSPN Plus
Simpan SSPN Plus is an improved and rebranded version of the existing SSPN-i Plus and retains all the benefits such as competitive dividends, tax relief of up to RM8,000, shariah-compliant savings and government guarantee.
However, what sets the new education savings plan apart is the enhanced benefits that depositors can enjoy. These include takaful benefits of up to RM1.2 million, coverage for terminal illness up to RM200,000, funeral arrangements up to RM10,000 and outpatient treatment for accidents up to RM3,000, as well as protection for depositors up to the age of 69.
Under this rebranded product, PTPTN has entered into a strategic collaboration with three takaful operators, namely Hong Leong MSIG Takaful Bhd (HLMT), Great Eastern Takaful Bhd (GETB) and Takaful Ikhlas Family Bhd (TIFB).
The public can choose from six education savings plans, starting with the Intan package with a monthly commitment of RM30. This is followed by Delima (RM50 per month), Topas (RM100), Zamrud (RM200), Nilam (RM300) and Berlian (RM500).
"With Simpan SSPN Plus, we are partnering with more takaful providers because we want to give the public more choices. We have a variety of options on offer, so the public can choose from among the three takaful companies based on the benefits they provide," Ahmad Dasuki explains.
This product is shariah-compliant and guaranteed by the government, he says. "You do not have to worry about our savings plan and no medical check-up is required to sign up for our education plan. It is very simple and can be done online [via www.lovesspn.com]."
Currently, PTPTN offers two products under Simpan SSPN. Apart from the SSPN-i Plus, which has been renamed Simpan SSPN Plus, the SSPN-i product has also been given a new logo and product name - Simpan SSPN Prime - while retaining its existing privileges and benefits.
Over 690,000 SSPN-i Plus depositors can enjoy more benefits with Simpan SSPN Plus
The existing SSPN-i Plus, launched in 2015, was a collaboration between PTPTN and only one takaful provider, HLMT.
Ahmad Dasuki says more than 690,000 existing SSPN-i Plus accounts will enjoy more exciting benefits with the new Simpan SSPN Plus product.
"The existing depositors who have already opened their SSPN-i Plus accounts will be automatically transferred to HLMT's new Simpan SSPN Plus. This is because their previous takaful provider was HLMT. HLMT will offer more benefits to customers with this new product," he explains.
The additional takaful privileges are an increase in death benefits (accidental) from RM1 million to RM1.2 million, increase in death benefits (normal) from RM500,000 to RM600,000, additional takaful coverage of RM20,000 brings the total cover to RM120,000 for critical illness, and increase in hospitalisation allowance from RM200 to RM250.
In the event of death, support for other beneficiaries of depositors has been increased from RM18,000 to RM20,000, for spouses from RM9,000 to RM10,000, and for those with a maximum of three children from RM2,000 to RM3,000.
PTPTN has made numerous efforts to ensure that this education savings scheme is the first choice of Malaysians. "Looking at the savings performance of SSPN year after year, it shows a very encouraging improvement," says Ahmad Dasuki.
"Despite the various challenges we have faced, especially during the Covid-19 pandemic, savings products continue to be the first choice of parents as education funds for their children. As at July 31, PTPTN recorded a very encouraging inflow of RM9.29 billion in SSPN deposits, with over 5.04 million accounts."
Depositors satisfied with Simpan SSPN products
A Simpan SSPN depositor, Maizura Mohamed, a mother of three, says the Simpan SSPN products have many benefits with reasonable returns. "I started with the SSPN-i, now renamed as Simpan SSPN Prime to take advantage of the tax benefits. Then, when PTPTN came up with Simpan SSPN Plus, I accepted the offer to open accounts for my children.
"I chose the Berlian package, where I pay RM500 a month for my children. The benefit is that I have insurance cover for my children, and I think the RM1 million coverage at that time is quite high and fair. However, I'm happy to be informed that this has been improved, and coverage is now up to RM1.2 million.
"Second, I also have savings in case something happens to me. So, at least my children will be able to continue their studies, thanks to this takaful plan.  There is also diversification of savings as they pay a reasonable dividend of about 4%, which is fair. I think this is a platform that offers reasonable returns," she says.
Ramlee Mohd Said, a vice-president at Rapid, says raising awareness of saving money is important as the cost of education is very high these days and there is also a lack of scholarships.
"I have five children. The reason I chose Simpan SSPN is because of the package offered. Four of my children have signed up for the Simpan SSPN Prime while one has signed up for the Simpan SSPN Plus," he adds.
"By opening Simpan SSPN Prime and Simpan SSPN Plus accounts, I can take advantage of the many benefits as I have both savings and takaful. If possible, I do not want my children to be saddled with debt after they graduate from university.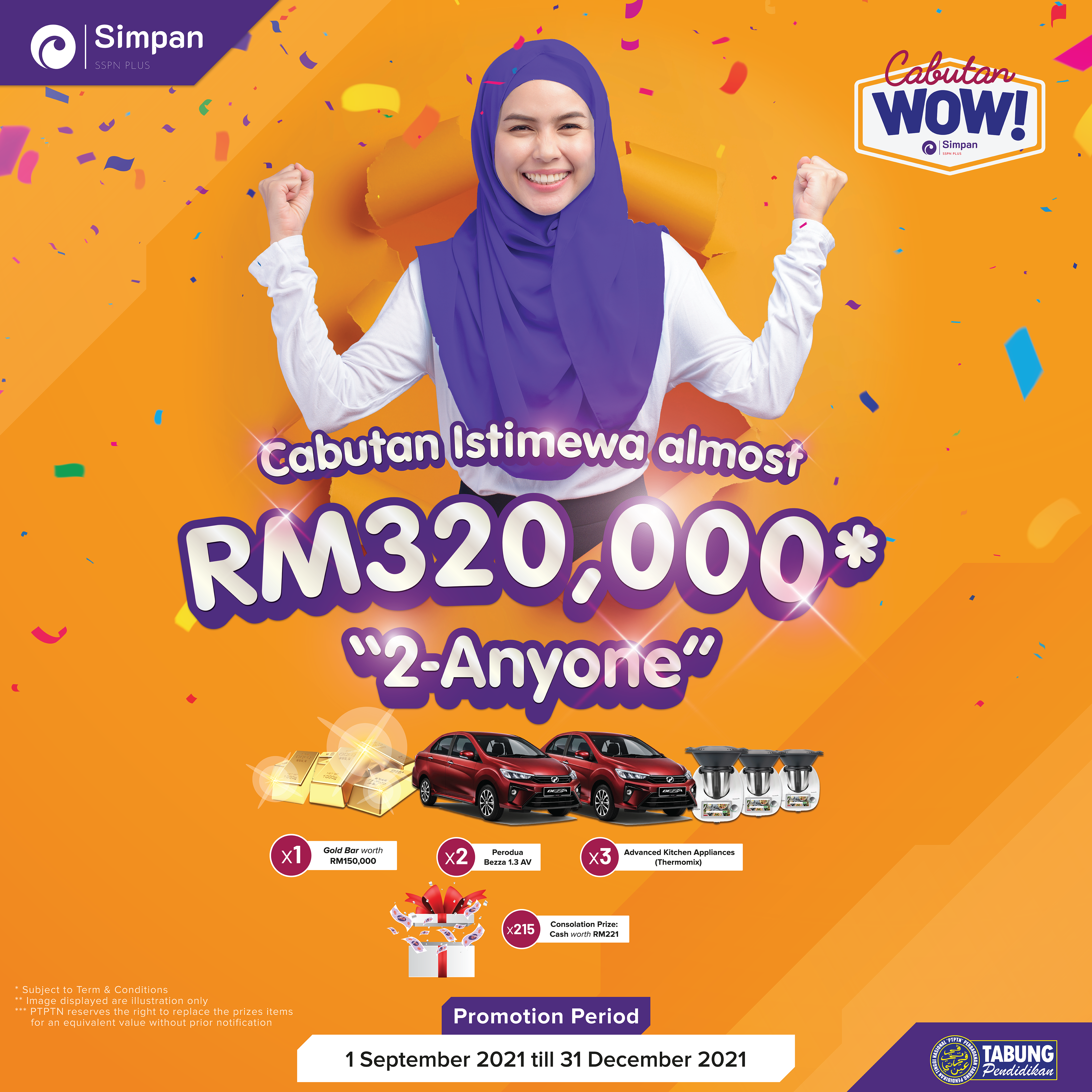 Cabutan WOW! Simpan SSPN Plus 2021 with total prizes worth about RM320,000
PTPTN has always offered special promotions to thank its loyal depositors, through prizes giveaway, and to encourage the public to save for their children's education. In conjunction with the launch of the new Simpan SSPN Plus, PTPTN has launched the "Cabutan WOW! Simpan SSPN Plus 2021", which the promotion period will run until Dec 31, with total prizes worth almost RM320,000 for 221 winners.
The first prize is a gold bar worth RM150,000 while the second prize is a Perodua Bezza 1.3 AV and third prize, a Thermomix kitchen appliance. The consolation winners will receive RM221 in cash.
Kickstart your savings journey now and visit HERE