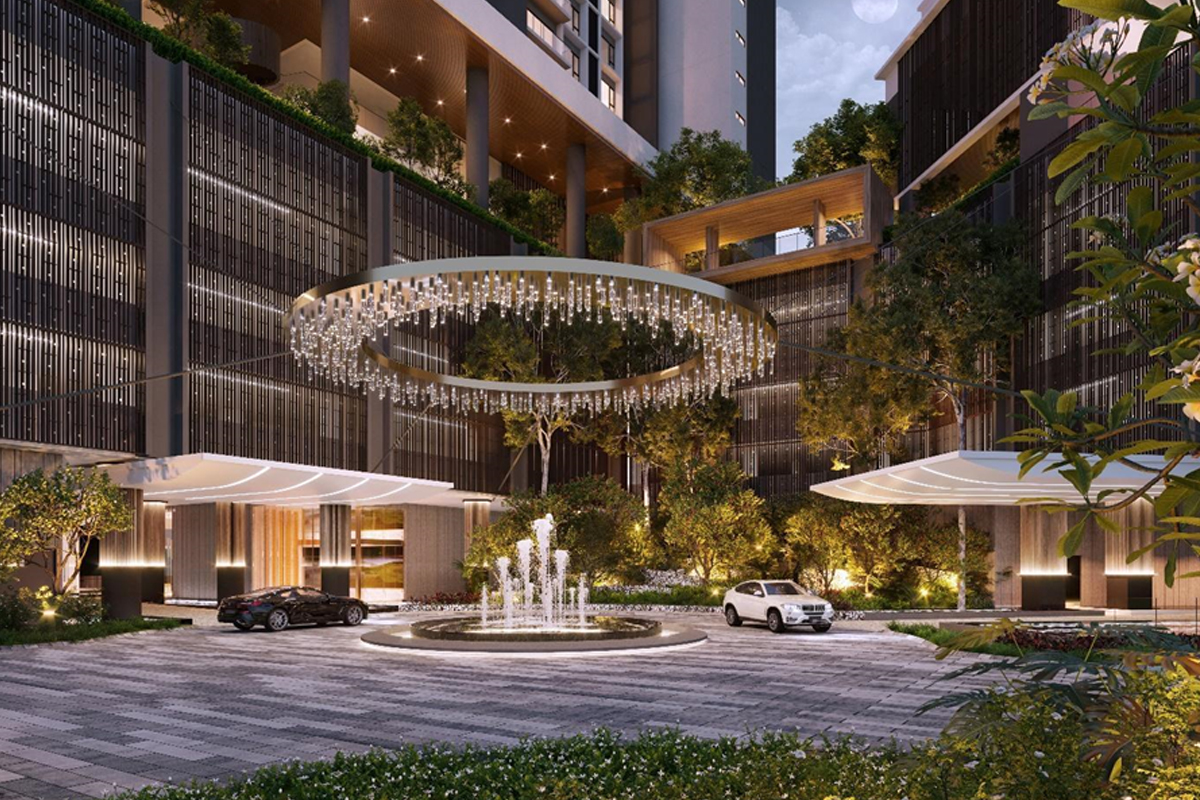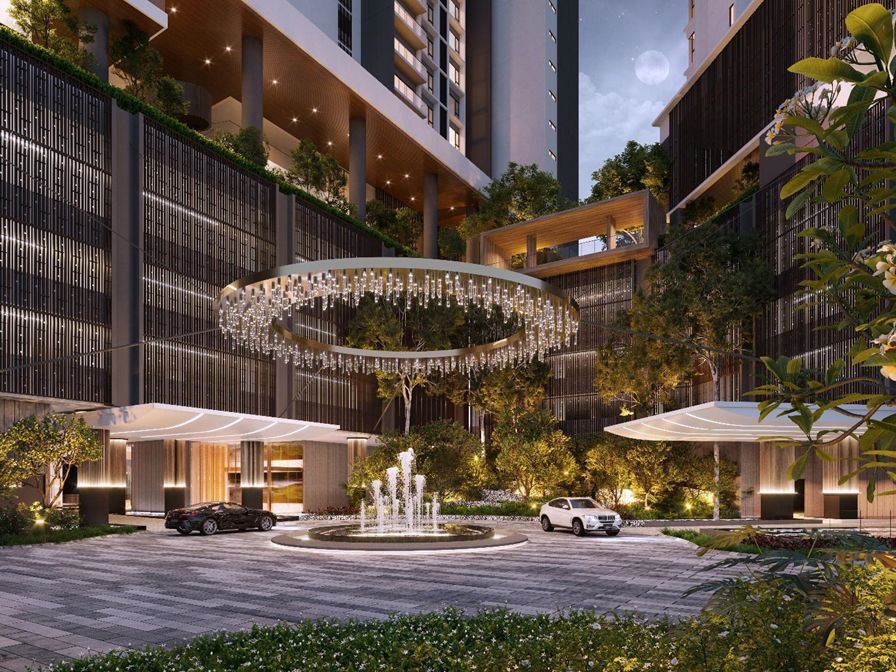 The Grand Entrance - Porte Cochere
Anchored by exclusive golf course TPC Kuala Lumpur (TPCKL) in Bukit Kiara, Jendela Residences at KLGCC Resort by Sime Darby Property Bhd will exude a sense of calm, splendour and grandeur when it is completed in 2026.
Upon entering the 360-acre township of KLGCC Resort, you will be greeted by the undulating terrain of mature greenery at TPCKL, lofty, modern villas and townhouses before arriving at Jendela Residences.
Situated in Bukit Kiara, one of the few remaining green lungs in Kuala Lumpur, KLGCC Resort is notably low-density, secluded and exclusive.
Residents will be able to soak up the sunrise and lush surroundings (at any given vantage points of Jendela Residences), before taking a five-minute, leisurely stroll for a cup of coffee in neighbouring Taman Tun Dr Ismail (TTDI), trendy cafes such as Kenny Hills Bakers and other restaurants and hot spots nearby.
Offering spectacular views of TTDI and Bukit Kiara with lifestyle services such as the KLGCC Resort buggy, shuttle services and other curated activities within the township, Jendela Residences will exemplify luxury living.
Sime Darby Property recognises Jendela Residences' potential as an upscale development for city dwellers, and is banking on the project's location next to the exclusive golf course, the abutting 245-acre Bukit Kiara forest reserve and its strategic location near Taman Tun Dr Ismail (TTDI), Mont'Kiara, Bangsar and Damansara Heights.
Despite the soft property market and cautious optimism about the nation's projected gradual economic recovery, Sime Darby Property has seen encouraging interest in the development during the pre-launch period.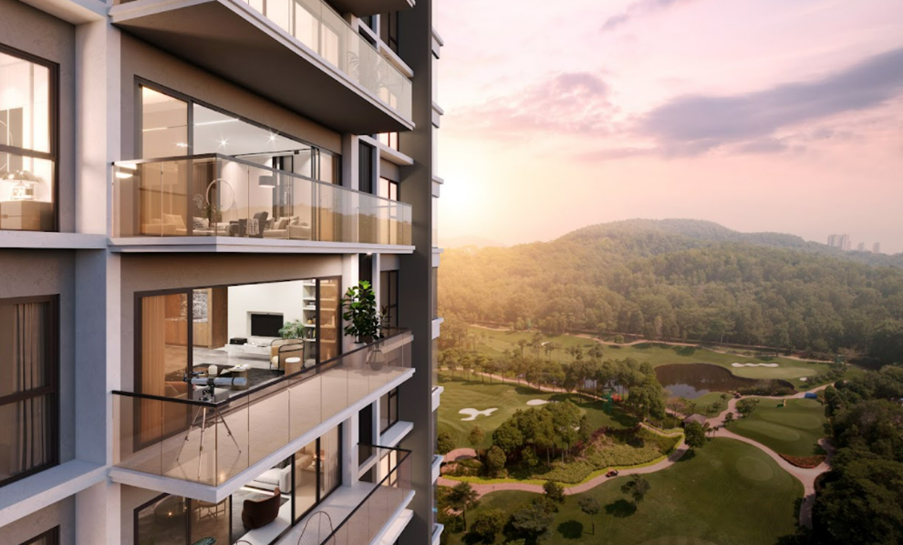 The majestic views of the fairways and Bukit Kiara Forest Reserve.
Jendela Residences Phase 1 was unveiled with an overwhelming response, highlighting the market's desire for larger units. Subsequently, Phase 2 was previewed in August and is now open for booking.
"[The pre-launch interest] had given us the utmost confidence to launch Phase 1 in May, with an excellent take-up rate of 80% despite the ongoing pandemic," says Sime Darby Property.
The developer reveals that the most expensive units (with private pools on the lower floors) were the first to be sold out, proving that there is resilient demand for this market.
"All the [four] special units with individual private pools facing the exclusive TPCKL golf course were fully taken up via an exciting online balloting process on the first day of the preview itself."
"We are thrilled with the encouraging amount of interest during the Phase 1 preview, and are proud to announce that the Phase 2 preview has begun," it adds.
Jendela Residences has a gross development value (GDV) of RM900 million. Situated on a 4.062-acre tract within the KLGCC Resort township, the luxury high-rise project comprises two 41-storey towers with 520 residential units.
The residential units offer layouts of 3-bedroom, 3+1, 3+2, 4+1 and 4+2, with built-ups of 1,324 to 2,260 sq ft. Prices will start from RM1.25 million.

Jendela Residences - unparalleled views with homes from 1,324 sf to 2,260 sq ft
"The most desired units are Type B, Type C and Type D (1,550 sq ft, 1,884 sq ft and 2,260 sq ft). As the Special Units with private pools were sold out, we saw customers purchasing combination units to form larger horizontal units and duplex units ," says Sime Darby Property. Sime Darby Property maintains its agility and has helped their customers to customise the units.
A juxtaposition of modern and tradition
Enveloped by songket-inspired motives and contemporary elements, Jendela Residences' facade is special, an amalgamation of classic yet cutting-edge designs.
Paying homage to Malaysian culture, the sumptuous theme will be translated in its grand lobby and signages throughout the development. The developer describes the design rationale: "[Just like the songket textile], the same way weaving begins with a threading plan and a wrap, the building [of Jendela Residences] starts with blueprints and a constructed frame. Around these frames, other materials are then woven and bound together into a three-dimensional form."
Meanwhile, the units will have a cool and modern sensibility, with lighter or neutral palettes, natural textures and highest-quality fittings. The units will come with a balcony that offers panoramic views of its surroundings, and living spaces that are stylish, spacious and practical.
"The current work-from-home lifestyle has garnered interest in our living spaces as we offer an ample area within the unit to work and live," says the developer.
As for its target market, Sime Darby Property maintains that Jendela Residences aims to cater for affluent individuals, families in the 35 years old and above age group and empty nesters from the surrounding areas of Taman Tun Dr Ismail, Mont'Kiara and Sri Hartamas.
Due to its undeniably strategic location and freshness, Sime Darby Property reckons Jendela Residences will attract young professionals living in Bukit Kiara and the neighbouring areas as well.
Additionally, the developer is "targeting upgraders and those who would like to be part of this established community". Sime Darby Property aims for 70% of the target group to be owner-occupiers, who are predominantly Malaysians, and 30% expatriates who are working or have retired in Malaysia.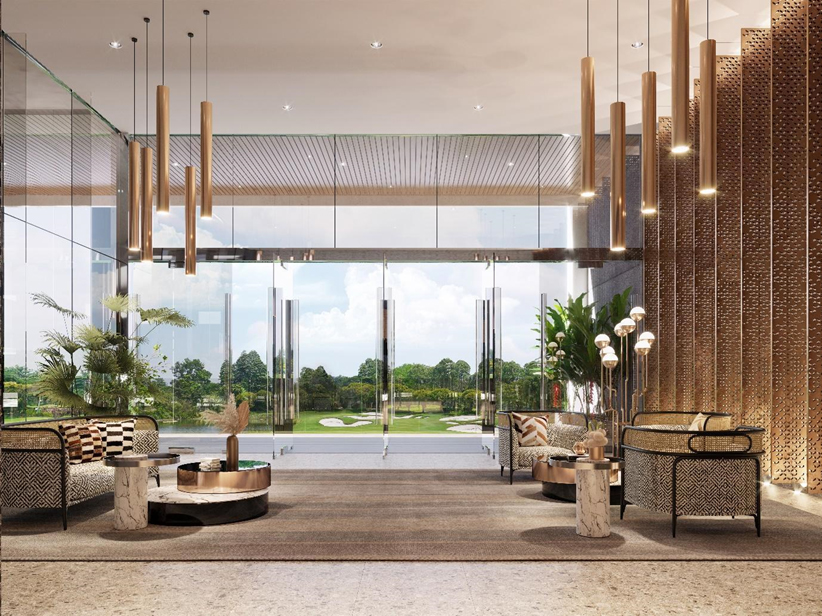 Grand lobby
Facilities at Jendela Residences will be plentiful. "On Levels 6 and 8, the development will feature an infinity pool, outdoor shower, pool and cabanas, wet lounge hydro spa deck, sun deck, floating hammock, Jacuzzi, viewing pavilion, barbecue deck, viewing deck, children's playland and pool, open lawn, swing daybeds, herb garden and yoga/pilates barn," says the developer.
Meanwhile, on Level 41, there will be a sky lounge with kitchen and bar, outdoor sky deck, audio visual lounge and reading room. Residents of Jendela Residences will have access to TPCKL, with a complimentary 10-year residential TPCKL golf membership.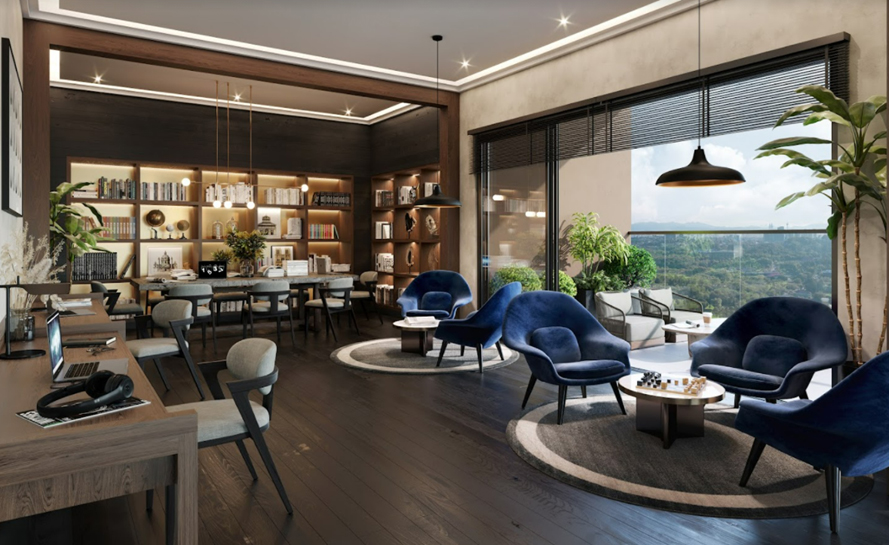 The Sky Deck Reading Room
Ranked as one of the best golf courses in Asia, the 36-hole tournament-standard course has played host to three international tours - the Professional Golfers' Association (PGA) tour, the Ladies Professional Golf Association (LPGA) tour and the European Tour.
In terms of accessibility, Jendela Residences will be connected via the Federal Highway, Lebuhraya Damansara-Puchong, New Klang Valley Expressway and SPRINT Highway (INTAN exit). "Jendela Residences will be within close reach of the city centre and a short drive to KL Sentral, with convenient access to major highways," notes the developer.
Jendela Residences at KLGCC Resort is flanked by the bustling neighbourhoods of TTDI, Bangsar, Mont'Kiara and Damansara Heights.
Nearby amenities include hospitals, renowned international schools, MRT stations and premium lifestyle malls such as Bangsar Shopping Centre and Bangsar Village.
With all its commendable qualities, Jendela Residences ensures a good investment opportunity. "The homes here fringe TPCKL and are [considered] to be rare, which is important for the value of any good property investment," says Sime Darby Property.
Register now at klgccresort.com or call (03) 2080 9088 for further enquiries.