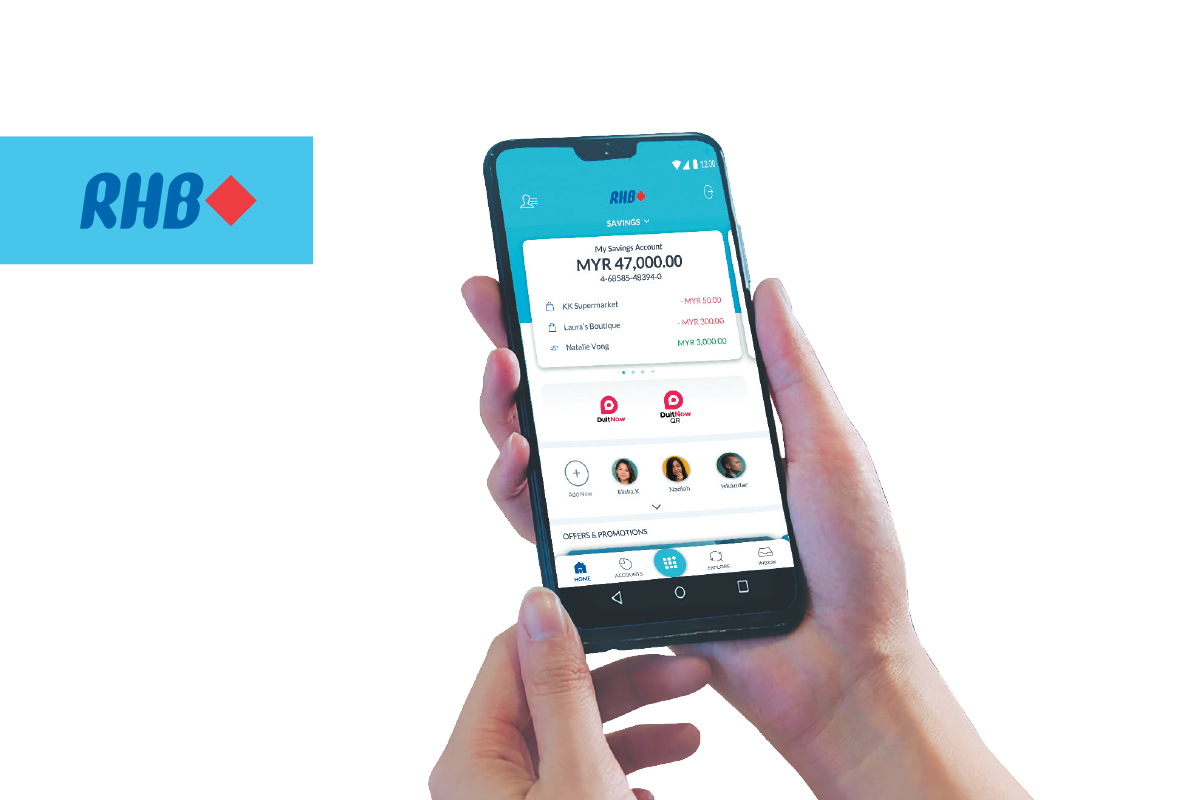 The Covid-19 pandemic has reshaped consumer banking behaviour in Malaysia and highlighted a greater need for connectivity and technology to ease the lives of those struggling to cope with the new normal.
With the Conditional Movement Control Order (CMCO) in place, product purchases have increasingly migrated online while the use of physical cash is on a steady decline. According to Bank Negara Malaysia's statistics, consumer internet banking saw an increase of about 20% in both volume and transaction value in 2020 alone.
As safety continues to be a primary concern that has shaped the way we do things, banking consumers are also increasingly shifting away from visiting physical bank branches in favour of online and mobile banking. While these shifts in consumer behaviour have been an ongoing trend for the past decade, the pandemic has surely accelerated years of banking digitalisation processes down to a few months.
The same story applies to the development of the new RHB Mobile Banking App. First introduced in April 2019 as an upgrade to the RHB Now App, this app has seen widespread penetration in Malaysia and the number of active users is expected to double by end-2020.
The pandemic has sped up the development process of new updates to the app and RHB Bank has introduced several new features that will help consumers fulfil their banking needs of today.
Changing the banking landscape
The Malaysian banking industry is in a constant state of flux owing to the technological disruptions in the industry. The newly updated RHB Mobile Banking App aims to play a major role in this disruption process.
The primary goal of the app is to eliminate the need for consumers to visit any physical location for their banking needs — be it quickly accessing their money for any purchases, setting up a new account or paying their monthly bills.
To replicate the experience of having a personal banker that fits in the customer's hands, the app has introduced features never before seen in the industry, without compromising on security while enabling better convenience when conducting banking activities on a smart device.
Throughout the app transformation journey, the bank has reached out to customers and conducted studies to determine user needs and habits when conducting day-to-day banking activities using the app. It found out that not having quick access to key account details and making payments are the bottlenecks in the user experience.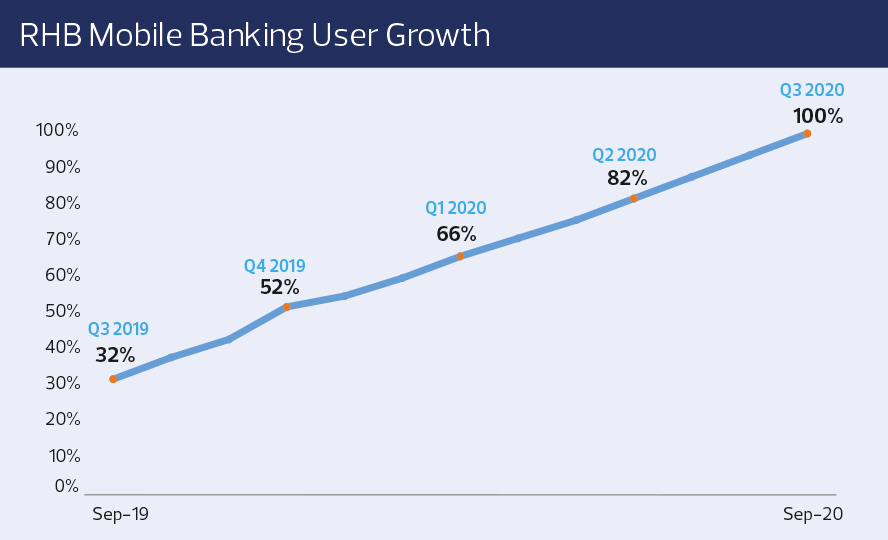 Hence, the new RHB Mobile Banking App is designed to simplify users' day-to-day banking experience — with just a few simple taps on the smart device, they can access features such as DuitNow QR, Quick Pay and Quick Login.
Unlike other banking apps that display a simple overview of the user's account on the dashboard, the new RHB app provides concise and critical account information immediately upon logging in through its intelligent dashboard feature.
This means that users are able to check their account balances, inward and outward money movements and due dates for credit card repayments at just one glance. Users can also personalise the type of account to display on the dashboard. In addition, with the Quick Pay feature, users can access important payment options such as DuitNow fund transfer and DuitNow QR, along with eight shortcuts to make transactions at their convenience.
The app also introduces the ­CashXcess feature, which allows users to access additional funds by converting up to 80% of their unutilised credit card limit into cash. This feature is crucial for users who are struggling financially during these trying times.
With more digital transactions taking place during the CMCO period, improved security has also become a high priority. The new app has new data protection technology and biometric authentication for logins, such as fingerprint scanners and Face ID, to ensure that user information is never compromised.
One key element that had been significantly improved was the app's visual design, which now has better in-app navigation after feedback from customers on the previous iteration of RHB's mobile banking app. To streamline the app navigation even further, push notifications are used to prompt customers to perform critical actions quickly and easily.
The next wave of mobile banking
The newly released features have led to positive results in the short period of time since their introduction. This year, RHB Bank saw a sharp increase in online transactions and a corresponding decline in over-the-counter transactions.
The digitalisation journey, however, does not end with this latest update to the app. There is a demand for banking services that offer a greater level of flexibility and security. The drive towards a cashless society will see the convergence of a banking app and an e-wallet to minimise the need for customers to carry so many e-wallets. The app will also become like the front-end store for banks than the branches.
To cater for this new consumer landscape, the next wave of app updates will be focused on helping customers start their banking relationship with RHB Bank directly through the mobile banking app instead of a bank branch.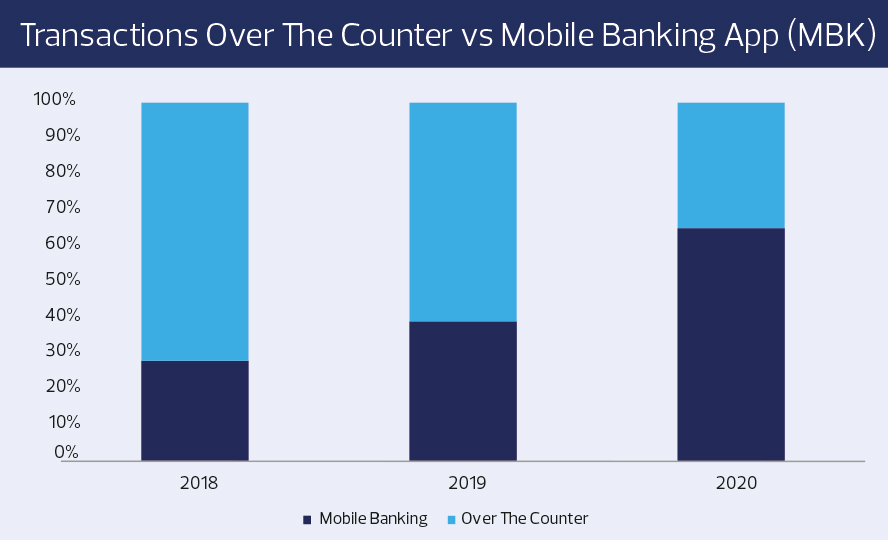 This means that new RHB customers may be able to open a bank account by downloading the app, completing the e-KYC (regulated customer due diligence) and getting the account immediately activated from the convenience of their smart devices. With this future update, the app will become the customer's primary and only engagement channel with the bank.
Keeping up to date with changing customer needs and translating them into the right user journey and design were the primary challenges for the bank when developing the new app. It had to break away from conventional banking experiences and come up with creative ways to address user concerns. Hence, it also added a feedback capturing feature in the app to assist in the app improvement process.
RHB Bank's new mobile banking app shows its commitment to putting the customer's needs first and foremost when coming up with new initiatives and features. The app enables users to carry out their banking transactions without having to visit a bank branch or being present at a particular place.
A total of 300,000 responses received from research showed that 96% were satisfied with the RHB Mobile Banking App. Customer happiness and satisfaction will remain the key driving factor for future updates to the app or the bank's further digitisation efforts.
What's new from the RHB Mobile Banking App?
1. Faster and secure login
Instead of the traditional login and password, users can use Face ID* or fingerprint sensors through Quick Login. Alternatively, users can use PIN codes to access the app quickly if their smart devices do not support biometric authentication.
*Face ID only applicable for iOS devices
2. Cashless payments via DuitNow QR
With more than 51,000 merchants nationwide, the DuitNow QR feature allows users to scan and pay for items quickly and securely using their smart devices without the hassle of logging in.
3. Get immediate alerts on card payments
This new app feature notifies users on monthly credit card payments through actionable notification alerts — helping users avoid late payment charges while making the payment process seamless.
4. Pay with just one touch
With the Quick Pay feature, users are able to set up to eight shortcuts on the app's main dashboard, making bill payments and cash transfers to friends and family quick and easy.
5. Transfer funds easily using DuitNow and DuitNow QR
Users are now able to transfer funds to and share receipts with friends and family by just keying in their mobile phone number. With DuitNow QR, your mobile banking could act as your mobile wallet with the benefit of security.
6. Search for billers and pay them conveniently
Users can search through more than 8,000 billers, such as Tenaga Nasional Bhd (TNB), Air Selangor (Syabas) and Maxis using keywords alone and make payments using the new app.
7. Easy access to extra funds
With the CashXcess feature, users are able to access cash of up to 80% of their unused credit card balance.
8. Personalised banking experience
The new app is designed and built for users, allowing them to personalise their account name, dashboard view and profile, set payment limits and locate the nearest RHB branch easily.
9. ASNB account
Investors can now access their ASNB accounts and top up their investments using the app.
Download the RHB Mobile Banking App now