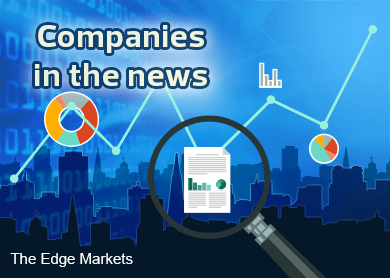 KUALA LUMPUR (Dec 31): Based on corporate announcements and newsflow today, the companies that may be in focus on Friday (Jan 2, 2015) could include the following: Keladi Maju Bhd, Goh Ban Huat Bhd, MMC Corp Bhd, Xidelang Holdings Ltd, Cypark Resources Bhd, Octagon Consolidated Bhd, Kinsteel Bhd and Perwaja Bhd.
The completion date of Keladi Maju Bhd's acquisition of nine parcels of land from GBH Land Sdn Bhd and Goh Ban Huat Bhd (GBH) for RM192.37 million cash, and subsequent tenancy over the properties to GBH, has been extended. It involves 13.93 acres located along Jalan Segambut here, together with a warehouse.
In separate filings with Bursa Malaysia today, GBH and Keladi Maju said the two companies, together with GBH Land, have mutually agreed to extend the completion date of the sale and purchase agreement (SPA) from Jan 7 to July 6, 2015.
Keladi Maju is down 5 sen or 1.79% today, giving it a market capitalisation of RM212.33 million.
MMC Corp Bhd, controlled by tycoon Tan Sri Syed Mokhtar Albukhary, said its associate company Almiyah Attilemcania SPA (AAS), has been slapped with a penalty of DZD3.93 billion (US$44.6 million) by the lower court of Ghazouet in Algeria, over a breach of foreign exchange regulations.
MMC will lodge an appeal with the Algerian Court of Appeal to set aside the decision of the lower court, its filing with Bursa Malaysa this evening read.
"AAS has been advised by its solicitors that the penalty would not be enforced until the exhaustion of all rights to appeal by AAS, in respect of the legal proceedings. AAS had filed an appeal against the decision of the court to the Algerian Court of Appeal," said MMC.
MMC said the penalty was not expected to have any material impact on its earnings for the financial years ending Dec 31, 2014 (FY14) and FY15.
Shares in MMC closed 9 sen or 2.63% lower at RM2.39 today, giving it a market capitalisation of RM7.4 billion.
Bursa Malaysia-listed but China-based shoemaker Xidelang Holdings Ltd (XDL) has proposed a 70% capital reduction, by reducing the par value of its shares to US$0.03 from US$0.10, after its share price fell to an all-time low of 9 sen this month.
"As at Dec 30, being the market day prior to this announcement, the closing share price of XDL was 9.5 sen (or US$0.027, based on Bank Negara Malaysia's exchange rate of US$1:RM3.4985), which is at a discount of approximately 72.8% to the existing par value of US$0.10 each," it said in a filing with Bursa Malaysia.
XDL's share price had slid to close at 10 sen today, a decline of 84% from 62.5 sen in January. At 10 sen, the company has a market capitalisation of RM114.95 million.
"Barring any unforeseen circumstances, the board expects the proposed par value reduction to be completed by the first quarter of financial year ending 2015," it said.
Cypark Resources Bhd, an environmental technology and engineering services provider, saw its net profit for the fourth quarter ended Oct 31, 2014 (4QFY14), dropping 28% to RM6.42 million or 3.48 sen per share, from RM8.93 million or 5.42 sen per share a year ago.
The fall in its quarterly net profit was attributed to lower revenue from environmental engineering projects, year-end provisions made for bonus and other administrative expenses, as well as unrealised foreign exchange differences.
Revenue for the quarter fell 12% to RM50.04 million from RM56.76 million previously, its filing with Bursa Malaysia this evening showed.
Cypark shares have fallen 27.51% from RM2.97 on April 23, to close at RM2.15 today, giving it a market capitalisation of RM423.2 million.
Octagon Consolidated Bhd, a Practice Note 17 (PN17) company since June 2012, has narrowed its net loss by a remarkable 99% to RM1.68 million in its fourth quarter ended Oct 31, 2014 (4QFY14 ), from a net loss of RM155 million a year ago, due to increased demand in its coatings division.
Consequently, its loss per share was reduced to 01.01 sen, from 93.45 sen a year earlier.
Revenue for 4QFY14 was higher by 3.03% at RM9.24 million, up from RM8.96 million, which Octagon told Bursa Malaysia was solely contributed by its coatings division.
Octagon shares have been suspended since November last year (2013), with a previous close of 7 sen.
Kinsteel Bhd's managing director (MD) and major shareholder Tan Sri Pheng Yin Huah has quit as Perwaja Holdings Bhd's MD, as did his sons Datuk Pheng Chin Guan as chief executive officer and executive director of Perwaja, as well as Pheng Chin Huat and Pheng Chun Shiun as non-independent non-executive directors of Perwaja.
Meanwhile, following Kinsteel's reduction of equity interest in Perwaja to a 31.25% stake, and with its cessation of management control of the latter, Perwaja is no longer a subsidiary of Kinsteel.
In a filing with Bursa Malaysia, Kinsteel said it had reduced its interests in Perwaja substantially, following the disposal of 34.1 million shares or a 6.09% stake in Perwaja in the open market from Dec 19 to 30, "for a total cash consideration of RM1.82 million only".
Kinsteel had held a 37.34% stake in Perwaja, since the latter was listed in 2008. Following its shareholdings reduction, Perwaja has now ceased to be a subsidiary and will remain an associate company of Kinsteel.
Kinsteel said in line with its reduction of shareholdings in Perwaja, some Perwaja's board members (who are also directors or alternate director of Kinsteel, as at Dec 30) — in addition to the Pheng family members mentioned above — have resigned from their respective positions in Perwaja, effective Dec 31.
It is worth noting that Datuk Ong Tee Thong has also resigned as Perwaja's group executive chairman, but will continue to remain as a non-independent non-executive director.
While the senior Pheng has resigned as MD of Perwaja, he will continue to remain as a non-independent non-executive director.
Over at Kinsteel's board, Datin Hong Cheng Guat, senior Pheng's sister, has also resigned as a director "to streamline board composition".
Kinsteel closed unchanged at 15 sen, giving it a market capitalisation of RM157.40 million; while Perwaja closed up 0.5 sen or 11.11% at 5 sen, with a market capitalisation of only RM28 million.