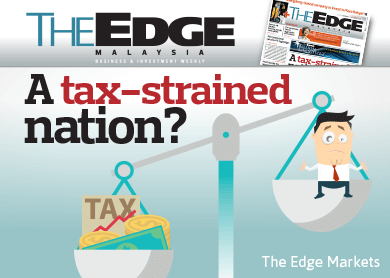 KUALA LUMPUR (Oct 31): Malaysia may lower income tax rates gradually in the near future while raising the goods and services tax (GST) as the nation contends with less crude oil income.
The Edge Malaysia business and investment weekly (Edge Weekly), quoting economists and tax consultants, reported in its latest Nov 2-8 issue that the government needed to increase tax revenue to reduce budget deficit.
Edge Weekly quoted Taxand Malaysia Sdn Bhd chairman Veerinderjeet Singh as saying he had anticipated the maximum personal income tax and corporate tax rate to be 20% in 2020 while the GST was expected to rise to 10%.
"However, with the sudden increase in the top marginal personal income tax rate to 28%, it is now unclear and uncertain as to what the tax policy direction is for the future," Veerinderjeet said.
The country implemented the GST since April 1, 2015 at 6%. Veerinderjeet's comments followed Malaysia's Budget 2016 announcement
Economists said Budget 2016, which was unveiled on Oct 23, would test policy makers' commitment to fiscal discipline amid the pressing need to spend to deliver economic results.
The challenge comes at a time when crude oil prices have fallen to about US$46 (RM198) a barrel now from US$81 a year earlier. Crude oil is a major income source for the the government and crucial component of the Malaysian economy.
Bank Negara Malaysia will announce the country's third quarter economic numbers this Nov 13.
For a better understanding on Malaysian economic, budget and tax dynamics, kindly pick up and read the latest issue of Edge Weekly.