This article first appeared in The Edge Malaysia Weekly, on December 26, 2022 - January 08, 2023.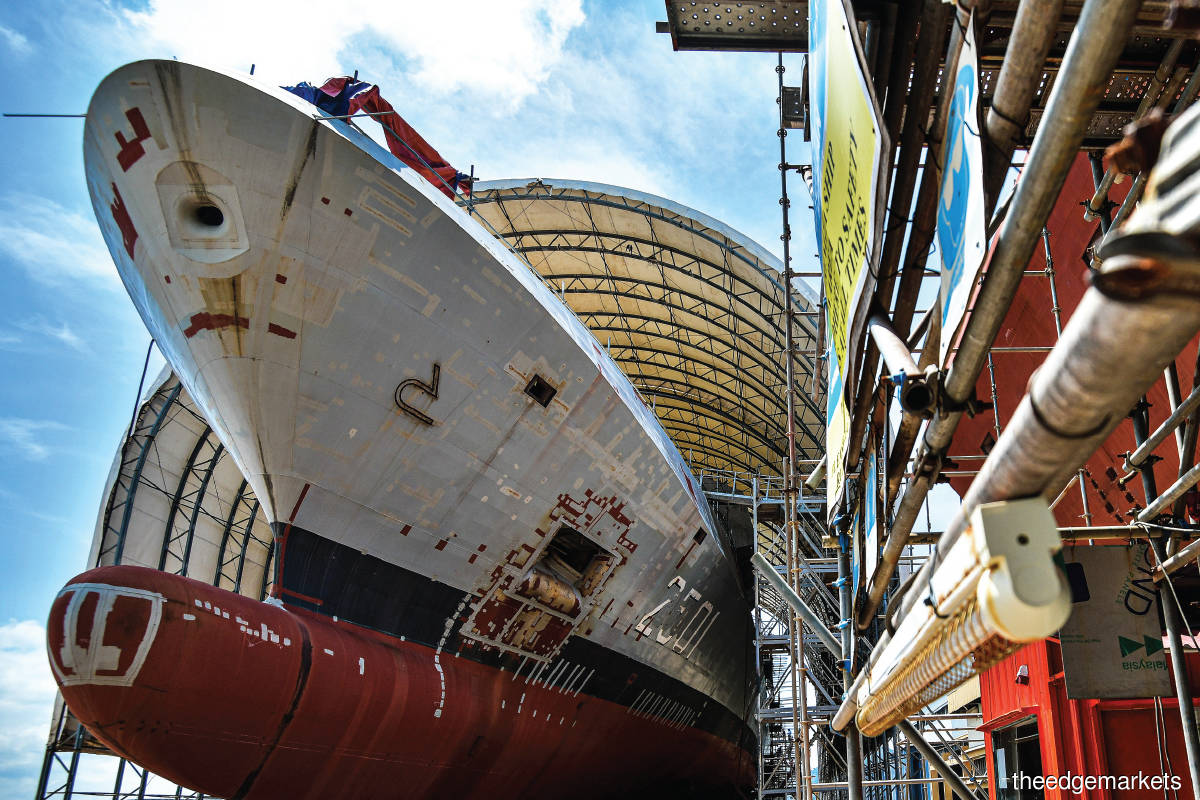 BOUSTEAD Naval Shipyard Sdn Bhd (BNS) is one of the turkeys of the year after bungling up a RM9.13 billion contract to build six littoral combat ships (LCS) awarded in 2011. The first of the six vessels slated for delivery in April 2019 was still only 44% completed as at end-August, with the others at various stages of completion — between 16% and 35% — after the government forked out RM6.08 billion, or 66.59% of the total contract costs.
According to former defence minister Datuk Seri Hishammuddin Hussein, because of the Royal Malaysian Navy's need for the ships, and the involvement of 400 local vendors with some RM4 billion in contracts, the LCS project will have to be continued. His explanation comes on the back of questions about whether BNS has the capability in the first place to undertake such a sophisticated contract.
BNS is a 20.77% unit of Boustead Heavy Industries Corp Bhd (BHIC), with Boustead Holdings Bhd (BHB) holding 68.85% of BNS's equity, while armed forces fund Lembaga Tabung Angkatan Tentera holds the remaining 10.38%. LTAT has a 59.42% stake in its flagship BHB, which in turn has a 65% interest in BHIC.
While there were murmurs a few years ago that the LCS contract was facing challenges, the Public Accounts Committee's report tabled in parliament in early August highlighted a report from the Special Committee on Governance Investigation, Government Procurement and Finance on the LCS project chaired by former auditor-general Tan Sri Ambrin Buang, with the forensic audit done by Alliance IFA. The report was later declassified.
The report indicated that the costs of constructing the six ships had ballooned by a 22% quantum to RM11.14 billion, and resulted in potential losses of RM890.22 million to BHIC, among a host of other adverse findings.
Thus far, the only charge has been against Tan Sri Ahmad Ramli Mohd Nor, 79, former chief of the Royal Malaysian Navy (RMN) and former BNS managing director, who was charged with three counts of criminal breach of trust involving RM21.08 million. The RM21.08 million accounts for 0.23% of the RM9.13 billion contract value and 0.35% of the RM6.08 billion spent.
Also in question was the existence of two companies, Contraves Advanced Devices Sdn Bhd (CAD) and Contraves Electrodynamics Sdn Bhd (CED), both of which are 51% BHIC-controlled, while the remaining 49% stake is held by German outfit Rheinmetall Air Defence AG. Whether there was a need for Rheinmetall to participate in the project is still a moot point, as many question its role.
CAD is also said to have marked up prices by four to five times for acquisitions by BNS and had doubled its claims to RM537 million for no apparent reason.
Thus far, the new defence minister Datuk Seri Mohamad Hasan has only said the LCS project would be continued but subject to a review, and he needed to be briefed on the issues to get a clearer picture of what happened.
How the many shenanigans at BNS took place is anyone's guess. But, then again, this is not the first time such issues have cropped up.
BNS, previously known as Limbungan TLDM (Tentera Laut Diraja Malaysia), was privatised in 1995 by the Penang Shipbuilding and Construction Industries consortium and came to be known as PSC Naval Dockyard Sdn Bhd.
In September 1998, PSCI was awarded a RM5.4 billion contract to build six offshore patrol vessels (OPVs) for the RMN — part of a larger deal to build 27 OPVs for a staggering RM25 billion — possibly the largest contract in the history of the Ministry of Defence.
PSCI messed up and faltered, however, in the RM5.4 billion OPV contract as a result of corruption and mismanagement among others, causing the government to lose billions of ringgit, as money was spent but ships were not delivered.
BHB swooped in as a white knight and took control of 65% of PSCI's stock, restructuring the company into BHIC. In this case, the same fate suffered by the company it was rescuing has befallen the white knight — the inability to deliver on contracts awarded.
For the nine months ended September 2022, BHIC chalked up net profits of RM6.56 million on the back of RM103.2 million in revenue, but cash flow from operations was negative RM36.76 million.
As at end-September, BHIC had cash and bank balances of RM2.88 million but short-term debt commitments of RM193.08 million and short-term borrowings of RM68.27 million. The company's finance costs for the nine months ended September stood at RM12.97 million. BHIC also had RM10.67 million in assets held for sale, and had accumulated losses of RM161.31 million.
On its prospects, BHIC says, "The pro-activeness of the government of Malaysia to complete the LCS project within the timeframe set augurs well for the group's prospects. Our priority remains to complete projects awarded to us within the stipulated cost and time, to the satisfaction of our customers."
While the customer's satisfaction is, of course, important, the question is: At what cost is the customer's satisfaction being obtained?