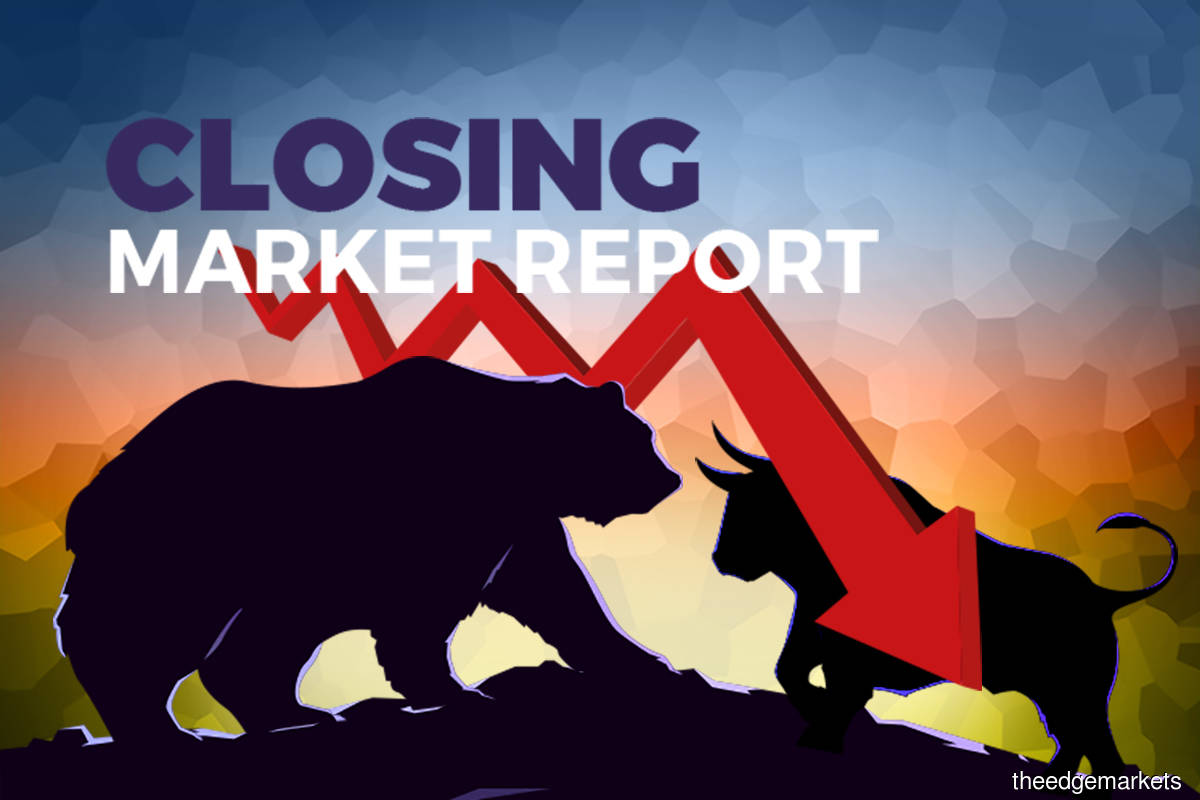 KUALA LUMPUR (Jan 18): Bursa Malaysia ended lower on Wednesday (Jan 18) on continued selling in selected industrial products and services, telecommunications and media counters despite regional markets closing mostly higher, dealers said.
At 5pm, the benchmark FTSE Bursa Malaysia KLCI (FBM KLCI) dipped 3.88 points, or 0.26%, to 1,495.5 from Tuesday's closing of 1,499.38.
The market bellwether opened 4.07 points lower at 1,495.31 and moved between 1,491.05 and 1,496.63 throughout the day.
Market breadth was also negative with decliners surpassing gainers 423 to 387, while 432 counters were unchanged, 947 untraded, and 10 others suspended.
Turnover dropped to 2.70 billion units worth RM2.0 billion against Tuesday's 2.82 billion units worth RM1.98 billion.
DiGi.Com Bhd and Petronas Chemicals Group Bhd (PetChem) were the top two losers among the FBM KLCI constituents. DiGi.Com declined 10 sen to RM4.18 while PetChem fell 16 sen to RM8.46, contributing a combined 4.09 points to the loss in the index.
Rakuten Trade Sdn Bhd vice-president of equity research Thong Pak Leng noted that regional bourses ended mostly higher despite mixed cues from Wall Street overnight.
"Japanese stocks rose as the Bank of Japan maintained its interest rate policy. China and Hong Kong remain optimistic about the reopening of China's economy.
"On the domestic front, the FBM KLCI remained stuck in consolidation mode despite a few attempts to break out of the 1,500 mark.
"Nonetheless, we reckon that the index will see a slight upside due to prevailing low valuations and hover within the 1,490-1,500 range for the remainder of the week," he told Bernama on Wednesday.
Hong Kong's Hang Seng Index climbed 0.47% to 21,678, China's SSE Composite Index rose slightly to 3,224.41, and South Korea's Kospi fell 0.47% to 2,368.32. Singapore's Straits Times Index advanced 0.09% to 3,283.4 while Japan's Nikkei 225 rallied 2.5% to 26,791.12.
Among the heavyweights on the local bourse, Malayan Banking Bhd rose three sen to RM8.81, Public Bank Bhd slipped three sen to RM4.29, Tenaga Nasional Bhd dropped three sen to RM9.39, and IHH Healthcare Bhd declined three sen to RM5.69. CIMB Group Holdings Bhd fell five sen to RM5.72.
As for the actives, the newly listed TT Vision Holdings Bhd jumped 94 sen to RM1.28, Dagang NeXchange Bhd added 1.5 sen to 60 sen, Velesto Energy Bhd was flat at 18.5 sen, and Iris Corp Bhd shed 1.5 sen to 11.5 sen.
On the index board, the FBM Emas Index dropped 21.62 points to 10,803.45, the FBMT 100 Index gave up 23.15 points to 10,498.25, and the FBM Emas Shariah Index was 15.62 points weaker at 11,049.65.
The FBM 70 Index was 11.95 points lower at 13,454.3 while the FBM ACE Index fell 36.34 points to 5,446.9.
Sector-wise, the Energy Index rose 3.07 points to 823.64, the Technology Index earned 0.59 of-a-point to 67.23, and the Industrial Products and Services Index ticked down 0.78 point to 187.86. The Financial Services Index shed 29.49 points to 16,516.83, and the Plantation Index erased 32.62 points to 6,869.22.
The Main Market volume declined to 1.64 billion shares worth RM1.48 billion compared with Tuesday's 1.87 billion shares worth RM1.54 billion.
Warrant turnover improved to 320.84 million units worth RM55.19 million from 246.50 million units worth RM49.65 million on Tuesday.
The ACE Market volume widened to 741.23 million shares worth RM472.44 million from 699.95 million shares worth RM382.15 million previously.
Consumer products and services counters accounted for 186.07 million shares traded on the Main Market, industrial products and services (503.37 million), construction (47.16 million), technology (278.7 million), SPAC (nil), financial services (59.84 million), property (78.47 million), plantation (24.36 million), REITs (3.93 million), closed/fund (nil), energy (315.52 million), healthcare (71.49 million), telecommunications and media (27.57 million), transportation and logistics (29.29 million), and utilities (14.45 million).