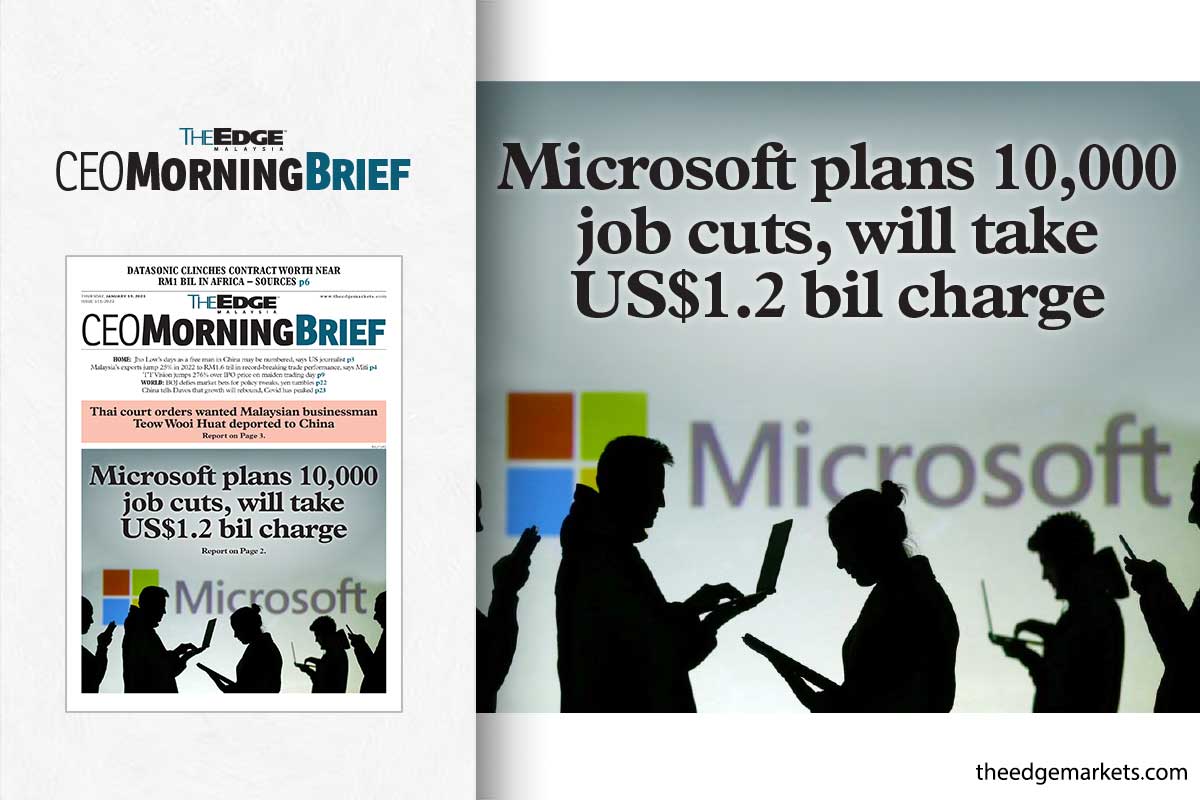 (Jan 18): Microsoft Corp said it plans to cut 10,000 jobs, or about 5% of its workforce, taking steps to cope with an increasingly bleak outlook that has now bruised many of the technology industry's biggest names.
The company will take a US$1.2 billion charge in the second fiscal quarter related to the move, which will shave 12 cents off of earnings per share, the company said in a corporate filing. The layoffs come as the software giant said it's seeing customers exercise caution, with some parts of the world in recession and others heading toward one. Microsoft is scheduled to report results on Jan 24 and is forecast to post its slowest revenue increase in six years.
Speaking earlier in the day before the cuts were announced, chief executive officer Satya Nadella noted the tech industry is going through a period of slowdown and will need to adjust. 
"During the pandemic there was rapid acceleration. I think we're going to go through a phase today where there is some amount of normalisation in demand," Nadella said in an interview at the World Economic Forum in Davos, Switzerland. "We will have to do more with less — we will have to show our own productivity
gains with our own technology."
Microsoft joins the ranks of other major technology companies that have announced job cuts in the thousands in the past few months. Cloud rival and Seattle-area neighbour Amazon.com Inc is set to begin a round of layoffs on Wednesday, ultimately affecting more than 18,000 employees in the largest job cull in its history.
Facebook parent Meta announced widespread job cuts last fall, and beleaguered social network Twitter Inc has slashed about half its workforce. Corporate cloud-software maker Salesforce laid off about 10% of workers earlier this month. 
Redmond, Washington-based Microsoft said the charge will go to severance costs, "changes to our hardware portfolio" and the cost of consolidating real estate leases as the company creates higher density across its workspaces. In a blog post and email to employees, Nadella said that even as the company is eliminating roles in some areas, it will continue to hire in "key strategic areas". The company didn't specify where the job cuts would be concentrated, but Bloomberg reported earlier that the company plans to eliminate positions in a number of engineering divisions. The job cuts will be complete by the end of Microsoft's fiscal third quarter, according to the company.
When it reports earnings on Jan 24, Microsoft is expected to post a second-quarter sales gain of 2%. That would be the slowest quarterly revenue increase since fiscal 2017.
Microsoft's cloud-computing products have fueled a resurgence in growth in the past decade, but even that business has begun to decelerate.
Analysts had been predicting that Microsoft, which has weathered past slowdowns without massive job cuts, would feel the pinch this year. On Tuesday, the company was downgraded to sell from neutral at Guggenheim Securities, the first bearish analyst rating on the software maker in more than three years. 
Guggenheim analyst John DiFucci cited Microsoft's exposure to small- and mid-sized businesses as a risk in an economic slowdown, along with growth concerns for the company's Windows operating-system and Azure cloud-computing businesses. Earlier this month, UBS cut the stock to neutral, pointing to concerns about the cloud-computing division.
Shares were little changed at US$240.92 in New York on Wednesday morning.
Microsoft will start notifying some of the fired workers immediately with others to come in the next several months. US workers that get benefits will receive "above-market severance pay, continuing healthcare coverage for six months, continued vesting of stock awards for six months, career transition services, and 60 days' notice prior to termination," Nadella wrote in the blog post and in an email to workers. Outside the US, Microsoft will comply with local laws.
Microsoft didn't detail the changes to its real estate portfolio, but the Puget Sound Business Journal reported last week that the company will let the lease expire on one of its buildings in Bellevue, Washington.
Microsoft, which also owns professional network LinkedIn, search engine Bing and the Xbox video-game business, has been undergoing a massive campus renovation announced in 2017 that was intended to add more space for employees and create more open work areas. Microsoft planned to replace some of its oldest buildings with larger ones. That process had already been disrupted by the Covid-19 pandemic and a shift to let employees work from home as much as 50% of time without special permission.
While tightening its belt in some areas, Microsoft is making big bets on artificial intelligence to fuel its next wave of growth. The company plans to incorporate AI-based tools — some built in-house and others from its partnership with developer OpenAI — into its Azure cloud services, office worker applications and software programming tools. It's also still working to win more customers to Azure and cloud-based Office productivity programs, like Teams conferencing software, which
generate recurring revenue streams.
Less than a year after completing its acquisition of Nuance Communications, Microsoft is also trying to market more artificial intelligence programs for doctors and radiologists.
It's also pushing to get regulatory approval of a US$69 billion deal to purchase Activision Blizzard Inc, which would mark a substantial expansion of its gaming business.
To receive CEO Morning Brief please click here.