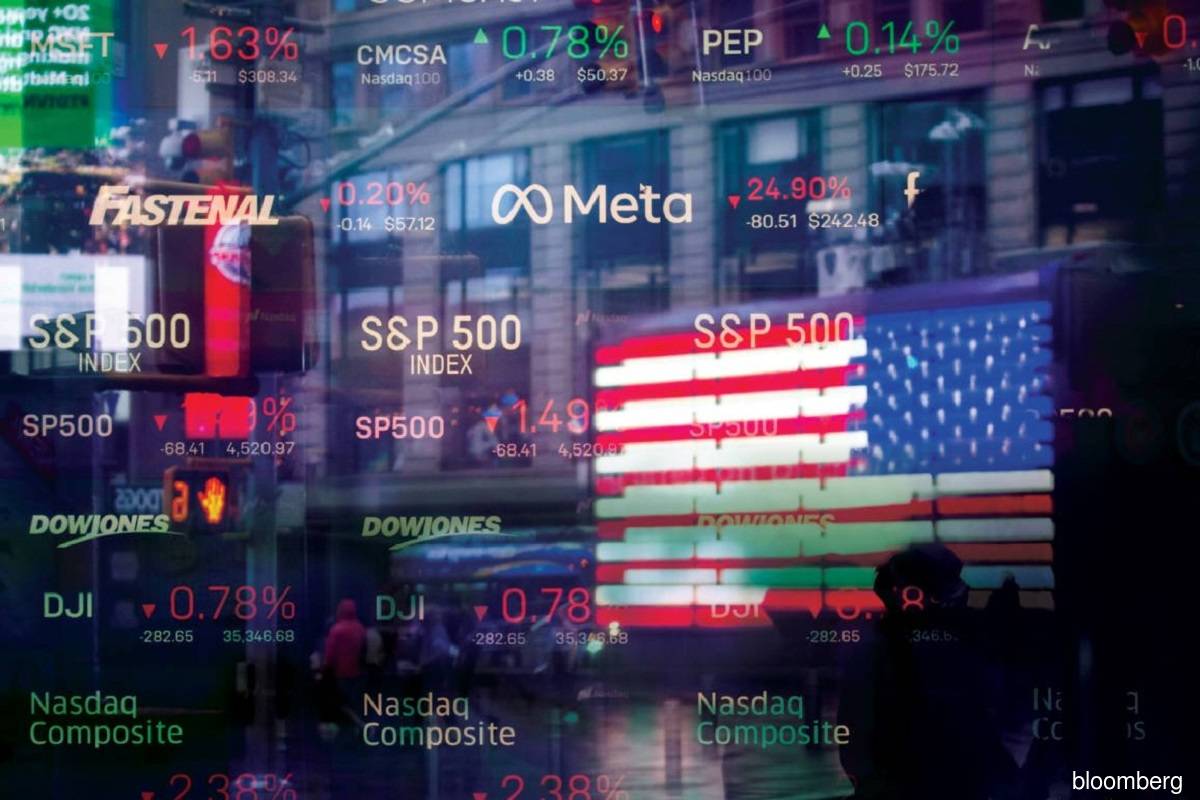 (Feb 3): US stocks rallied for a third day as traders anticipate the Federal Reserve's tightening cycle may be nearing its peak. 
Earnings that trickled in after-hours dented the euphoria, with the Invesco QQQ Trust, the biggest ETF tracking the Nasdaq 100, dropping more than 1%. Amazon.com Inc, Alphabet Inc and Apple Inc dropped more than 3% each in late trading after reporting results. Ford Motor Co and Starbucks Corp also retreated after giving an update on last quarter's performance. Qualcomm Inc fell after delivering a disappointing sales forecast.
During Thursday's regular trading session, the tech-heavy Nasdaq 100 was boosted by Meta Platforms Inc's biggest surge since 2013, fuelled by the company's earnings and upbeat outlook. The index narrowly averted stepping into a bull market from its December low. The S&P 500 closed up more than 1%. Both indexes rallied the most in the last three sessions since November. 
Treasuries pared earlier gains, with the 10-year yield around 3.40%. A dollar index rose the most in nearly a month. 
Risk assets had been bolstered since late Wednesday, when Fed chair Jerome Powell said the central bank has made progress in its inflation battle even as labor-market data continues to show tightness that could add to wage pressures. The Labor Department will release its hiring report for January on Friday. 
"Data will drive the Fed's intent," said Dennis DeBusschere, the founder of 22V Research. "Payroll on Friday needs to confirm lower wages or internals will flip. We are still watching data."
Investors across the globe have been cheering what they perceive as varying degrees of dovish tilts from central banks across the globe. Powell dodging a question about financial conditions easing recently fueled optimism among US investors who had been prepared for him to push back against the recent rally in risk assets. 
Euphoria intensified after the Bank of England raised rates by half a point but indicated that its tightening cycle is drawing to a close. And while the European Central Bank remained somewhat hawkish, traders were heartened when president Christine Lagarde acknowledged disinflation.
"After the Fed and Bank of England both hinted at being close to the peak in their cycles, today's meeting suggests the ECB is comfortable that it is also close to the end of its monetary tightening," said Steve Ryder, a senior portfolio manager at Aviva Investors. "We believe this peak tightening backdrop will continue to reduce volatility in government bonds over the coming months and make for an attractive income opportunity."
Meanwhile, positioning in US swaps markets assumes the Fed is getting closer to cutting rates as traders bet that economic conditions are likely to keep it from the additional rate increases that policymakers still anticipate.
"While the Fed slowed its pace of rate hikes, there is still plenty of uncertainty on the trajectory of inflation and how its tightening of monetary policy will affect economic growth and earnings this year," said Brad Bernstein, a Philadelphia-based managing director at UBS Wealth Management.