This article first appeared in City & Country, The Edge Malaysia Weekly, on October 8, 2018 - October 14, 2018.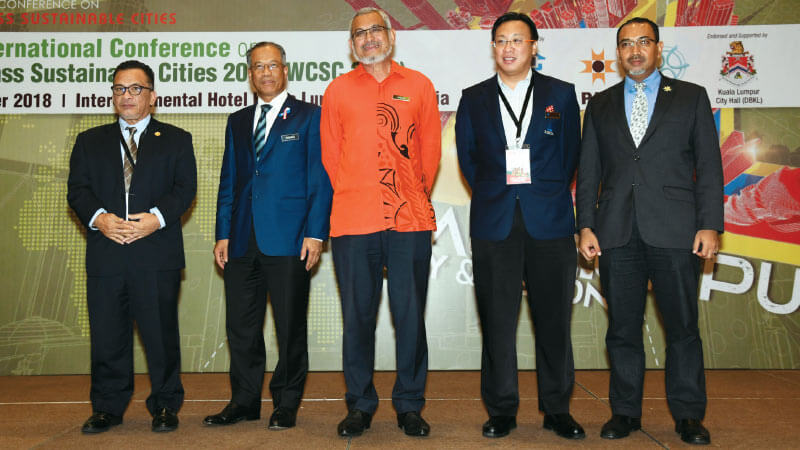 Khalid (centre) with representatives of the conference partners
Federal Territories Minister Khalid Samad is looking at plans to revive abandoned projects in Kuala Lumpur such as Plaza Rakyat.
"We are trying our best to make sure that the [abandoned] projects are revived. But like all cases, there are legal complications and we have to tackle them. We are giving a lot of emphasis to this issue because it is sticking out like a sore thumb. We want to settle it as quickly as possible," he told a press conference at the 10th International Conference on World Class Sustainable Cities (WCSC) 2018 on Sept 27.
He said there had been good progress on Plaza Rakyat as the developer had shown commitment to ensuring that the project would resume.
WCSC 2018 was aimed at exploring ways in which Kuala Lumpur and other cities in Malaysia can prepare for the challenges of today and tomorrow and to become more livable, resilient, inclusive and sustainable through better planning, technology and social innovations. All this will lead to the  implementation of the New Urban Agenda, which is an urbanisation action blueprint for sustainable developments under UN-Habitat.
In his keynote address at the conference, Khalid said city planning, development and management are critical when 77% of Malaysia's population is living in cities.
"City planning and management are to meet the needs of not only the present population but also the future citizens," he said.
"A large population in our cities will mean urbanisation challenges such as solid waste disposal, traffic congestion, air pollution, limited water resources, inadequate housing supply and an increase in the ageing population."
Khalid said he would ensure that the Kuala Lumpur Declaration — the sustainable city resolutions passed at the 9th World Urban Forum early this year — is taken seriously and adopted to ensure that there is inclusivity, transparency and accountability in city planning, development and management.
The declaration includes ensuring that cities are habitable for all, strengthening the role of the urban governance systems, sharing of creative solutions and innovative practices among cities, the incorporation of integrated spatial development — including through appropriate urban planning and design instruments — ensuring an enabling environment and developing capacities for the scaling up of good practices.
"The time is right for us to take up all these concepts for the Kuala Lumpur City Plan 2020 to 2040. A lot of issues were raised at the conference. We want to try to achieve all the objectives that were specified," said Khalid.
The focus of the plan will include city planning and development and plot ratio as well as finding ways to resolve city congestion problems and improve the road system.
He also urged all cities in the country to adopt green development strategies and actions to mitigate the impact of climate change.
"Green development will ensure that the cities are comfortable and healthy to live in as well as assist in the more efficient use of energy," he added.
Themed "Kuala Lumpur: Today & Beyond", WCSC 2018 was jointly organised by the Real Estate and Housing Developers' Association Malaysia Federal Territory of Kuala Lumpur, Malaysian Institute of Plannersand Malaysian Institute of Architects and supported and endorsed by Kuala Lumpur City Hall.