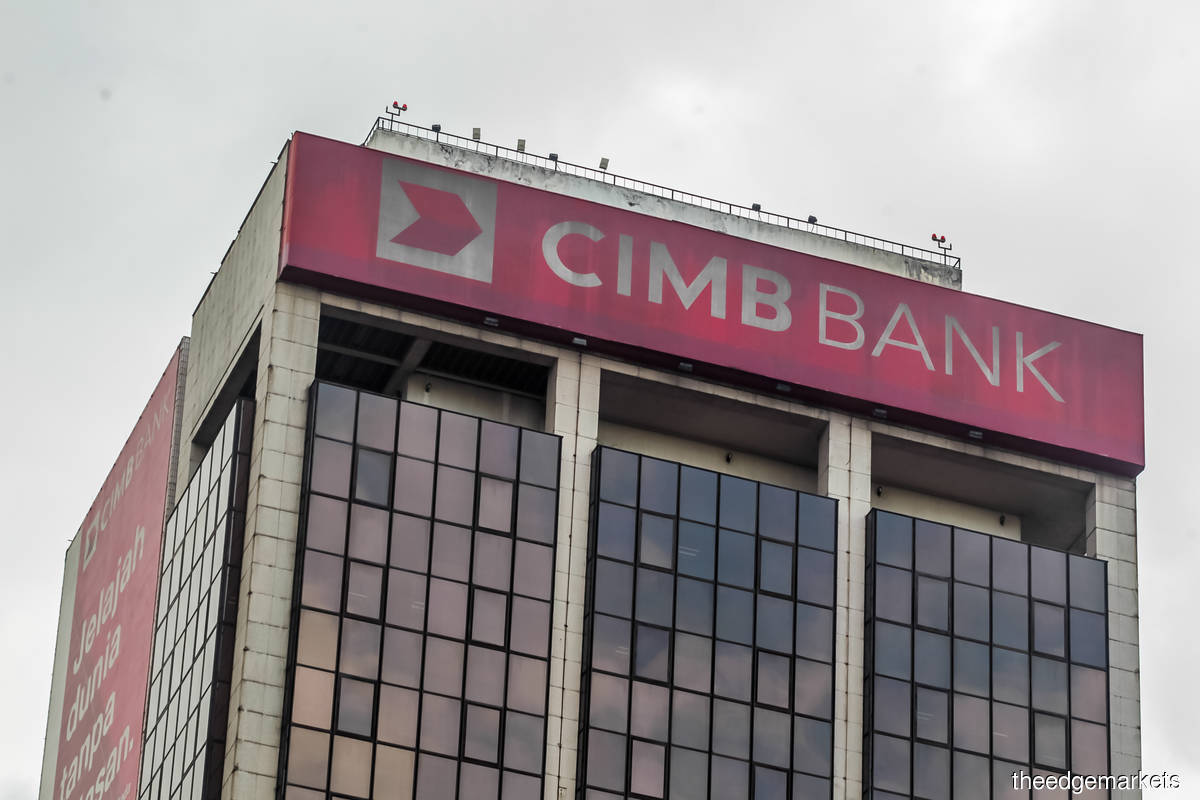 KUALA LUMPUR (Dec 1): Analysts on Wednesday (Dec 1) raised their earnings forecasts for CIMB Group Holdings Bhd for the financial year ending Dec 31, 2021 (FY21) after its results for the third quarter ended Sept 30, 2021 (3QFY21) beat their expectations. They also believe the impairments recognised recently hitting net profit numbers on paper would help lift its return on equity (ROE) moving forward.
RHB Research analysts Fiona Leong and Eddy Do said in a note that the RM1.22 billion impairment of CIMB Thai goodwill would give an uplift of about 20 basis points (bps) to the group's FY22 ROE, while management had shared that earlier projections of a 50bps add-on to its ROE — from the impairment of some of CIMB's RM9.7 billion goodwill — may not be achievable.
"With its Indonesian operations doing well currently, auditors are challenging proposals for goodwill write-downs. Goodwill impairment is part of management's Forward23+ strategic initiatives to raise the ROE to 12% to 13%," they said.
Based on management's guidance, Leong noted, CIMB's 4QFY21 credit cost is expected to stay elevated.
"This provides for the possibility of further provision overlays for the moratorium under URUS and possible clean-up of legacy corporate loans in Thailand and Indonesia," she told theedgemarkets.com.
"For FY22, assuming we do not suffer a major relapse of Covid-19 and that the economic recovery remains on a positive trajectory, we believe impairments will be lower year-on-year," she added.
According to Leong and Do, CIMB's core 3QFY21 results beat expectations with a pickup in loan growth, tightly controlled operating expenditure (opex) and lower provisions being key standouts.
"Management continued to deliver improvements in operating metrics while staying vigilant on asset quality," the duo said.
They raised their FY21 core profit after tax and minority interest (PATAMI) forecast by 7% to RM4.4 billion for CIMB, mainly on assumptions of lower credit cost. However, for FY22, they trimmed their earnings forecast for CIMB by 7% as they pencilled in higher taxes due to the one-off prosperity tax.
They also maintained their "buy" call on CIMB and revised up their target price (TP) to RM6.30 from RM5.90.
Meanwhile, Kenanga Research analyst Clement Chua said he is looking at less impairments for CIMB as he narrowed his credit cost assumptions for the group.
"This is in reference to financing impairments, excluding the extraordinary one-off RM1.22 billion on goodwill," he told theedgemarkets.com.
"My stance previously was more conservative as I was cautious of the Covid-19 economic climate but management's delivery built some confidence.
"Though they said that they will still be prudent, the high level of overlays that they have provided so far could help cushion any shocks we could see next year, possibly reducing the need for greater-than-expected bookings," he said.
He also said CIMB's core PATAMI of RM3.84 billion for the cumulative nine months ended Sept 30, 2021 outpaced full-year expectations as credit cost was contained and with stronger non-financing income.
"We raise our FY21/FY22 earnings [forecasts] by 17%/10% as we further trim our impairment assumptions (from 88 basis points [bps]/55bps to 75bps/39bps). Meanwhile, we also raise our non-interest income numbers to reflect the year-to-date (YTD) performance," he said.
He also noted that management is confident of meeting its year-end target, save for loan growth.
"Headwinds may only arise if Covid-19 worsens but the buffers in place may cushion any immediate impact," he added.
He maintained "market perform" on CIMB but raised his TP to RM5.20 from RM4.75.
On the other hand, MIDF Research expects further provisions for CIMB in 4QFY21.
According to the research house, CIMB's FY21 credit card receivables guidance of 75bps to 85bps implies a further RM840 million to RM1.22 billion worth of provisions in 4QFY21.
"CIMB wishes to remain conservative in dealing with potential URUS-related overlays, Covid-19-related corporate names and legacy corporate names in Indonesia and Thailand. In accelerating its exit out of Thailand's commercial base, CIMB is more willing to trade off residual loans in favour of reduced opex," it said.
The research house also noted that CIMB's earnings were within expectations, given the heavy provisions for the upcoming quarter.
It reduced its FY22 earnings forecast for CIMB by 6% as the windfall tax is expected to have a 7% impact on its profit before tax.
Seeing that CIMB's share price has retreated since, it upgraded its call on the stock to "buy", with an unchanged TP of RM5.55.
At the time of writing on Wednesday, CIMB had fallen 11 sen or 2.12% to RM5.07, valuing the group at RM52.23 billion. 
YTD, the counter had risen 18.48%.
Read also:
CIMB sinks into 3QFY21 net loss of RM100.6m on RM1.22b impairment for Thai unit, 9MFY21 earnings up 251.30% to RM3.44b