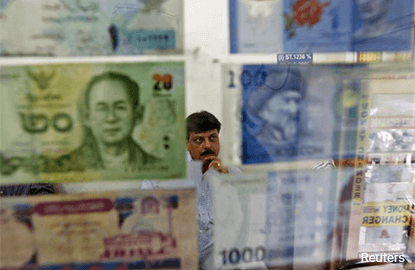 SINGAPORE/BENGALURU (Jan 26): Sentiment towards emerging Asian currencies improved in the last two weeks, a Reuters poll showed, as the dollar retreated on concerns that U.S. President Donald Trump may be focusing more on trade protectionism than pro-growth fiscal policies.  
Investors sharply reduced bearish bets against the Chinese yuan in the wake of Beijing's recent clampdown on capital outflows and speculators, the survey showed.     
Short positions in the yuan were estimated to be the smallest since mid-August, when bets on the Chinese currency were marginally bullish. 
The poll of 17 market participants, including analysts, traders and fund managers, showed that investors were now estimated to have long positions in five emerging Asian currencies, including a tiny long position in the Indian rupee.
That marked an increase from just one currency, with bullish positioning in the previous survey published on Jan 12.
Bets on the South Korea won, Taiwan dollar and Thai baht all turned bullish, and long positions in those currencies all rose to the highest since mid-August of last year.
Long positions in the Indonesian rupiah increased further, and matched levels last seen in late October.
The broad improvement in sentiment toward Asian currencies came after President Trump's inaugural speech on Jan 20, was seen as being heavily slanted toward trade protectionism, while offering few fresh details on his plans for fiscal stimulus.
That added to pressure against the dollar, which retreated broadly after Trump expressed concern over the U.S. currency's strength in an interview this month, before he took office. 
Trump told the Wall Street Journal that U.S. companies "can't compete with (China) now, because our currency is strong and it's killing us."
The poll is focused on what analysts and fund managers believe are the current market positions in nine Asian emerging market currencies: the Chinese yuan, South Korean won, Singapore dollar, Indonesian rupiah, Taiwan dollar, Indian rupee, Philippine peso, Malaysian ringgit and the Thai baht.
The poll uses estimates of net long or short positions on a scale of minus 3 to plus 3. A score of plus 3 indicates the market is significantly long U.S. dollars.
The figures include positions held through non-deliverable forwards (NDFs).
The survey findings are provided below (positions in U.S. dollar versus each currency):
Change this year
| | | | | | | | | | |
| --- | --- | --- | --- | --- | --- | --- | --- | --- | --- |
| DATE | CNY | KRW | SGD | IDR | TWD | INR | MYR | PHP | THB |
| 26-Jan | 0.09 | -0.25 | 0.01 | -0.36 | -0.33 | -0.02 | 0.14 | 0.19 | -0.42 |
| 12-Jan | 0.74 | 0.81 | 0.84 | -0.14 | 0.58 | 0.28 | 0.56 | 0.63 | 0.22 |
| 8-Dec | 0.93 | 0.55 | 0.88 | 0.24 | 0.39 | 0.28 | 0.83 | 0.74 | 0.41 |
| 24-Nov | 1.38 | 1.02 | 1.35 | 0.61 | 0.77 | 0.44 | 1.36 | 1.22 | 0.49 |
| 10-Nov | 1.19 | 0.86 | 1.13 | 0.16 | 0.26 | -0.22 | 0.88 | 1.14 | 0.36 |
| 27-Oct | 1.23 | 0.60 | 1.17 | -0.36 | 0.32 | -0.20 | 0.58 | 0.91 | 0.44 |
| 13-Oct | 0.73 | 0.51 | 0.80 | -0.38 | 0.29 | -0.19 | 0.73 | 1.20 | 0.96 |
| 29-Sept | 0.41 | -0.24 | 0.50 | -0.75 | -0.11 | -0.41 | 0.51 | 0.87 | -0.32 |
| 15-Sept | 0.70 | 0.00 | 0.19 | -0.31 | -0.10 | -0.40 | 0.37 | 0.30 | -0.04 |
| 1-Sept | 0.60 | -0.16 | 0.13 | -0.11 | -0.23 | -0.21 | 0.19 | -0.04 | -0.27 |
| 18-Aug | -0.04 | -1.08 | -0.47 | -0.81 | -0.90 | -0.60 | -0.33 | -0.49 | -0.69 |
| 4-Aug | 0.12 | -1.01 | -0.52 | -0.84 | -0.67 | -0.56 | 0.16 | -0.04 | -0.56 |
| 21-July | 1.01 | -0.50 | 0.06 | -0.63 | -0.37 | 0.11 | 0.04 | 0.10 | -0.20 |