This article first appeared in City & Country, The Edge Malaysia Weekly, on July 25, 2022 - July 31, 2022.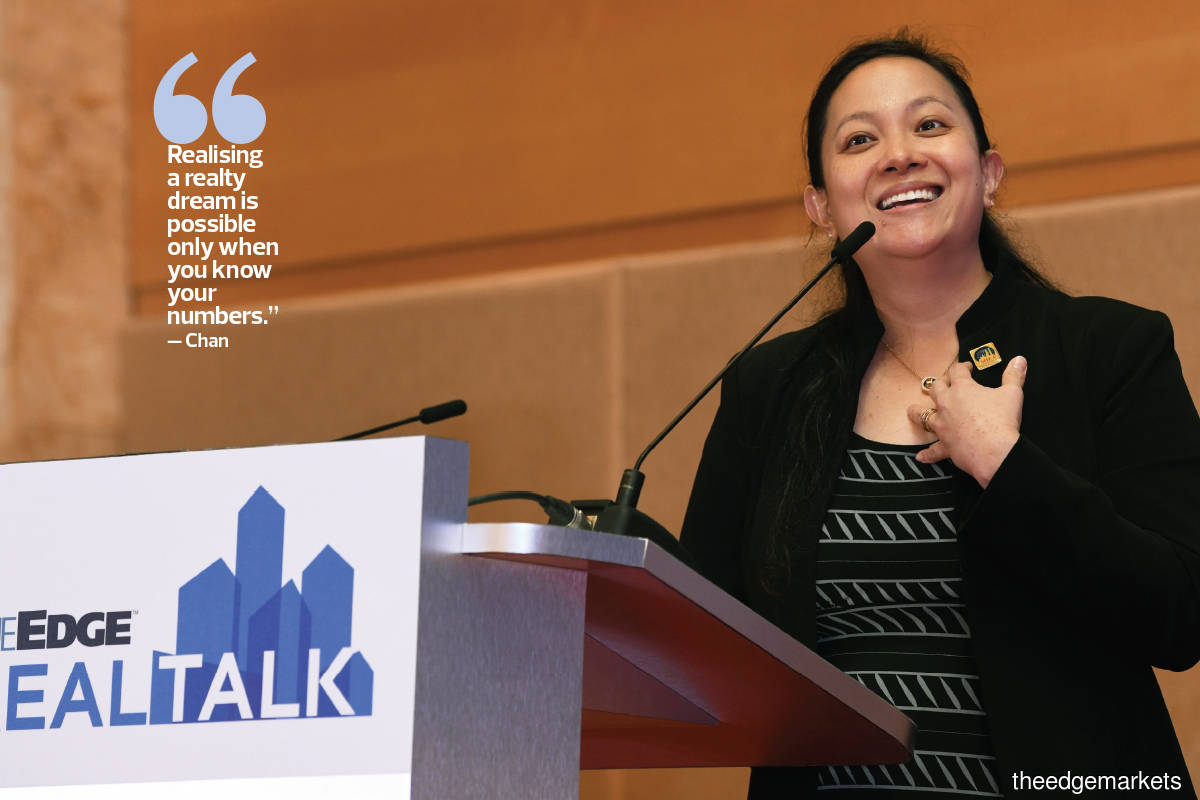 While real estate remains one of the most preferred investment assets in today's volatile market, Malaysian Institute of Estate Agents president Chan Ai Cheng advised property buyers to be clear on why and what to purchase in order to make their property dream a reality, rather than a nightmare.
In her presentation titled "Making Realty Dream a Reality" at The Edge Malaysia RealTalk 2022 forum, with the theme "Investing in Volatile Times: How, What, Where?", held on July 16, Chan highlighted that the key to a successful property investment is to avoid the generic and be specific.
"Property investment is all about you, not anyone else. It is about what your needs are, your objective and reason for investing in property. Hence, you shouldn't listen to and blindly follow what others have told you because everyone has a different purpose and target for property investment," she remarked.
Chan added that making a purchase based on a generic statement is dangerous because it could lead to a wrong investment decision.
She cited the example where many had speculated that the property market in 2021 would underperform due to the pandemic and economic uncertainty. However, in reality, several real estate agencies concluded more deals last year than in previous years. The industry also saw more million-dollar sales agents last year.
"Generic statements are good for a general overview and market knowledge, but as a property buyer, you should not be making your property decision based on all this generic news. Be clear on what you want and what your target is, do [your] research and get yourself well prepared, so that when the opportunity comes, you will not miss it," she recommended.
Chan advised property buyers to take advantage of the free data available on property portals in order to determine where and what to buy, along with the best price to pay.
"Information and data today are no longer the privilege of the [real estate] field. We now all have easy access to this information, so make good use of it," she said.
Aside from overall property transaction price data, which could provide a bigger picture of property trends and where we are in the property cycle, Chan stated that this data could be a good guide to identify the next property hotspot and assist buyers in analysing the investment potential of a desired location.
While location is still the golden mantra of property investment, it does not mean that a premium site is the only choice because, as mentioned, it depends on the buyer's needs and goal.
"For instance, I always invest in locations that I am familiar with because I understand the place, the environment, and the tenant and buyer groups. More importantly, I feel comfortable with the place and it ticks all my boxes of requirements, not anybody else's. Remember, making a property investment decision is based on your needs and your goals.
"When you have decided where to buy, you can make use of free data available on the internet to understand the highest, median and lowest transacted prices to gauge the right entry price point. Once the opportunity arises, you can make a fast and sharp decision," she noted.
Using a terraced house in Bandar Utama as an example, Chan stated that the most recent highest and lowest transacted prices were RM1.2 million and RM1.5 million, respectively.
"[As such] when a unit [in Bandar Utama] is put up for sale at RM1.1 million, you will know that it is the right price and that would be a good opportunity to grab it. However, if you only do your market and price research when the unit is up for sale, you may have just missed the boat."
Know your numbers
Realising a realty dream is possible only when you know your numbers, Chan noted.
"We all wish for a crystal ball that can tell us when it is the 'high' and 'low' to sell and buy, but it is almost impossible. All we can do is to have a rough estimate," she said.
Chan repeatedly emphasised the importance of doing enough research before making a purchase decision. "Always keep track of the [transaction data of the] locality to ensure your property is rented out or sold within the band, but not under it. If you have no idea what the average rental or selling price is, you could be causing yourself some unnecessary losses."
Besides, as much as many [of us] would wish to realise their property ownership dream as early as possible, she cautioned all those present against being financially overstretched.
"As we all know, any investment comes with risks. Please always be on the 'careful' side. If you have decided to buy a piece of property, do ensure that you have a reserve fund of at least six months as a buffer, just in case anything like the MCO [Movement Control Order] recurs. Many owners have had to sell their properties at a low price because they did not have the reserve funds [in place] as a buffer while trying to self-help or refinance during this difficult time," she shared.
Chan also pointed out that there have been many homeownership policies and subsidies initiated by the government to increase the overall homeownership rate in Malaysia. However, those incentives should not be the major reason for making a property investment decision.
"The HOC [Home Ownership Campaign] has ended, but just yesterday (July 15), our prime minister announced a stamp duty exemption for first-time homebuyers. The RPGT [real property gains tax] has also been adjusted, with property sold in the sixth year and beyond not being taxed.
"However, should these subsidies and policies be your main reason to buy? Always ask yourself this question before making an investment decision. These policies and subsidies may be the impetus for you to accelerate your existing property purchase plan. It should not be the reason for you to have a buying plan because your property buying decision should be based on your personal needs and goals," she said.
Value creation
Commenting on the cost of owning a property having increased recently due to hikes in the Overnight Policy Rate (OPR) and inflation rate, Chan reminded the audience that even though the OPR has been raised by 25 basis points, we are still seeing one of the lowest interest rate points in the nation's history.
"The current rate is at one of the lowest points, did you know that? For every 0.25% hike, it only increases RM68 [with regard to mortgage repayment] a month for a RM500,000 loan. It is not a huge amount that is beyond the affordability of many."
She stressed the need to go into details, which in this case means calculating the ringgit and sen before panicking. Nonetheless, Chan did not deny the value of the ringgit is shrinking, hence the need to find a way to create more wealth with money in the pocket.
"Many people are still awaiting the best time to invest in property, hoping that prices will drop soon. Please be aware that we are all in the economic cycle. When the inflation rate is high, all prices increase — land, building materials and labour costs all go up. In these circumstances, why would you think that property would be an exceptional case where the prices would come down?" she asked.
In concluding the session, Chan outlined five key points to consider when making a property purchase decision: location, accessibility, property type, size and price. "More importantly, remember to be specific about what, where and why you want to buy, and how much you can afford.
"Property investment is fantastic, but don't rush into a decision and follow the crowd without first understanding what you really need," Chan advised.