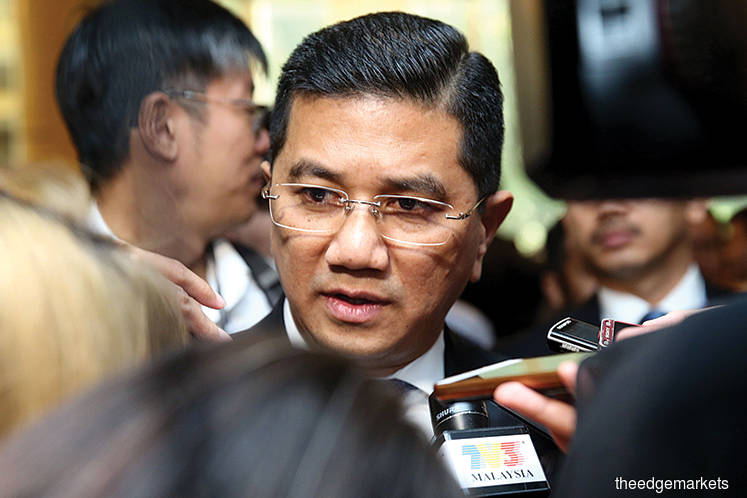 KUALA LUMPUR (July 10): Malaysia should seize the opportunity to make itself the gateway for multinational companies to access Southeast Asia markets amid the ongoing trade war between the US and China, according to Economic Affairs Minister Datuk Seri Mohamed Azmin Ali.
Speaking during Minister Question Time at Dewan Rakyat today, Azmin highlighted a recent study on 250 conglomerates showed that 24.7% of them intend to relocate their operations out of China into Southeast Asia.
"We have the advantage to seek opportunities that arise from this trade war. We have talents, skilled labour, stable politics, and [we're in a] strategic geographical location.
"The impact of US tariffs on China has resulted in investors in China shifting their business operations elsewhere, to Southeast Asia. This shift in investment will benefit the Malaysian economy," he said.
He added that the trade war has opened up space for Malaysia to increase exports of commodities to China, especially palm oil, which is a substitute for soy and corn oil. "In March 2019, Malaysian companies have successfully signed nearly US$900 million worth of deals to supply 1.62 million tonnes of palm oil to China," he added.
And between January and April this year, Malaysian palm oil exports to China rose by almost 255,000 tonnes, with export value rising to RM1.4 billion.
Azmin was responding to a question from Awang Hashim [PAS-Pendang], who asked the government to state the impact of the uncertain global environment — including the tensions between the US and China lately — on the Malaysian economy.
Azmin also noted that while Malaysia's gross domestic product (GDP) growth in the first quarter of 2019 moderated to 4.5% from 4.7% in 2018, this growth rate is still within the target range set for 2019, which is 4.3% to 4.8%.
"This scenario, among others, is due to the increasingly challenging external factors. Among these factors are low economic growth and global trade due to uncertainty in the monetary policy of the developed countries, anticipation of slowdown in economic growth in China and other Asian countries, and uncertain commodity prices," he said.
Although Malaysia will be affected by these external factors, Azmin said domestic demand continues to be the main driver of the country's growth, while the government will continue its effort to promote investment activities.