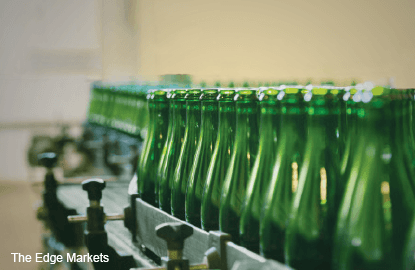 KUALA LUMPUR (March 3): Putrajaya's move to revamp the excise duty on beer and stout effective this month has weighed down the shares of breweries in the early trades today. 
At 9.48am, the Carlsberg Brewery (M) Bhd fell six sen or 0.48% to trade at RM12.56, albeit with a thin trading volume of 54,200 shares, valuing it at RM3.92 billion. 
Meanwhile, Guinness Anchor Bhd (GAB) was down four sen or 0.49% at RM14.02, with 4,300 shares changing hands, for a market capitalisation of RM4.22 billion. 
The Edge Financial Daily reported today that the excise duty hike may erode GAB and Carlsberg's earnings for the financial year ending Dec 31, 2016 (FY16) by some 3%. 
According to Excise Duties (Amendment) Order 2016 posted on the Royal Malaysian Customs Department website, the excise duty on beer made from malt was changed from RM7.40 per litre and 15% ad valorem tax to RM175 per 100% volume per litre from Tuesday.
The shift to an alcohol volume-based tax means that the duty on beer, which has an average alcohol content of 5%, will be RM8.75. According to a local news daily yesterday, the exact quantum of the increase in excise duty on beer and stout is at least 10%.
Today, CIMB Research wrote in a note that the change in tax structure for malt liquor will lead to estimated hike of 10-12% from current levels. 
"Hard liquor will face an even harsher increase in excise duties from 75 sen for every 1% of alcohol content per litre to RM1.50. We estimate that this will translate to an increase of almost 100% in excise duties for hard liquor," the firm added. 
CIMB Research said the 10-12% hike in excise duties will not cause major decline in malt liquor market (MLM) volume, given the inelastic demand for alcoholic drinks and on expectation that more drinkers will switch from hard liquor to beer.
"Any decline should be offset by higher average selling price (ASPs). The sector's estimated FY16 dividend yields of 5.7-6.9% should support current share prices," it added. 
Meanwhile, Hong Leong Investment Bank Research said the news was not a surprise as the market was bracing for an overdue revision in excise duty. 
"The revision in excise duty calculation can be construed as a slight hike. It is akin to the revaluation method imposed by the Royal Malaysian Customs on Nov 1, 2013 in which advertising and promotion (A&P) spending must be imputed into the calculation," said Sia Ket Ee in his note to clients today. 
HLIB Research welcomed this revision as it removes the risk of a substantial adjustment to excise duty to the brewery sector later this year.
"Our back of the envelope calculations suggest that the increase in excise duty in absolute terms is circa 85 sen per litre. A standard can of beer is 320ml with circa 5% alcoholic content, translating into a duty hike of circa 28.3 sen per can.
"This is insignificant considering the retail price range of RM6 to RM9 per can," he added.