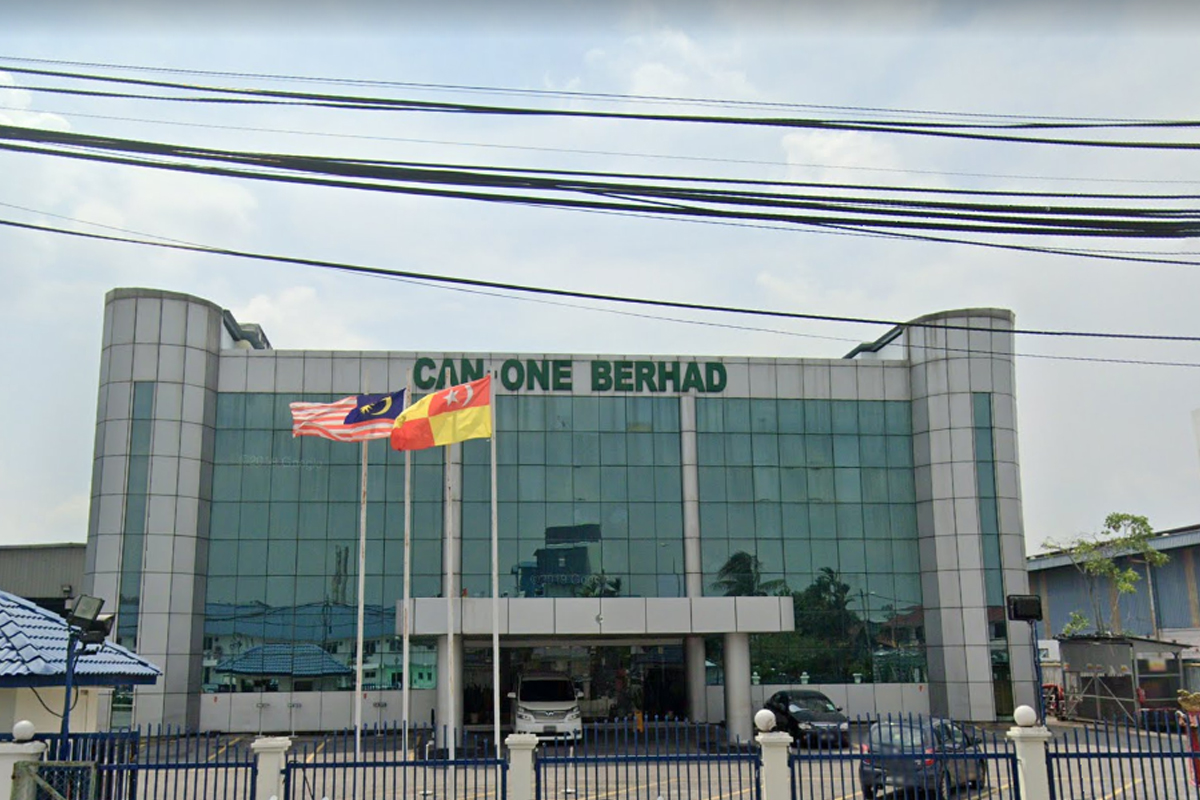 KUALA LUMPUR (Sept 3): After a two-week rally, shares of Can-One Bhd hit a high of RM4.10 — the highest they have been in five years — amid active trade this morning.
The last time the company's share price stood at this level was in May 2016 after declining from its record high of RM4.90 four months earlier.
The stock, which closed at RM3.65 yesterday (Sept 2), shot up to an intra-day high of RM4.10 to settle at RM3.95 before the noon break.
While the reason for the share price rally is unclear, Can-One, which is involved in the manufacture of metal and lithographed cans, plastic jerry cans, bag-in-boxes, and the manufacture, packaging and distribution of dairy and non-dairy products, has posted improved quarterly earnings this year.
For the second quarter ended June 30, 2021 (2QFY21), Can-One posted a net profit of RM48.83 million against a net loss of RM26.48 million in the same quarter last year, and 40% higher from RM34.77 million in 1QFY21.
Revenue rose by 19.4% to RM678.83 million from RM568.4 million last year and was 4% higher quarter-on-quarter.
In its filing with Bursa Malaysia, the company said the increments were mainly due to improved performance in its general packaging division and lower interest expenses offset against other operational expenses.
The group said the political upheaval in Myanmar on Feb 1 had resulted in a state of emergency in Myanmar for a one-year period, raising concerns over possible disruption to the business environment in the country and the development of the group's Myanmar business operations.
"Nevertheless, the Myanmar plants have been able to continue their operations," the company said. The group's results have been improving and barring any unforeseen circumstances, [we are] cautiously optimistic about addressing the challenges and to deliver satisfactory results for FY21," it said.
Note that the company had on May 4 received an unconditional mandatory takeover offer at RM2.50 per share from its director Yeoh Jin Hoe and persons acting in concert with him (PACs).
The group told Bursa that Eller Axis Sdn Bhd had entered into an unconditional share sale agreement with Genkho Candoz Sdn Bhd to buy a 20.94% stake in Can-One for RM100.6 million or RM2.50 per Can-One share.
Before the deal, Yeoh, who owns 95% of Eller Axis, had a 3.91% stake in Can-One, while Eller Axis owned 23.73%. Meanwhile, the other PACs held another 11.99%.
After the deal, Yeoh, Eller Axis and the PACs saw their collective stakes in Can-One rising from 39.63% to 60.57%, and as such, were obliged to extend an unconditional mandatory takeover offer to acquire all the remaining Can-One shares which are not already held by them.
The offer closed on June 15 with no minority shareholder accepting the deal, resulting in Yeoh and the PACs maintaining their 60.57% stake.
Read also:
Can-One posts RM48 mil net profit in 2Q 
No takers for Can-One's takeover offer, Yeoh Jin Hoe retains 61% stake