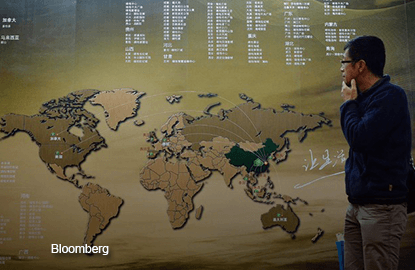 SINGAPORE is the closest thing Asia has to an economic barometer. Its highly open, trade-reliant economy usually signals when trouble is approaching the global stage. And at the moment, Singapore is flashing clear warning signs.
The city state's gross domestic product (GDP) plunged 4.6% last quarter, a downturn almost certainly triggered by China. Singapore's plight may mark a dangerous inflection point not just for Asia, but for the entire global economy.
After the 2008 global crisis, China's 9%-plus growth picked up the slack from a West licking its financial wounds. But as Asia's biggest economy cools, officials from South Korea to Brazil are finding themselves without a reliable growth engine.
Uneven recoveries in the United States and Europe have already slowed the exports that power most Asian economies, including Japan. China's downturn could now throw Asian manufacturing into reverse.
Morgan Stanley's Ruchir Sharma warned that "the next global recession will be made by China". The balance of data — including Singapore's abrupt shift towards recession — suggests China isn't growing anywhere near this year's 7% target.
Shanghai's day traders celebrated this week's news that Chinese exports rose 2.1% in June. The more interesting figure, though, was the 6.7% decline in Chinese imports. That helps explain the stunning 14% drop in Singaporean manufacturing from the previous three months. The same goes for Singapore's non-oil exports to China, which fell 4.3% in May, 5.1% in April, and plunged 22.7% in February.
With Singapore's economy contracting the most since the third quarter of 2012, its government has to act fast. It may be time for another surprise monetary easing (the central bank last engineered one in January). Fiscal stimuli may also be necessary.
"The global outlook remains challenging and far less positive than the picture" four months ago, said economist Hak Bin Chua at Bank of America Merrill Lynch. "China's slowdown, the Greece crisis and weaker growth in the immediate neighbourhood of Southeast Asia, including Indonesia, Thailand and Malaysia, will likely dampen growth."
The downturn in China, Asia's main customer, will loom especially large. For now, many investors in the region are still bullish about Beijing's efforts to gin up both GDP and stocks. But even the good news on China these days is worrisome.
Take its surge in credit growth in June (US$300 billion [RM1.14 trillion]), the most since January. While it's helping to stabilise the economy in the short run, it's also inflating China's debt bubble, in sync with its asset bubbles in Shanghai and Shenzhen.
China is facing another problem: diminishing returns. Its stimulus efforts have grown exponentially in size, scope and frequency since the 2008 global crisis. The more China strains to keep GDP growth above the 5% range, the more it's putting the global financial system at risk.
China's bailouts, after all, are beginning to overlap in surreal ways. This year's massive stock rally was meant to ease the fallout from a seven-year borrowing binge. Now, as Beijing puts a floor under plunging shares, it's effectively bailing out its previous bailout.
Beijing's troubles are now the world's. In 2010, it accounted for roughly 23% of global growth. By the end of 2014, that share had surged to at least 38%. China punches even further above its weight in the commodity markets that countries from Indonesia to South Africa rely on for growth. "Over the next couple of years," Sharma told Bloomberg News, "China is likely to be the biggest source of vulnerability for the global economy."
China, he added, could drag global growth below 2%, a threshold many would agree is equivalent to a world recession. If Singapore is any guide, it may already be under way. — Bloomberg View
William Pesek is a Bloomberg View columnist.
This article first appeared in The Edge Financial Daily, on July 16, 2015.